No matter how much you love your job, we all need a vacation sooner or later. But, whether your dream vacation takes you to the Bahamas or a secluded mountain retreat, one thing remains the same: when an employee goes on vacation or takes a sick day, it tends to complicate things in the office.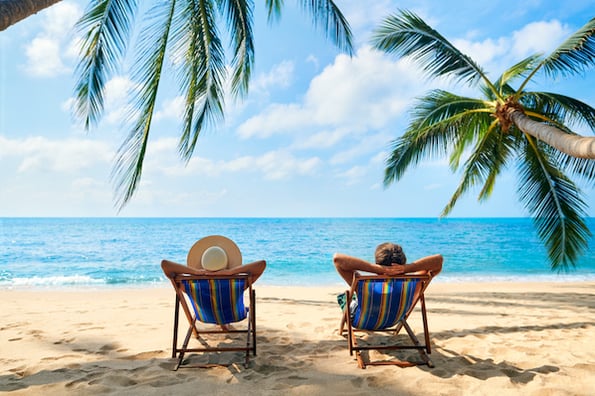 Whether you need to delay certain tasks or have someone temporarily take over the absent employee's responsibilities, vacation and sick days can really throw a wrench in your company's plans -- especially when these absences pop up at the last minute. Without an established system for tracking and managing paid employee leave, you might even accidentally provide paid time off after an employee has already used their allotment.
Of course, lacking a quality leave management system can hurt your employees, as well. According to a report from CNBC, even though the average worker in the U.S. only receives 10 paid vacation days after one year of employment, 52% of Americans fail to use all of their available vacation days. And, 24% of private industry workers don't receive any paid vacation days at all, as demonstrated in the chart below.
There are many reasons why an employee might not use their paid time off, including fear of falling behind on a project or even worries about falling out of favor with their employer.
While keeping employees in the office on all available days may seem like it would improve productivity and performance, the opposite is usually the case. When you don't have a strong leave management system in place, the result usually hurts the customer.
In this post, let's dive into the importance of taking time off and how doing so can improve your customers' experience.
The Importance of Paid Time Off
Paid vacation days offer employees a much-needed break, a time to step away from the stresses of work and recharge. Otherwise, there's a very real risk of getting burned out. A 2018 report from Gallup notes that employees who feel they don't have enough time to do their work, or have an unmanageable workload, are more likely to become burned out.
These issues often relate directly to leave management — either because an employee feels they can't afford to take time off, or because they feel they aren't offered enough paid time off.
Over time, the chronic stress resulting from these issues leads to burnout, which can have a significant impact on employee performance. Verywell Mind notes, "Burnout causes people to feel drained, unable to cope and tired. They often lack the energy to get their work done."
There's no denying that burnout can harm your employees' well-being and the experience of your customers. An emotionally drained support agent could snap and yell at a customer, resulting in customer churn. Or, a physically exhausted developer might miss a critical flaw when reviewing user tests, resulting in a defective product that hurts your brand image.
Now that we've touched on the dangers of burnout, let's discuss how you can avoid it using a leave management system.
What Is a Leave Management System?
Employee burnout can sometimes be influenced by factors in an individual's life outside of work. However, your management tactics will go a long way in helping create a positive work environment that allows team members to avoid burnout and consistently deliver great results for your customers.
Of course, as valuable as it can be for your employees to take time away from work, you also don't want to risk them abusing your time off policies. This is where the implementation of a leave management system can make a big difference for employers.
Such workforce management tools offer a convenient system for keeping track of employee leave. Transparent scheduling makes it easy for employers to approve time-off requests in a way that keeps the workload balanced for the entire team. These tools can also help employers find replacements to fill open shifts and avoid accidentally approving paid time-off requests when an employee has already used their yearly allotment.
Because such tools tend to be employee-facing, they empower workers to take charge of their time off requests. An accountability system also helps avoid many of the issues that can occur when employers offer unlimited time off — such as confusion over when workers can take time off or resentment between coworkers.
The right management style will also prove vital for encouraging employees to use their paid time off appropriately. The best leave management system won't do you much good if employees feel overwhelmed with work or feel guilty any time they use one of their vacation days.
As noted by Gallup, "Employees are 43% less likely to experience high levels of burnout when they have a choice in what tasks to do, when to do them and how much time to spend on them."
This applies just as equally to having control over paid leave. Employees who are more empowered in the workplace will be more productive and have a better attitude because they feel in control of their daily workload, as well as their ability to take time off when needed.
Benefits of a Leave Management System
Employees who are empowered by a strong leave management system and other positive workplace attributes will ultimately have greater job satisfaction — which in turn, will create a better experience for your customers.
Interestingly, one study found that while customer satisfaction does not affect employee satisfaction, an increase in employee satisfaction has a direct impact on customer satisfaction. And, while many factors impact employee satisfaction, a quality leave management system could prove to be the biggest difference-maker.
In a survey from Xexec, 43% of workers said that annual leave was "the work-related benefit that would make them feel most loved at work," far outpacing public recognition at 15%. Additionally, a survey from Accountemps found similar results, with paid vacation time being cited as the most important factor -- other than salary -- job candidates use to evaluate a job offer.
This is further explained in the graphic below.
The majority of employees value the time they spend away from the office. Millennials and Gen Z have shown an increased desire for making a difference in their career, but there's no denying that everyone needs a break once in a while.
With a leave management system that empowers your employees, you'll be able to improve satisfaction and performance, while also having an extra way to entice talented potential hires to join your team. All this will ultimately allow you to deliver consistent quality outcomes for your customers.
When you take steps to mitigate your company's paid time off, you'll be able to create a more positive culture in the workplace, help employees avoid burnout, and ultimately deliver better results to your customers. A quality time off system could even help you attract more talented employees so you can further improve the customer experience.
For more ways to improve customer experience, read about developing a customer experience strategy.