In 2020, the Houston Astros, were caught stealing signs from opposing teams. Players were using the replay room to relay information to hitters at the plate.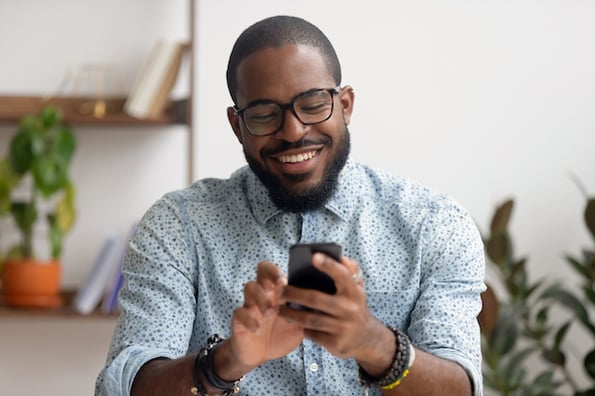 Astro players would bang on trash cans in the dugout so hitters would know what type of pitch was coming next. Some even had electronics attached to their bodies that would buzz when a good pitch to hit was about to be thrown.
This illegal strategy helped Houston win the World Series in 2017 and again in 2019.
Legality aside, if you know what's coming next, you have a significant advantage over your competition. And, in customer service, knowing when a customer is going to churn is the first step to preventing it.
After all, if a customer cancels their subscription unexpectedly, it's hard to convince them to return to your business.
But if you can predict when a customer is going to churn, you can take proactive steps to avoid it. Doing so will raise your retention rates and drive more revenue for your business, as outlined in the graphic below.
In this post, we'll explain how to — legally — predict customer churn, then we'll explain how you can prevent it using a customer retention strategy curated by a former HubSpot Customer Success Manager (CSM).
Predicting Customer Churn
Predicting customer churn requires an in-depth understanding of your customer base to help service agents intercept customers who may leave your company — customer feedback and demographic and behavioral data are analyzed to identify trends that lead to churn.
Churn prediction requires a mix of qualitative and quantitative customer data. This means your team needs to actively collect customer feedback and record customer satisfaction metrics like NPS® and CSAT.
You'll also need access to behavioral data like product usage reports and buyer personas. Lastly, you'll need demographics to help you segment your customer base and identify which groups are most likely to churn.
Once you've collected this data, you can create a customer churn prediction model.
How to Create a Customer Churn Prediction Model
Let's unpack the steps you can take to create a churn prediction model for your business.
1. Determine your current churn situation.
Your churn situation describes the type of customers that are leaving your company as well as the rate at which they're leaving. To determine this, you need to understand churn rate as well as how to calculate it. Or, if you're like me and fumble with basic equations, you can use a customer service metrics calculator to help you with the math.
Additionally, you should ask demographic questions about these customers. For example, do more men than women churn? What's the average age of these customers? What about their average income? How long were they with your company before they left?
This should provide you with a good starting point for exploring why customers are leaving your business.
2. Survey customers and find out reasons for churn.
To uncover more information about your customers, you should distribute customer satisfaction surveys that are targeted at these groups. That way, the responses you receive will be relevant to the audience that you're trying to understand.
When surveying customers, be sure to ask questions in both quantitative and qualitative formats. Ask them about reasons why they would churn and try to organize each factor into a graph, similar to the one below.
This should give you a good idea of who's leaving your company and why.
But this model still doesn't tell us how to identify individual accounts that are at risk of churn. To know that, we need to understand common behavioral trends that lead to customer churn.
3. Leverage customer behavior data.
This step not only helps you predict customer churn, but it also helps you find opportunities to prevent it. By analyzing customer behavior, you can review interaction timelines and identify common actions that lead to churn.
For example, you might notice that customers who churn are often late paying their monthly subscription bills. Now, when you see customers aren't paying on time, you can flag them as a potential risk to churn.
Another great place to start is with your product usage reports. Customers who aren't using your products likely aren't getting any value from them. If your success team can demonstrate your product's value, then you can re-engage the customer and prevent potential churn.
4. Segment your customer base.
At this point, you should have enough information to predict which customers are likely to churn. However, if your customer base is growing rapidly, it'll be tough to manually keep track of each new account. This can lead to high-value customers slipping away because your team couldn't keep pace with customer demand.
One way to scale is to segment your customer base using customer service tools. For instance, you can use automated workflows to flag customers after they take specific actions, allowing you to categorize your CRM by contacts who are likely to churn. Once these labels are in place, you can use machine learning to visually represent this segmentation, like in the graphic below.
This chart shows us which customers are likely to churn based on their behavior and demographics. The X and Y axes measure different customer characteristics and the placement of the dots on the chart shows us how close these customers align with the churn descriptors. Dots placed towards the "100s" represent customers who are at the highest risk of churn.
5. Activate your customer success team.
While collecting, compounding, and analyzing data are a huge part of churn prediction, it's meaningless without a customer success team to put it to use. Your success team knows your customers on an individual basis and has developed long-standing relationships with them. While the trends and patterns you find are extremely valuable, these employees know your customers best and can recognize when they're unhappy with your business.
To empower your customer success team, you should equip them with a customer retention strategy. If you're not sure where to start, you can borrow this one that was made by a former customer success manager.
Customer Retention Strategy
This customer retention strategy was designed by Kaitlin Stoddard, a former customer success manager at HubSpot. It highlights some fundamental steps your team can take to "turn churn" and improve retention rates for your business.
1. Build a strong customer relationship from the start.
Churn prevention isn't solely reactive; it's proactive, too. By building a trustworthy relationship with the customer from the start, they're more likely to listen to your team before they cancel their account. And, your rep's reasoning for staying with your company is much more effective because the customer trusts that you have their best interest at heart.
2. Use the LAER methodology.
LAER is a method for managing customer engagement. It can be broken down into the acronym listed below.
Land: This the moment when you convert a prospect to a new customer. Your sales team has handed the account off to customer success and it's up to them to add value and retain the customer.

Adopt: This is the step where your success team teaches the customer how to use your product or service. This is also known as customer onboarding.

Expand: Once the customer has gotten familiar with your product and brand, this is the point where your team adds more value to their experience. As your success team helps customers grow and achieve goals, they'll foster stronger rapport that'll reduce the likelihood of churn.

Renew: Once the customer's subscription is up for renewal, this is the moment where your success and sales team closes the deal.
The LAER methodology provides you a roadmap for customer retention. If you can keep customers on this path, you'll maintain their business and foster long-term relationships.
3. Deliver alternatives with confidence.
Part of preventing churn is providing alternative solutions that meet customer needs. But, it's important to keep in mind that customers who are planning to churn will need more than just a workaround to keep them committed to your business.
Instead, your customer success team needs to deliver solutions confidently to your customer base. Here's one soundbite Kait uses to propose new ideas to customers:
"I want to be direct, we have always been transparent, and I am concerned about this decision for your company and goals. Based on the situation, I understand it's not easy, so why don't I send an email with a couple ideas and if you like or are interested by anything I send across then let's set up a call next week?"
This message accomplished two goals. First, it shows the customer that you're invested in their success and have solutions that meet their needs. Second, it gives you an opportunity to break from the interaction, think about the customer's situation, and come up with a personalized solution that's difficult to refuse.
If needed, have reps create decision trees that outline potential responses that customers may have. This will prepare them for interactions and help them make a convincing argument to stay with your business. If you're not familiar with decision trees, here's a diagram you can use for reference.
4. Keep the conversation open.
Even if a customer does end up churning, you should always keep the conversation open in case they want to return to your business. Sometimes, the grass isn't much greener with your competitors, and customers want to go back to the products they're familiar with.
But, if you take churn personally, and end the relationship on a negative note, customers will avoid your business. And, it only takes one bad interaction to ruin a customer relationship as research shows that 60% of customers stop doing business with a brand after a poor customer service experience.
5. Know when to walk away.
While every customer is worth trying to retain, some simply aren't a great fit for your business and are better off letting go. After all, there's no point in wasting time, effort, and money trying to retain a customer who truly doesn't find value from your company. And, as we highlighted above, sometimes letting them walk away helps them realize how much they needed your product or service in the first place.
To get ahead of customer retention, read about proactive customer service.
Editor's note: This post was originally written in February 2020 and has been updated for comprehensiveness.