When it comes to customer loyalty, there are more brands to choose from than ever before, and if your company fails to deliver a delightful experience, your customers will quickly seek out your competitors. In fact, last year 49% of Americans switched companies due to poor customer service.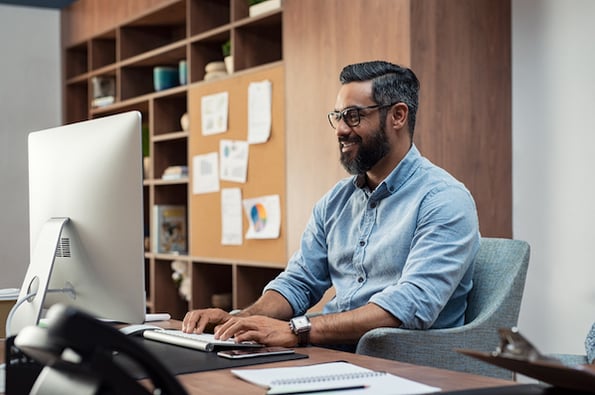 Good customer service is a cornerstone of most successful businesses. And, these businesses understand how to scale their service efforts as their customer base grows.
With more customers to manage, it's trickier to maintain high-quality service standards. Even the most efficient contact center solutions struggle under the pressure of continuously rising customer demand.
This is where a knowledge base alleviates friction for both your agents and your customers. By giving customers self-service content, you give them the resources needed to find their own solutions. And, 70% of consumers prefer using your company's site over using phone or email. This is because it saves them time from reaching out to your support team, especially when they have simple or quick questions.
While knowledge bases aren't necessarily a new concept, many businesses either don't have one nor do they know how to produce effective content. After all, your knowledge base isn't very useful if it doesn't help customers find solutions.
If you're looking to create effective self-service content, read on for seven essential steps to writing and publishing knowledge base articles.
How to Produce the Best Knowledge Base Content
No two knowledge bases will – or should – be the same. There are, however, some general steps you can take to ensure your knowledge base is the best it can be.
1. Create a comprehensive content strategy.
Your first step to producing superior knowledge base content is to plan it as thoroughly as you can. There are a few crucial questions your plan must answer before you start writing:
What do your customers need to know?
What are your customers' most common pain points?
How can you best answer different customer queries or problems?
How will customers navigate your knowledge base?
Where does your knowledge base fit within your broader customer service strategies?
Answering these questions will help you devise a framework for your knowledge base content. You'll get an idea for which issues or topics you need to cover and you'll also be able to work out what kind of content is best for addressing each subject.
For example, a troubleshooting guide may be useful for addressing a common product issue that customers face. An FAQ page, meanwhile, is better for clearing up questions about a service you provide.
With a framework for your knowledge base in mind, you can now think about writing content.
2. Put yourself in your readers' shoes.
Your knowledge base content should be formatted for its target reader. To do that, you need to understand who's looking at your content and how they prefer to consume information. That starts by visualizing how your customers are feeling when they're looking for help.
Ask yourself: Is a reader likely to be frustrated by a problem they're having with your product? Or, are they confused about a specific feature of your service?
The answers to these questions will help you correctly position each piece of content. Doing so shows your customers that you understand their needs and care about helping them. And, as the graph outlines below, most customers will leave your company if they don't feel like you care about them.
Writing content from the perspective of the reader is also vital in another way. It prevents writer bias from damaging your content.
Writer bias occurs when your knowledge of a subject negatively impacts the content that you're writing. You assume that your readers share your understanding of a topic, so you don't explain things as clearly as you need to. This narrows your audience down to more advanced users who probably don't need as much help from your knowledge base content.
3. Make sure all content offers a valuable solution.
Another common mistake is forgetting the purpose of your knowledge base content. Remember, your knowledge base articles aren't examples of marketing content. You shouldn't be using them to sell the benefits of your product. That's something to do elsewhere.
Each piece of content in your knowledge base must offer a real solution to its readers. You need to ensure that you always answer the question or issue the customer is experiencing. By doing so, you show that you understand each customer's problem and are giving them the means to solve it.
4. Give knowledge base content real-world context.
Another superb way to ensure your content is relevant to readers is by giving it real-world context. This shows customers how to achieve success using your product or service.
For example, start with providing examples for what success with your product or service looks like. Rather than keeping things theoretical, include case studies of how real people or businesses use specific features to accomplish their goals.
Remember, you're not selling via your customer support content. If a real-world example or case study doesn't answer a reader's question, don't include it. Choosing when to employ these elements is up to your discretion.
5. Think visually with formatting & features.
Some companies take a sloppy approach to knowledge base content because, since it isn't sales or marketing material, they think that it deserves less attention. Where landing pages get painstakingly devised, support content is too often thrown together haphazardly.
Taking a serious approach to your knowledge base means looking at the style and appearance of its content. You can't just throw together a collection of FAQs. Instead, explore the different content formats that'll appeal to different consumers:
Video Tutorials
Infographics
Step-by-Step How-To Guides
Glossaries of Words and Phrases
Adding visual elements to content can also improve its ability to convey information. Screenshots, graphs, and other features help your pieces show as well as tell. Many of your customers, after all, may prefer learning from visual cues than from text, as outlined in the graphic below.
The best practices for formatting marketing pages also apply to support content. Action-oriented headlines help readers find the most relevant information on your pages. Step-by-step lists and bullet points help customers scan your pieces more efficiently. And, a robust structure gives a page a better flow for reader experience.
6. Make your content easily accessible.
Your customers want answers to their questions as swiftly as possible. To ensure this, you can add a search bar that lets users search for articles by topic or keywords. You can also use links between support pieces to help people research issues that may be related.
You'll also want to consider the searchability of your content. After all, you want your customers to find the right articles when searching on your site or when using Google. For this, you'll need to do some keyword research to find out how people are searching for your content. Once you know the phrases used to find your content, you can work them into different page elements:
Article Titles – Short, action-oriented titles with a primary keyword are your best option.
Metadata – Ensure page descriptions have the phrases customers use most often to look for the answers the page offers.
Body of the Content – Where it's natural to do so, add keywords to the body of your content. This should be easy since the keywords will often be used to answer the customer's question.
Anchor Text – If you link between knowledge base articles, use keywords for the anchor text. 'Click here,' or similar anchor text is a waste of an opportunity.
7. Update, adapt & improve your knowledge base.
The last step to creating knowledge base content is understanding that it's an ongoing process. You shouldn't think that once you've written an initial body of pages, that your job is done. You need to update, adapt, and improve your knowledge base continually.
Customers hate looking for a support article and finding an answer that's out of date. You should keep checking up on your knowledge base, and replace or edit pieces that need more current information. It's also important to collect customer feedback so you can improve your published content.
The best knowledge base content empowers as well as informs. And, while there's no perfect knowledge base page, you must tailor your guides and other pieces to suit your customers. Following these steps is the best way to ensure your content will truly deliver.
For more knowledge base tips, read about customer self-service.