Imagine you're walking down the sidewalk with a friend when you notice a small rock. As you approach it, you do what every "normal" adult does and kick it further down the road. Your friend, noticing this act, kicks the rock, too. And, the game is on.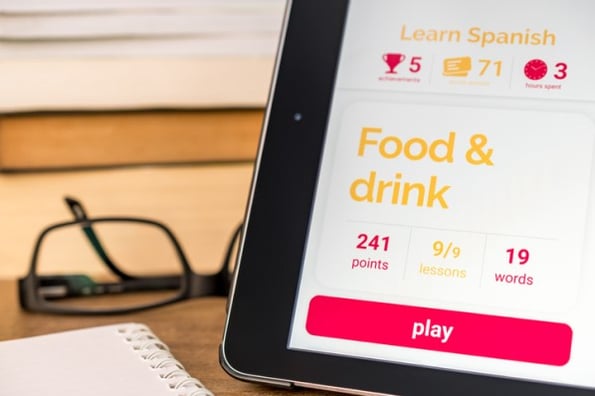 "Kick the Rock," as I call it, is an excellent way to turn a normal walk into a fun, light-hearted game. By implementing an incentive and an element of competition, Kick the Rock converts what would be a common activity into a sidewalk past-time.
But, Kick the Rock doesn't just teach us how to entertain ourselves. Rather, it tells us how to motivate and incentivize others. In fact, Kick the Rock is one of the most fundamental games that prove the effect that gamification has on both customers and employees.
In this post, let's break down gamification, including what it is, why it's important, and how you can implement it at your business.
What Is Gamification?
Gamification is the process of turning a task into a game. This makes the activity more enjoyable for the user and increases the likelihood that the task will be completed. Businesses use gamification to create attractive loyalty programs and encourage long-term customer engagement.
Gamification is effective because it takes a boring or mundane task and makes it exciting and reward-driven. People love the feeling of accomplishment, so gamification rewards them with mini incentives while they progress towards an overall goal. This keeps the user continuously engaged and makes it more likely that they'll accomplish the task at hand. This system is particularly effective when encouraging participants to complete a long-term or complicated task.
While gamification is effective, it takes time to adopt and implement. Your team may be skeptical to invest in these programs without the assurance of success.
To supplement that missing confidence, let's review some of the reasons why you should invest in gamification.
Why is gamification important?
Gamification is becoming increasingly popular as it's proven to motivate both customers and employees. For example, 89% of employees said they were happier and more productive when exposed to gamification. On the opposite end, 61% of employees who experienced non-gamified workflows said they felt bored and unproductive.
But, that's not the only benefit for employees. Take a look at this graphic below for some additional advantages of gamification.
Source: Finances Online
For customers, research shows that companies who gamify content experience 30-40% more online customer interactions than those who don't. That's because customers are more likely to engage with your business when the experience is delightful. That feeling of joy they achieved from accomplishing tasks becomes tied to your organization. So, whenever they think of your company, they'll remember those positive interactions and crave more.
And, this behavior can make or break your customer loyalty program. Studies show that 54% of customers aren't active in loyalty programs and 69% don't participate in online communities or forums. This indicates that it's not enough to just offer an incentive, you need to make it a fun and exciting experience. By implementing gamification into customer delight, you'll hook active users and create an effective customer loyalty program.
Gamification can and should vary from business to business. After all, you want your programs to stand out and be memorable to the user.
To help your team get inspired, let's review some awesome gamification programs and features we've seen at other SaaS businesses.
Examples of SaaS Gamification
1. HubSpot
HubSpot's software has plenty of gamification features that optimize the user experience. From motivational pop-up messages to automated checklists, HubSpot's products are all infused with gamified elements.
My favorite one is the "optimize" feature that's available in the blog, website, and landing page tools. As depicted below, this tool lets you know if your content is optimized for SEO purposes. It provides you with a handy checklist that automatically turns green once a task is completed. This teaches the user SEO best practices without slowing down their workflow.
2. Grammarly
If you don't write every day like us bloggers, you may not have used Grammarly before. However, Grammarly is an excellent tool for tracking and correcting your spelling and grammar habits online.
If you're using Google Chrome, Grammarly is installed as an extension. Once uploaded, the tool will analyze your emails and other apps like Google docs, flagging errors and providing you with suggestions that you can implement with a click.
If you use Grammarly's "new document" feature, you can write out text that's analyzed and scored according to the tool's AI. It grades you on grammatical errors, clarity, and overall writing quality. And, the score updates automatically so you can challenge yourself to achieve the highest score possible while you're writing.
I use Grammarly every day to review my content and I'm hooked on getting a "perfect score."
Source: Grammarly
3. Twitch
Twitch is a popular streaming service that lets users watch professional and amateur video game players.
To keep its users engaged, Twitch provides a variety of gamification features to both free and premium accounts. For example, users can be given "Drops" just by watching a stream. These are rewards like badges and accolades that raise the user's status within the online community.
Premium users can receive in-game rewards like new characters, vehicles, and credits. And, if you're hosting a stream, you can create customized badges to award to your most loyal followers. The image below shows what some of these badges look like.
Source: Upwork
This gamification approach is brilliant because Twitch is creating customer delight without offering a coupon or a discount in return. Instead, it's focusing on what its users care most about and creating incentives that match those values.
For more ways to improve customer experience, read our ultimate guide to SaaS.