Customer service should be the most important aspect of your business if you care about sustained growth.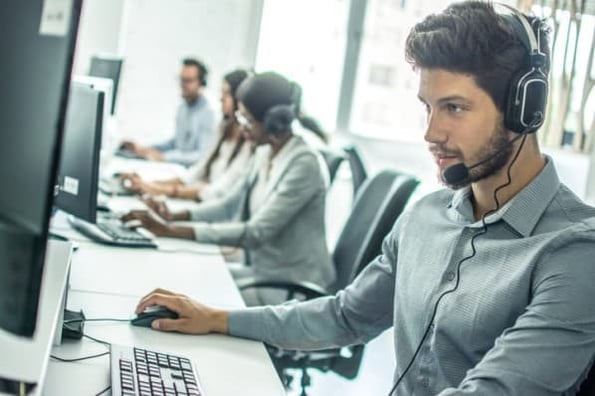 The difference between meeting and exceeding customer expectations often comes down to the capacity of your support team. There's one thing that could take your customer service to the next level: the right service desk.
What is a service desk?
A service desk is the primary point of communication between customers and an organization. It manages tickets, tasks, and communication all in one place to provide a great customer experience efficiently for the organization's business model.
The service desk fulfills a strategic function for IT teams: It's an end-to-end solution for businesses managing complex customer service operations.
What are the responsibilities of a service desk?
Service reps call on service desks for a number of functions within their role. In a support context, the service desk would:
Act as a single source of truth - In organizations that have multiple communication channels, a service desk pulls communications into one hub. A functional system keeps track of all queries, regardless of the channels or reps involved for a seamless experience.
Receive support requests - Service desks receives support tickets and other requests and handle the communication from user to rep.
Manage assets - Whether it's the front-facing self-service mechanisms or the internal documentation, the service desk manages assets to assist reps with providing timely, accurate resolutions.
Track service metrics - The service desk will categorize issues, questions, and queries along with other metrics to help managers deal with volume and performance as well as forecast potential issues.
However, there's a difference between what you might call a help desk and a service desk.
Service Desk vs. Help Desk
Help desks enable agents to collaboratively, but reactively, tackle incoming customer support queries. The service desk, meanwhile, allows you to proactively manage all your customer service operations.
In this post, we will be looking at service desk software within the ITSM (Information Technology Service Management) category.
Service Desk Features
A service desk has some key features that distinguish the software from other customer service tools. Remember these, as they are strong indicators that your service desk is likely to meet your business's needs.
Help Desk Tools
Your service desk usually includes a set of help desk features, including a traditional ticketing service and the ability to log new service requests. It should also provide a central point of contact for all incoming issues, handle information requests, and keep track of the level of service you are providing for customers. These features ensure your customer service is delivered in a personal way with authentic responses.
Automation
Your service desk should offer some level of automation for incoming queries, routing the least urgent and least complex queries to a self-service integrated knowledge base. It should also identify problems with your service that has to do with IT infrastructure and help you prevent issues from happening again. Your staff can record the details of the problem, linking other known incidents, and ultimately takes steps to resolve it.
Collaboration
A service desk allows you to organize the process of handling a very large volume of customer queries with a shared inbox. Shared inboxes forward incoming messages into one central location where agents can collaborate. Once there, queries can be sorted, tagged, prioritized and assigned to the best agent available.
Self-Service
Labor-saving features like a knowledge base, FAQs, and other self-service portals can help users "serve" themselves by searching through the information you've already placed at their fingertips. Some service desks will allow you to turn frequent issues from tickets directly into public content, which may head some tickets off at the pass.
Integration Services
Robust APIs and integrations allow your service desk to integrate with other IT management processes. Your service desk is a link in the chain for your entire business' software so it should be able to integrate with popular apps like Jira, Slack, and Salesforce.
Reporting
Track important support metrics like agent response time and ticket volume with sophisticated reporting capabilities. Report on metrics related to specific team goals that measure efficiency, such as ticket response time, CSAT, and NPS®. In turn, you can use those metrics to easily track and meet customer service level agreements (SLAs). Reporting functionality also means you can review your reps' productivity, track it over time, and identify areas for improvement.
Now that you're familiar with some of the features to look out for, let's take a look at the best Service Desk options available for 2019.
The Top Service Desks in 2019
Hubspot Service Hub
Spiceworks IT Help Desk
Jira Service Desk
AzureDesk
Freshservice
Help Scout
Track-It!
Samanage
SysAid
Salesforce Service Cloud
Zendesk
ServiceDesk Plus
HaloITSM
The first thing you'll notice about HubSpot Service Hub is its intuitive interface. For example, it enables you to log your customer issues into a shared team pipeline. This helps marketing, sales, and service teams work together to create a seamless end-to-end customer experience.
The unified platform gives you a consolidated customer record from which you can provide personalized customer service. Your team can stay organized and streamline customer communications with "Conversations," a universal collaborative inbox that comes free with the software. When you reply to a conversation, the message is sent out through the same platform it came from – e.g., Facebook Messenger or live chat.
Check it out below:
The Spiceworks IT Help Desk offers only one tier of free help desk software, delivered on-premise or through the cloud — though you can pay an undisclosed fee to remove the ads. It's great for small businesses with limited budgets.
The shared interface allows you to track tickets, gain insights into and influence team behavior, and fully articulate IT's business value. Explore IT asset management, IT purchasing, and multi-site locations for flexible execution. The system can be customized with add-ons to extend the suite of functionality.
Check it out below:
JIRA Service Desk by Atlassian is modern service desk software that's aimed at development-focused teams, but easy for anyone to use. It's quick to set up and ready to go with automation rules, SLAs, and real-time reporting. It comes with capabilities to manage ITIL-certified processes including incident, problem, and change management.
You can deliver great service for a very reasonable price and get set up at warp speed. And JIRA Service Desk integrates with other JIRA software for a powerful support experience.
Check it out below:
AzureDesk comes with all the essential features of enterprise-level service desk systems but offered for a low price. It has a ticketing system to track support cases, plus a sleek and attractive user interface.
Your team can publish content to the self-service portal, create business rules to manage workflows, and take advantage of reporting capabilities. You can also integrate with third-party apps like Jira, Olark, Slack, Charge Desk, and many more.
Check it out below:
Freshservice is an online ITSM solution with a fresh twist, styling itself as an IT service desk that's actually rather straightforward. Part of the Freshworks ecosystem, this platform focuses on user experience overlaid on top of powerful ticketing and asset management capabilities.
Its core functionalities are troubleshooting and asset management, but Freshservice also lets you create a knowledge base as well.
Check it out below:
Help Scout offers a highly personalized customer experience that feels just like email — because it is. Look and feel really matters in an online service desk, and Help Scout can also meet the needs of companies with 500+ users.
The super modern, clean interface means that even large, remote teams can collaborate smoothly with Help Scout. Help Scout gamifies task completion to motivate your team to power through tickets.
Check it out below:
Track-It! is help desk and asset management software that has been around for more than 25 years. Track-It! provides ticket management, email-to-ticket conversion, and knowledge management.
With this software, your team can take advantage of SLA management, asset management, software license management, end-user self-service patch management, software deployment, and more.
Check it out below:
Samanage service desk has a modern interface, intended for simplifying the complex and automating the basic. You'll have access to advanced metrics and reporting, plus the ability to configure your workflows to some extent.
Samanage complies with the ITIL framework to help you resolve tickets faster and meet your SLAs. Stop firefighting, and instead help your customers with faster and more intelligent service.
Check it out below:
The SysAid dashboard is the place for managing every IT support task, like powerful ticket management, IT asset management, self-service portal, and more. It even includes live chat!
With SysAid, you can customize your help desk configurations and have the luxury of working from either the cloud or on-premise. The amount of features you get with SysAid typically represents good value for its cost.
Check it out below:
Salesforce Service Cloud service desk software is an ITSM tool. Salesforce is synonymous with enterprise-level features and support.
Service Cloud tracks your incoming customer issues from all angles, including call center, contact forms, forums, and social media. Your business will benefit from continuous up time and the ability to integrate with the rest of the Salesforce suite.
Check it out below:
Zendesk is a powerful and scalable service desk software for enterprise businesses with huge volumes of customers. Zendesk improves communication and interprets massive amounts of data, integrating with IT asset management tools. Zendesk is at the top end of affordability in terms of service desks.
And for good reason–more than 200,000 companies are relying on Zendesk to continuously improve their customer service and invest in productivity.
Check it out below:
ServiceDesk Plus by ManageEngine is comprised of help desk and asset management software. The enterprise plan offers the full package with help desk, asset management, and problem/change management as an ITIL-ready ITSM suite.
It also comes with a self-service portal and knowledge base. The software is delivered either via the cloud or on-premise.
Check it out below:
13. HaloITSM
HaloITSM's software is accessible either on-premise or through the cloud, keeping pace with most solutions in this space.
This feature-rich application offers a simple user interface that includes features like incident, problem and change management, asset management, CMDB (Configuration management database), and service catalog.
Check it out below:
Depending on the needs of your team, and the IT principles your team follows, the perfect service desk for you is certainly out there. Now, all you need to do is narrow it down!
Net Promoter, Net Promoter System, Net Promoter Score, NPS and the NPS-related emoticons are registered trademarks of Bain & Company, Inc., Fred Reichheld and Satmetrix Systems, Inc.
Editor's note: This post was originally published in April 2019 and has been updated for comprehensiveness.