For consumers, there's no shortage of choices, but there's a limitation of money. People pick and choose brands they rely on, and will allocate portions of their budget to companies they trust. This metric is called, "share of wallet," and it helps brands determine how popular they are amongst their competitors.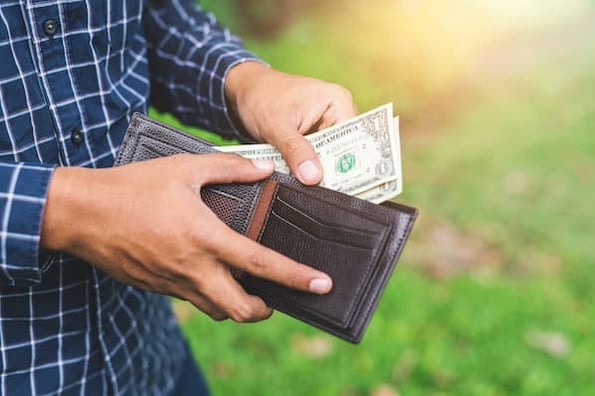 Let's dive in on what exactly that figure means and how to calculate it for your business.
Skip to
What Is Share of Wallet?
Share of wallet is the amount an existing consumer regularly spends on a specific brand as opposed to its competitors. If a customer has allocated a portion of their budget to spend on a specific kind of product or service, share of wallet is the percentage of money that goes to that brand instead of its competitors.
For the sake of being folksy, you can think of it as a brand's competitive "share" of the money a consumer has chosen to spend from their "wallet" on the product that brand makes.
For example, imagine a consumer allocates $50 per month to spend on laundry detergent and they need a new bottle of detergent every two weeks. There are two competing brands vying for that consumer's business and both companies charge $25 for a bottle of detergent.
If the consumer buys one brand at the beginning of the month and the other two weeks later, both brands have 50% share of wallet for that month.
Share of Wallet Example
Let's say you've created a cruelty-free skincare brand specializing in brightening cleansers and soaps called Glow. You'd like to improve your share of wallet among your existing customers and decide to roll out some new products like a moisturizer, serum, and sunscreen.
By offering new products that your customers can use alongside existing ones they already love can help increase your share of wallet. You can also use this tactic to build brand loyalty by offering loyal customers dibs on trying out the new products before they hit the shelves.
Increasing an individual customer's share of wallet can be as reliable and profitable as trying to bring in new customers. That's why businesses often focus on increasing their share of wallet for repeat customers as much or more than winning new ones. This individual approach highlights the difference between share of wallet and market share.
For more ways to measure customer service, read about customer retention metrics.
Share of Wallet vs. Market Share
Market share is the percentage of a market that a single company controls by revenue or number of customers. Share of wallet is how much a specific customer spends on a brand relative to its competitors. Acquiring new customers boosts market share while getting existing customers to spend more improves share of wallet.
Improving your company's share of wallet can often be as simple as offering a broader range of high-quality products like the skincare example above. Additionally, boosting share of wallet can also mean borrowing from other companies.
Think about when Popeyes set off a fried chicken sandwich frenzy that inspired other fast food chains to create their own version, or revamp existing sandwiches on their menus.
If a particular menu item is selling well for a brand's competitor, it may consider selling its own version. That way, customers will be less inclined to spend money at one of its competitors because they can get the same product from a brand they know and trust.
But, how can you tell whether customers are relying on your business more than others?
How to Calculate Share of Wallet
The most effective way to calculate share of wallet is known as "The Wallet Allocation Rule." The formula relies on two factors: the number of brands within the specific category and how those brands rank in terms of customer preference. These are the steps to finding your share of wallet.
1. Determine the number of brands.
The first step in calculating share of wallet is establishing the number of brands you're looking to analyze. For example, if you are a laundry detergent company, you will want to include other laundry brands like Gain and Tide.
2. See how the customer ranks them.
Survey the customer you want to analyze and rank the brands in question. If they rank two brands in the same position, take the average between that position and the one after it and assign that as their ranks. For instance, if a consumer has two brands at number one, those brands will both rank at 1.5.
3. Use The Wallet Application Rule formula.
Plug a brand's rank and number of total brands in its category into the formula below to calculate share of wallet.
For instance, let's say you run a fast-food restaurant called Clint's. Out of five fast-food restaurants, a consumer ranks Clint's second. According to the Wallet application rule, Clint's has a 26.8% share of wallet for this customer.
(1- 2/6) x (2/5)
.67 x .4 = .268 or 26.8%
Now that you've calculated what your current share of wallet is, you can work to improve that metric.
Marketing to Grow Share of Wallet
In order to increase share of wallet, you'll need to ensure your marketing efforts are optimized for the task. Look at your competitors. Are they better priced? Are their products higher quality?
To be successful, you'll need to hone in on what your competitors are doing and how you can improve your strategy to snag some of their share of wallet. If you're Clint's fast-food chain, you may notice that your competitors lack healthier options, which is something you can capitalize on by offering grab-and-go salads. From there, get the word out to your customers letting them know about the new options and the convenience they provide. Perhaps you can offer free salads to a set amount of loyal customers and have them review to create some word-of mouth-buzz.
Customer Loyalty Isn't Enough
Having loyal customers is important, but it's not the only thing that matters to increase revenue. People are always going to have preferences. They will try new products and rely on the ones that resonate with them. It's important to make sure your brand can capitalize on those tendencies.
That's why share of wallet is a reliable, practical metric that's worth keeping track of. It could inform viable and effective strategies to drive revenue from existing customers or give your business some context as to what it could be doing better.
Editor's note: This article was originally published in May 2020 and has been updated for comprehensiveness.