Since the late 1980s, outsourcing customer service has helped businesses grow support teams at a fraction of the cost of doing so domestically. However, over time this approach has developed a poor reputation for being a low-quality, cost-saving measure. Customers have become too accustomed to long wait times, iffy resolutions, and unsatisfying experiences with most outsourced call centers.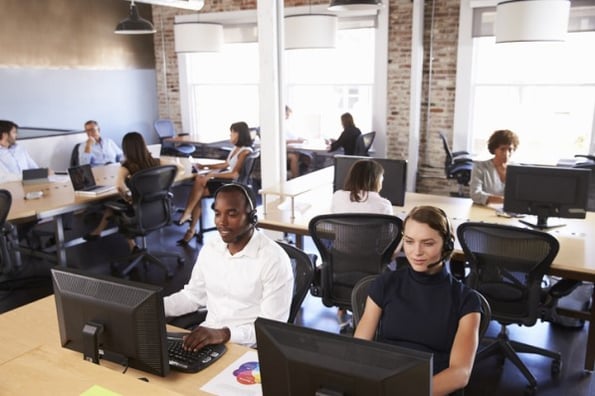 But in recent years, the business case for outsourcing has evolved. Today, organizations of all sizes are turning to on-demand call centers to grow their teams quickly and deliver best-in-class customer experience. An ecommerce company, for example, may need to beef up availability during holiday seasons. Or, a growing startup might discover that its customers now require 24/7 support.
This is where on-demand support teams, or "Support-as-a-Service," come into the picture. Unlike traditional outsourcing, Support-as-a-Service makes the customer's experience its top priority.
In this post, let's explore how on-demand customer service teams can help your organization meet its short- and long-term goals.
What Is Support-as-a-Service?
Support-as-a-Service is very similar to SaaS, or Software-as-a-Service. Software-as-a-Service consists of cloud-based applications that are available from any browser. While many of these solutions are used right out of the box, software providers tailor each user's subscription to meet their unique needs.
Support-as-a-Service gives you the same level of autonomy over your external call centers. Under this approach, companies can add anywhere from one to 50 agents to their team on a month-to-month basis. Additionally, vendors work closely with clients to integrate existing support workflows, KPIs, and customer satisfaction standards across the entire on-demand team.
This gives us a fairly academic definition of Support-as-a-Service. From here, we'll discuss how leading companies are benefiting from outsourced teams while keeping high-quality service a top priority.
Benefits of Support as a Service
A recent study from LiveChat found in 2018 customer satisfaction dropped from 86% to 82%. While that doesn't mean that customer service has gotten worse, it does show us that today's consumers expect more than they did in the past. If you're not equipped to deliver the level of service your buyers expect, you could lose business to your competition. That's why Support-as-a-Service has become particularly popular in the organizations listed below.
Online Marketplaces and Ecommerce Brands
Since online marketplaces and ecommerce brands outsource a variety of tasks and features, they often leverage external teams to support customers during off-peak hours. These companies will set up their Support-as-a-Service operation to address three common scenarios.
After hours and weekend support: In this scenario, the on-demand support team operates exclusively outside of normal business hours. It also provides coverage on weekends and busy holidays.
24/7 on-demand support: This option distributes agents across three or four regions to provide 24/7 support. Agents in each location are highly-skilled and capable of supporting multiple customer bases. In most cases, they can handle up to 50% of all support tickets.
Hybrid structure: Support-as-a-Service is as flexible as clients need it to be. In some instances, companies choose a combination of options, especially during holidays.
Software, Finance, and Tech Companies
According to Workable, the average time to hire a customer service agent is 40 days. When you need to grow a team by more than one agent, that amounts to...a lot of days. And, many software, finance, and technology companies can't wait that long to increase headcount. Instead, they lean on on-demand support teams that are available during normal business hours and can handle tickets collaboratively with their in-house staff.
We've found that once they've completed your training programs, Support-as-a-Service functions can handle anywhere between 50-80% of customer inquiries. In some instances, external teams manage more than 90% of a company's support and QA operations.
Seasonal Businesses
Companies that have seasonal peaks and valleys often can't justify the operating costs of having a full-time support staff. But that doesn't mean they can do business without a customer service team. To bridge the gap, these businesses take advantage of hybrid Support-as-a-Service because they only need part-time teams to cover gaps, holidays, and product seasonality.
For these types of companies and many more, Support-as-a-Service sounds ideal. But we still haven't answered one important question: how are these businesses ensuring that their customer service is best-in-class?
How to Provide Excellent Support-as-a-Service
With traditional outsourcing, call centers operate completely independent of the businesses they support. While they receive some level of training, it's usually codified by the vendor and is inconsistent with their client's standards of service.
The key driver of this disconnect? A lack of collaboration across team members. This has proven to be a huge problem. In fact, The Harvard Business Review reported that only 12% of companies allow their support teams to work together.
To keep customer service consistent across internal and external teams, here are a few steps that you can take after partnering with a Support-as-a-Service vendor.
1. Provide consistent training for all agents.
What does the onboarding process look like for your in-house staff? Whatever the answer is for you, apply the same training methodology to any on-demand teams you've partnered with.
2. Break all of your data silos.
When your training materials are consistent across all call centers, you create an environment in which reps are encouraged to work together on complex tickets. By removing these data silos, your teams will increase productivity and provide a better customer experience.
3. Hold everyone to the same metrics.
In a traditional outsourced setting, agents are usually evaluated by the number of tickets they process. Instead, grade your team's performance on the same KPIs your in-house team uses. It doesn't matter what location they're working from; every rep should be held to the same standard.
Now that we've talked through the ins and outs of Support-as-a-Service, there's only one last step to take: choosing your vendor.
4 Best Support-as-a-Service Providers
Although Support-as-a-Service is still a new concept, many providers have entered the marketplace over the last few years. And, based on some of the case studies we've seen, it's clear that on-demand teams are empowering businesses to fill short-term gaps and long-term business goals.
So, which ones are the best? Below are a few of our favorite options. Some specialize in customer support, while others offer broader outsourced solutions, including marketing, lead generation, and sales enablement.
Partner Hero
Partner Hero provides customer service, design, and engineering support for startups. It's great for businesses who are just getting started and need to supplement a support staff. Some of its clients include well-known organizations such as BuzzFeed, Udemy, and Inc. In addition to its unique support options, Partner Hero also works with its customers to localize website content and engage people around the world.
Support Ninja
Support Ninja offers on-demand customer support, lead generation, and content moderation services. What makes it unique is its approach to ticket management. Support Ninja constantly updates its clients with weekly reports and tracks what's working well, as well as what needs to be optimized.
Boldr
Boldr stands out for two reasons. First, it has a detailed process for aligning with customers on their goals, KPIs and process flow. Additionally, Boldr is outspoken about being a purpose-driven outsourcing firm and the company donates a percentage of its revenue to education nonprofits each year.
Influx
Unlike the other options we've discussed, Influx focuses exclusively on customer support. Influx works with ecommerce, tech, and SaaS companies to provide on-demand and after-hours support. It also works with highly-specialized call centers that can be fully integrated into an existing workflow and team structure.
For more ways to scale up your staff, read about hiring a customer support team.