Have you ever visited a website in seek of support — to review your account, search for information, find an answer to a question you have, or update your login details — and got the help you needed without speaking to another person?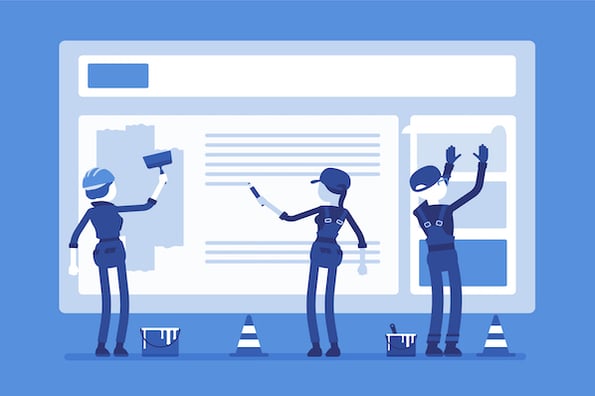 This type of customer service and support has become vital to the success of all businesses, regardless of industry or size. That's because, today, customers expect immediate answers and solutions — nobody wants to wait around for a support representative to email them back or return their phone call.
Not only does web-based self-service allow you to better serve your customers in a way that empowers them to quickly find the answers they need, but it's also a very cost-effective option for your business. You won't have to hire a team of reps to provide your customers with the 24/7 support they often seek. Instead, you can hire a strong team of reps that's smaller in number and offset by your web-based self-service efforts.
So, what is web self-service, how does it work, and how can you ensure you're meeting the standards of your customers? Let's take a look.
What is web-based self-service?
Web-based self-service is a form of customer service and support that lives on the internet — your business's website, specifically. It allows website visitors and customers to identify solutions and resolve their challenges through support-focused resources like your knowledge base, webinars, and FAQs. This allows customers to find the answers they need without ever having to speak with another person or support rep.
How does web-based self-service work?
Your business's web-based self-service may work through a self-service portal on which customers have accounts. It may also be accessible to access via a specific page, such as a help and support center, on your website. Within these locations, visitors should be able to access your self-service materials (e.g. community, knowledge base, videos, and more).
Now, you may be wondering what the specific benefits of creating a self-service system are for your business — let's take a look at those next.
Benefits of Web-Based Self-Service
When you empower your customers to resolve their pain points, you improve your chances of boosting customer loyalty and advocacy. Additionally, there are a number of benefits that result from web-based self-service which positively impact your business's bottom line.
1. Save your customer service and support reps valuable time.
When you readily provide answers to your customers' frequently asked questions and information about how to resolve their own, your reps will have fewer calls, tickets, and emails to respond to.
This saves them valuable time by allowing them to focus on the customers with complex problems instead of those with issues that could be solved with the help of some type of self-service support (e.g. knowledge base article or automated chatbot).
2. Reduce your customer service and support costs.
Web self-service helps you drive customer service and support costs down, too. When you provide the answers and support your customers seek in a way that teaches them, they will be able to solve their problems without the help of reps. Additionally, they'll learn how to consistently mitigate their challenges on their own time — and in turn, you'll avoid managing a large team of service and support reps that you need to hire and pay.
3. Drive traffic to your website.
Whether you have a self-service portal, help center web page, or both, your business's web-based self-service will be connected to your website. That means, when someone wants to access your self-service, you gain traffic on your website. This increases the chances of them learning about your products, buying the latest version of your service, contributing to your customer-based community, clicking your CTAs, and following links to your social media sites.
4. Empower and educate your customers.
Empowering and educating your customers will naturally happen when you provide them with web-based self-service — this is because you're allowing them to find the answers and support they need, on their time, without having to speak to a rep. By doing so, you show your customers that you're their advocates, which helps you build strong relationships and a sense of trust between your brand and customers.
5. Allow for account personalization.
Customers can personalize their account settings in their portals via your website (if you offer self-service portals to customers). Whether it's their account details, payment method, or overall plan, this information is customizable and viewable within their self-service portal. And depending on the type of self-service portal you offer customers, it might even welcome each customer by their first name when they login to their account.
Account personalization helps self-service systems understand how they can best help specific individuals based on their preferences. For example, a portal may pull up a customer's previously viewed, or most frequently viewed, resources upon login for quick access to relevant support materials.
Now you might be thinking, "This sounds great, but how do I actually implement web-based self-service for my customers?". We'll review the answer to that next.
How to Implement Web-Based Self-Service
Remember that, depending on your industry, size, customers, and resources, your web-based self-service plan may differ slightly from those of your competitors and peers. However, the following steps are universal to all self-service web pages, plans, and portals.
1. Decide on your business's web-based self-service.
The first step in the process is determining how you'll create your self-service portal. There are several ways to do this that depend on your company and preferences. For example, if you're already using a CRM, you likely have access to a self-service builder or software within that system. Additionally, you might choose to invest in a service and support software, such as the HubSpot Service Hub, which has numerous self-service building tools.
This is also when you'll want to decide which types of web-based self-service you'll offer your visitors and customers. Here's a list of the most common options. (Note: There's no right or wrong answer to which options you choose — it's a preference based on your specific business and base of customers.)
2. Make the self-service web pages and portal easy to locate and navigate.
When a customer enters your website, they should be able to easily find your help center, portal, and/or self-service materials. After all, the point of the self-service is to keep the process of customer support as simple as possible. So, make sure your support options are simple to navigate to and through. You might choose to do this by adding a link to your self-service resources in your main menu, navigation bars, and/or your footer menu.
3. Brand your self-service page appropriately.
When your customers open your self-service and support page, they should know it belongs to your company. Not just because it's located on your website, but because it's branded in a way that complements the rest of your website marketing efforts. This adds a professional feel to the support you provide and ensures your customers know they're in the right place to efficiently find the answers they need.
4. Optimize your self-service with a responsive design.
By ensuring your business's self-service has a responsive design, your customers will be able to access all types of support — such as your knowledge base or FAQ — via their laptops, desktops, smartphones, or any other device. In a society in which people work remotely, search for answers while on the go, and switch between various devices many times throughout every day, self-service with responsive design is a must.
5. Keep your content up to date.
The point of web-based self-service is for your customers to help themselves, but they can't do this if your content is out of date. So, as your company grows and product or service evolves, ensure your support content is updated and includes all of your latest information. This helps avoid confused or frustrated customers and an influx of calls and messages going to your support reps.
6. Refer to successful self-service portals on other business' websites for inspiration.
If you need inspiration, refer to some of the most successful self-service web pages and portals available on the internet today. This is a great way to see what your competitors are doing well, understand what customers in your industry are looking for in terms of support, and get an idea of any self-service items you may be missing.
To help kickstart this process, here are a few examples of strong web-based self-service by three different companies.
HubSpot Knowledge Base (and Help Center)
HubSpot offers all website visitors and customers access to its various self-service support options. These are accessible via the Help Center web page as well as the HubSpot CRM and include a knowledge base, chatbot, customer community, HubSpot Academy information, and more. If these self-service options aren't enough for visitors or customers, there are instructions on this self-service page explaining how to submit a ticket or call a support rep.
Blue Diamond Almond Breeze Chatbot
Blue Diamond's self-service includes a live chatbot and automated virtual assistant on its website. This bot pops up the moment a visitor enters the site. They can then type questions to commonly-asked questions and the bot will populate the screen with an answer or solution. If necessary, the bot can even recommend the customer chat with a rep and then proceed to make that connection for the customer.
Sprout Social Help Center
Sprout Social has a Help Center page on its site which includes links to all of the web-based self-service options its visitors and customers have. These include access to the knowledge base, webinars, FAQ, featured articles, platform exploration tools, and more. If a visitor needs more in-depth support after reviewing these support materials, they can elect to use the support rep contact information on the page to chat with an expert on the phone.
Grow Better With Web Self-Service
Today, web-based self-service is a must. Your customers want and expect it from you. So, take the time to create and share the necessary materials sure to help your customers and visitors succeed.