Serving customers should be everyone's job at your organization. Whether you provide customers with the latest tech products, outstanding customer support, or an efficient eCommerce experience, their satisfaction should be every employee's goal.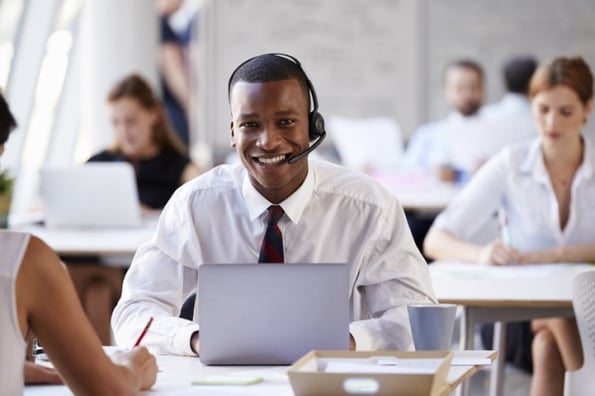 While all of your employees should put the customer first, there's usually one or more teams dedicated to supporting immediate customer needs and maintaining customer satisfaction. Their job ensures customers are happy with your products and will recommend your brand to others. These frontline employees act as a primary support resource and help users achieve their goals.
On a customer service team, this role is called a customer service representative. In this post, you'll learn what a customer service rep does and what a job description looks like for this role.
Customer Service Representative
Customer service reps are customer-facing workers on your service team. Their job is to receive and answer questions, requests, and complaints from customers via the phone, chat, email, social media, or in-person.
The customer service rep tends to be an entry-level position. However, depending on the size and age of your company, this role can grow into a more senior-level role Once a customer service rep masters this role, they can move into other service, support, or customer success roles for the rest of their career.
What does a customer service rep do?
As mentioned before, customer service reps respond to customer requests and solve problems. They use their innate knowledge of the company and the organization's internal resources, like a knowledge base, to help customers achieve their goals.
Additionally, customer service can be proactive, too. Reps can solve problems before users recognize them by reaching out with product offers and company updates. For instance, your company might realize there's a bug in one of its latest products. Service reps would send out emails explaining how to troubleshoot the error before customers reach out to your team.
The type of customer service rep you are will change the scope of work you do on a daily basis. Here's a detailed look at the two most common levels of customer service reps.
Responsibilities of an Associate Customer Service Rep
Associate customer service reps assist customers directly on the sales floor figuratively and literally. This role also includes answering customer questions and diagnosing their problems before they escalate.
Responsibilities of a Lead Customer Service Rep
In a team, the lead customer service rep, or senior customer service reps, manages escalated customer issues and works to resolve conflict in a timely, professional manner. They often train colleagues to become experts on the product or service sold, and how to communicate with customers according to their individual needs, too.
Where do customer service reps work?
Customer service reps typically work in offices or call centers and report to a customer service manager. In some cases, they may be assigned to a specific account or work with other members of the team to help every customer.
Not all customer service reps work in-house. In fact, it's common for reps to work remotely. Remote customer service reps work from home or another preferred workspace, giving them more freedom to travel, take care of their families, work other jobs, and get degrees while employed.
Customer service reps, working in office, hybrid, or remote roles can find themselves working in industries such as:
Retail: In retail, reps process orders, prepare correspondence and fulfill customer needs as they find the products they're looking for.
Finance: In finance, service reps combine financial knowledge with sales skills to help customers identify the right products or plans they need.
Insurance: In insurance, service reps manage customer inquiries, documents, finalize policy adjustments, and answer complaints.
Healthcare: In the medical field, reps communicate to customers regarding the service provided and inform them about changes to their service.
Software: In software, reps document exchanges with customers using digital support tickets to record issues and provide resolutions according to the products in use.
Now that you understand the responsibilities of a customer service rep, read the following job description to help you prepare for your next interview.
Customer Service Rep Job Description
Customer service representatives manage customer inquiries across a variety of channels. They respond to incoming requests quickly and fully solve customer issues, whether they are technical or service-based. The customer service representative notes these interactions by opening new customer accounts or updating existing records.
How to Become a Customer Service Rep
Customer service reps have to obtain their high school diploma or GED to display their ability to learn proper customer service training. Once complete, candidates can build on additional computer and communication skills before beginning their job search. These qualities contribute to an ideal customer service rep resume.
Securing a customer service rep job is feasible if the candidate follows some standard best practices.
Obtain proper education.
You don't need to be a college graduate to have a successful career in customer service. This makes it easily accessible to candidates as long as they have obtained a high school diploma or equivalent.
If you want to go the extra mile, there are certifications available for understanding strategy and technical skills in this field of work, too.
Build on transferable skills.
While customer service exists in many industries and serves different needs — the general skills necessary to excel in it are good communication and computer proficiency. Reps will find themselves in customer-facing environments, speaking with customers everyday, it's important that they can do so with confidence and respect.
Computer skills are also important for candidates to have because they will likely be using customer relationship management software. Having this skillset will set you apart from other candidates and make onboarding easier.
Make a clear and professional resume.
Don't be discouraged if you have limited work experience to fill out your resume. Instead, highlight your skills and qualifications that match the job description. You should also align any previous experience with transferable skills recruiters are looking for.
Prepare to interview.
Customer service rep candidates should be prepared to interview with confidence and knowledge of the job they're pursuing. Not all interviews are the same, so it's important to study common customer service-centric interview questions before you begin.
The biggest reason recruiters look for candidates with these attributes is because the cost of poor customer service is high.
Customer Service Rep Costs
From the time it takes to train a new hire, to supplying them equipment — there are many different types of costs to consider when hiring customer service reps. One of the most crucial costs lies in their ability to perform.
Helpful, positive candidates are a must since 50% of customers say they would switch to a new brand after one bad experience. Building a reputation of bad customer service is hard to reverse, and can drive away prospects and strain a company's ability to grow.
There's too much at stake to hire just anyone for the job. After all, 90% of Americans use customer service as a factor in deciding whether or not to do business with a company.
Customer service reps also have the highest turnover rates in the industry. Customer service managers can work to prevent turnover costs by:
Supplying adequate customer service training to reps
Providing competitive and pay and benefits
Being receptive to feedback from employees
Outlining clear path for career advancement
Rewarding exceptional reps for job well done
Become an Effective Customer Service Rep
This job description can act as an excellent reference whether you're looking to begin your career in customer service or hire a new rep for your team. If you're interested in applying for a job in customer service, we hope this article shined a light on the many opportunities the field has to offer.
This post was originally published in August 2019 and has been updated for comprehensiveness.