Years ago, when college ended, my best friends and I had to change our way of communication.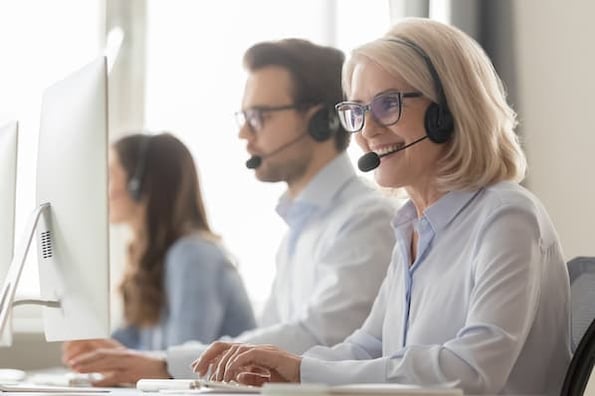 I was moving back home to California, one of my friends was going to continue her education in Europe, and the other was going to begin her Peace Corps service in Indonesia.
We wondered how we'd communicate, given that we were going to be on three different continents.
Enter: WhatsApp.
This was our first introduction to the messaging app because none of us had ever used it. However, we were pretty unique in that.
WhatsApp is actually one of the most popular messaging apps in the world. It has over 1.5 billion monthly active users and 450 million daily active users.
And those numbers are expected to grow. The number of US WhatsApp users is predicted to grow to 25.6 million by 2021.
However, this isn't just a messaging app for friends. Businesses have begun using it in their marketing, sales, and service strategies as well.
There are 3 million companies using WhatsApp Business and 84% of SMBs think that WhatsApp helps them communicate with customers.
Below, let's dive deeper into WhatsApp and learn how you can use it for customer service.
What is WhatsApp?
WhatsApp is a Facebook-owned messaging app where users can send text or voice messages and make voice and video calls. While it's mostly a mobile app, it can be accessed on a desktop. As of 2018, WhatsApp released WhatsApp Business to allow companies to communicate with customers who are on the app.
Why use WhatsApp?
As a business, it's important to have a presence where your audience is.
Besides the fact that it's the most popular messaging app in the world, WhatsApp can help you communicate with customers internationally.
In fact, there are only 25 countries in the world where WhatsApp isn't the market leader in message apps.
Beyond its popularity, businesses can use WhatsApp in marketing, sales, and customer service strategies.
Today, we're going to focus on why WhatsApp should be used in your customer service department.
1. It's a valuable communication channel.
As a customer service team, there are many channels your customers can reach you: email, live chat, social media, and the phone.
Having several channels is important to your customers. In fact, 35% of customers expect to be able to contact the same customer service agent through any communication channel.
With WhatsApp, customer service agents can engage with customers on a global scale, on a platform they're already on. It brings live chat directly to the consumer, so they don't have to go to your site.
Whenever a customer wants to file a complaint or book a service call, they can interact in two-way communication, without ever visiting the company's site.
Additionally, it's a secure channel that customers feel is credible. Since all business profiles on WhatsApp are verified, customers are comfortable communicating with businesses via messages.
Having multiple channels for customer service helps your brand build a relationship with your audience.
Plus, customers prefer communicating this way. In fact, nine out of 10 consumers would prefer messaging to communicate with businesses.
2. There's chatbot capabilities.
Just like live chat, WhatsApp also has chatbot capabilities. This means you can automatically answer common questions with a chatbot, so your customer service team spends more time on more important issues.
Also, you can set up greetings, or away messages which can help keep your response times down and save your team time.
However, just like any chatbot, you shouldn't leave all responses to the bot.
Humans should still be around to deliver personalized responses.
3. It offers integrations with other channels.
Having multiple customer service channels can be hard on your team if the systems don't communicate and aren't organized.
With WhatsApp, you can integrate third-party tools that help you view incoming messages in one inbox, assign conversations to employees, and sort and filter incoming messages.
Additionally, you can add a button or phone number to your social media accounts that go directly to your WhatsApp. This helps organize your customer service channels for your team.
4. Businesses can create groups to calculate Net Promoter Score.
Gathering feedback is one of the most important roles of customer support.
If your customer service team wants to gather feedback (and which team doesn't want that?), you can create a group in WhatsApp.
Groups make it easier to send out customer satisfaction surveys and calculate your NPS. You can send out a quick link, or Google Form, to hundreds of people. Plus, people respond quicker to chats because it's instantaneous, as opposed to waiting a few days to reply to an email.
5. There are multiple message format options.
As a customer service team, you might have to send photos, videos, or PDFs to the customers you're talking to.
With WhatsApp, you can send all of that in one thread.
Additionally, you can use the app for voice and video calls as well. If you need to jump on a quick call to explain something, your agents can do that right in the app.
6. It can be used on your team internally.
Your service team needs to communicate with each other. Right now, how do they do that? If you don't have a messaging app, it usually isn't easy -- or possible.
With WhatsApp, your service team can communicate internally, usually via a group message. Additionally, WhatsApp makes it easy to communicate with other teams. If a customer asks a question that an agent doesn't have an answer to, they can quickly ping the team responsible and outsource the answer right away.
WhatsApp can be a great customer service tool, but before you dive in, don't forget to consider your customers. Are they on WhatsApp? If so, and you have the team in place to respond, you might want to consider adding this to your suite of customer service tools.