Data governance plays a major role in organizing and protecting your internal data. It acts as a form of insurance that every piece of information you collect is properly stored and distributed within your organization.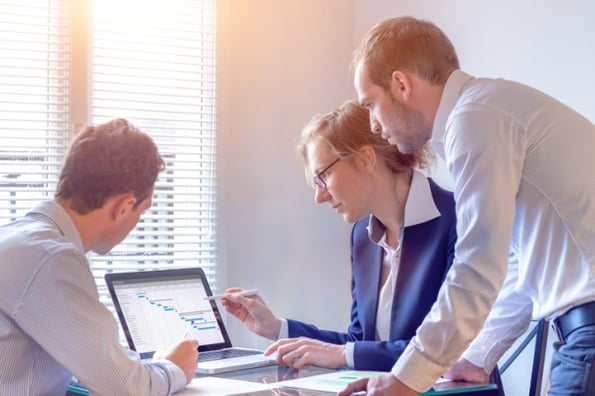 In this post, let's discuss what data governance is and how you can implement a policy at your company.
What is Data Governance (DG)?
Data governance is the combination of individuals, processes, technologies, and systems that work together to ensure an organization's data is accurate, secure, and easily discoverable for employees. Businesses use data governance to safeguard their data, control who has access and who is responsible for owning and managing it, and distribute it to employees for routine use.
Without data governance, data can become unreliable or invalid and pose a significant threat to your organization. Or, data may not be easily available, which will affect employees' day-to-day workflows. In a survey by McKinsey, respondents said that 30 percent of their total enterprise time was spent on non-value-added tasks because of poor data quality and availability — and this percentage varied by department or role.
Worse still, if the data becomes completely unusable, data collection will have to start from scratch.
Let's take a closer look at the reasons businesses need a data governance strategy.
Why Businesses Need Data Governance
Businesses use data governance to get the most from customer data.
By obtaining data about your customers, employees, finances, and more, and making sure it's used effectively and efficiently, you can provide your employees with easy, reliable access to information that helps guide major business decisions.
Being able to quickly review information and make informed decisions based on real-time metrics not only minimizes risk — it also helps your company capitalize on timely upselling and cross-selling opportunities.
Another crucial benefit of data governance is security. In a survey by McKinsey, 87% of respondents said they would not do business with a company if they had concerns about its security practices, and 71% said they would stop doing business with a company if it gave away sensitive data without permission. By implementing a data governance framework, you can ensure your customers' data is safe from potential harm.
Considering all these benefits, it makes sense that the Data Governance Market is growing. According to data from Mordor Intelligence, it was valued at 1.81 billion US dollars in 2020 and is projected to be worth 5.28 billion by 2026.
Data Governance vs Data Management
Data governance is often used interchangeably with the term data management, but these are two distinct ideas.
Data governance is more about documentation. It outlines who has ownership of a company's data, who can access the data, what data sources exist, and what measures are in place to make sure data is secure and compliant with regulations.
Data management is more about action, or executing on the rules and policies outlined in the data governance strategy.
To learn more about what data governance is, why it's important to virtually all businesses, and how its different from data management, check out this video by The Career Force:
There are many types of data governance that fall under its overarching umbrella. Let's take a look at a few of these examples in the section below.
Data Governance Examples
Data governance is not just one thing. It's all the processes, policies, standards, and roles that help ensure data is usable, easy-to-understand, secure, high-quality, integrated, and preserved. When it has all these attributes, it is known as "governed data."
Let's take a closer look at the different purposes of data governance below.
1. Data Usability
If you want your employees to use your data, it needs to be accessible and easy to understand. Data should be stored in one location and organized in a simple, logical way. Additionally, every employee in your organization should understand what each piece of data means, how it's collected, and how to use it.
2. Metadata
Metadata is qualitative information that describes the other data you've collected at your business. It helps your team understand why certain data is collected as well as it's relevance to their short- and long-term goals. This way, if data is ever misplaced or forgotten, you'll have context clues to explain the purpose of each dataset.
3. Data Security
While most of your data should be easily accessible, some information will be extremely private and need only be viewed by specific employees. In this case, data security is essential to protecting data and deciding who should have access to it. This comes in handy particularly with information pertaining to payroll or finances.
4. Data Quality
One of the most important aspects of data governance is making sure your data is reliable and consistent. If not, your team may make misinformed decisions that end up costing your business a fortune. Consistently checking data for accuracy can help you filter out incorrect, out-of-date, or corrupted information.
5. Data Integration
Sometimes, data coming in from a variety of sources needs to be combined. In these cases, data integration groups this information into a larger dataset that provides meaningful insights about your business. By combining data together, you can obtain a clearer picture of how different functions relate to each other within your organization.
6. Data Preservation
Your company should have a process for deciding how data is stored and preserved. After all, some data is used constantly, while other information can be archived, or even deleted. This is where it helps to have a universal storage system to ensure pertinent data is never too hard to find.
Data Governance Models
There are several data governance models that can be adopted based on your business needs and the types of data governance you use. Let's take a look at a few of these models below.
1. Decentralized Execution for Individual
This model is perfect for an individual business owner who manages and maintains all of their data. In this model, the same individual who creates and sets up their data is typically the only one who uses it. We can see how this model plays out using the image below.
2. Decentralized Execution for Team
This model is also built for business owners who manage and maintain their master data. However, in this model, data is used and shared by several employees across different teams. This way, if your business has several offices or stores, you can ensure information is categorized and distributed to every person on your team. Check out how this model works using the image below.
3. Centralized Governance
In this model, either a business owner or multiple business leaders are in control of the master data. The individual or team control the creation and set up of data based on requests that come in from other departments. With this system, data is centralized to team leaders who can distribute information to employees as needed. This is effective for companies that have a lot of employees and need to regulate how information is shared internally.
Image Source
4. Centralized Data Governance and Decentralized Execution
The final model combines different aspects of the systems listed above. In this model, there's an individual or team that controls the master data, but each team creates their own datasets to contribute information. This means that both management and team members are responsible for collecting and sharing internal data. This is great for larger businesses who are looking to streamline data to their management teams.
Now that we're familiar with what data governance is and how you can implement it, let's talk about some best practices to consider when creating a data governance framework.
Data Governance Framework
If your team invests in data governance, it can provide your organization with continuous customer insights. The steps below outline what your business needs to do to create a successful data governance strategy.
1. Set a team goal.
The most important step in creating a data governance framework is defining its goal. After all, it's difficult to know which data is valuable if you don't have an end game in mind. Consider a goal that can produce long- and short-term results. While you certainly want to see quick returns, you also want to make sure your process will grow to scale as your business continues to succeed.
This is also a good time to determine your key metrics for how you'll measure success. It's hard to achieve your goals if you don't have a way to measure your progress. Outlining these details will ensure your team is on the same page and that everyone is working towards a common goal.
2. Adopt a data governance office.
Once your goals are set, you'll need employees to achieve them. While you could assign one or two people, the most effective way to implement data governance is with a complete team.
Your team should include management, data stewards and liaisons, and any other company stakeholders involved in obtaining or securing data. These people will be considered your "data governance office" and will be in charge of making important managerial decisions.
3. Determine a data governance model.
The next step is to create a data governance model for your team to work off of. This model should describe the hierarchy for who can view and distribute different types of data. This ensures that sensitive data is placed in the hands of your most trusted employees and isn't shared without authorization. You can view one example of a data governance model below.
Source: TDan
You should also describe your rules and regulations for data collection. Outline your standards for securing data as well as which channels you'll use to obtain it. This will create consistency in your data collection which will lead to more reliable and accurate takeaways.
4. Create a distribution process.
The last step in creating a data governance framework is determining how you'll distribute each type of data. As we mentioned before, some data is sensitive and shouldn't be shared throughout your organization. So, you need a reliable process in place to categorize it and highlight who it can be shared with. You should also define the channels that can be used for distribution as this will foster smoother and more consistent communication.
Data Governance Best Practices
The steps above should provide your business with a fundamental framework for data governance. If you really want to take it to the next level, check out the best practices for managing your data below.
1. Start with a small sample size.
It's best not to kick off your data governance program with a complex or long-term project. You might make errors or lose motivation from the team. Rather, begin with a smaller, more manageable project, like analyzing data for one team. Assess the state of the data, specifically its collection, storage, and usage, then decide how much of your budget will be invested in the initiative.
2. Create a team dedicated to your program.
If you want your data governance to be effective, then you'll need to create roles dedicated to your program. The leader of the program should have strong communication skills and be able to communicate its importance to the rest of your company. Each person on the team should have clear responsibilities and ensure each data governance initiative runs smoothly and quickly.
Your data governance office should consist of employees who know how to best manage your customer data. These people are capable of meeting on their own and determining the most ideal process for organizing information. As a business owner, it may be tempting to add to the decision-making, but it's important to give your team space when designing the framework. This will allow them to optimize the process and personalize it for your business's needs.
3. Set clear goals for data governance.
Once you've implemented the new governance system, setting goals for your program will ensure its long-term success. These goals can include protecting top-level data, reducing friction between teams, decreasing the costs of data management, and creating a faster data entry process. Whatever your goal is, it should be actionable and include a roadmap to success.
4. Be transparent with external stakeholders.
You should always be transparent with your external stakeholders — customers, partners, investors, suppliers, etc. — about business functions and changes. In this case, they should all be made aware of your data governance program before you set it into place. You want your stakeholders to know that the security and validity of your company's data is a main priority.
5. Integrate data governance into every department.
Beyond transparency, you want stakeholders to buy into data governance. So once you have your framework in place, it should be integrated into every department at your business. This will ensure a consistent stream of data collection and will provide your marketing, sales, customer service, and product development teams with insights that will help them achieve goals.
For example, your data governance office should be informing your product management teams about consumer behaviors and product usage reports. This information should be readily available and influence how you design product updates. With data governance, customer insights are streamlined to ideal endpoints, improving productivity across your entire organization.
6. Create risk milestones.
When creating your data governance framework, it's important to consider your potential risks. Customer data is valuable and over time its security can be jeopardized as it's shared throughout your organization.
Risk milestones highlight risks that can occur whenever data is shared or moved within your company. This helps your team avoid costly setbacks that can negatively influence customer relations.
7. Assess projects after completion.
After each data governance project is completed, you shouldn't merely pat yourself on the back and move on. After all, if the project wasn't successful in achieving your goals, it will need to be adapted for the next initiative. Run some tests on your data to note changes and discuss with your team what processes should be streamlined and which ones need to be readjusted.
8. Consistently refine your data governance framework.
Your data governance framework should be a consistent process for data collection and distribution. But, as your business grows and develops, it's important to adapt your strategy to account for organizational changes. If you don't update it, you may overlook customer data or accidentally leak sensitive information.
Data Governance Tools
Once you have a data governance framework in place, consider which tools will help you accomplish your goals. Do you need a tool to help improve collaboration between teams, or a tool that will speed up the data entry process, or an all-in-one solution?
Here are some of the best data governance tools on the market.
Best for: Multicloud businesses
Egnyte is the only unified cloud content governance platform in the market. It enables multicloud businesses to get 360-degree insight into their content across devices, apps, and repositories. This makes Egnyte ideal for a range of purposes, including collaboration, data security, compliance, and threat detection.
Best for: AI-driven businesses
The IBM Cloud Pak for Data is designed to help your organization find, curate, analyze, prepare, share, and protect data across large and complex enterprise ecosystems. By letting you access data faster, automate or eliminate some manual tasks, enforce universal data and usage policies, and more, IBM is ideal for streamlining AI development, deploying AI in business operations, and scaling AI responsibly.
Best for: Enterprise companies
SAP Master Data Governance allows you to govern data in two ways: one, you can decentrally own and consolidate it across your enterprise system landscape or, two, you can centrally create, change, and distribute master data across that landscape. With this tool, you can consolidate databases, make changes in bulk, analyze the impact of your data governance processes, and define, validate, and monitor rules for data quality.
Best for: Companies on a budget
Lyftrondata comes with a built-in enterprise data governance framework so you can ensure your data is accurate, up-to-date, accessible, and secure. To enable data governance, Lyftrondata offers features like data catalog, data model, data definition, data lineage, tagging, and enterprise data dictionary search.
This tool offers several pricing plans, including a monthly plan where compute is shared across multiple customers and Lyftrondata is deployed on a managed shared cloud instance. This makes it one of the most affordable data governance tools on the market.
Let governed data accelerate your business growth
Governed data — or data that is managed and secured by a specific department in order to ensure employees are only using credible and trustworthy data — can improve your company's efficiency, collaboration, and customer trust. Start leveraging these benefits by implementing a data governance framework today.
Editor's note: This post was originally published in June 2019 and has been updated for comprehensiveness.