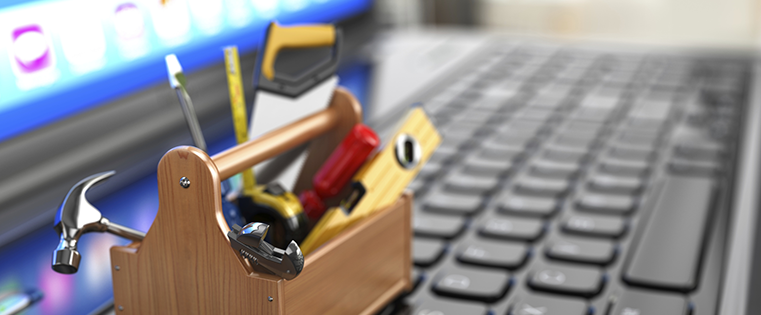 Google is constantly tweaking their algorithm -- just look at the history of Google's 2011 algorithm updates chronicled on this very blog to get a little snapshot. In fact, they announced 40 algorithm updates in February 2012 alone, followed by another 50 in March. And while Google freely talks about their overarching goals with these updates being to weed out lower-quality websites that don't satisfy searchers with quality content, there is still some secrecy behind exactly how Google evaluates a website and ultimately determines which sites to show for which search queries.
That said, there are a number of tools out there -- some free, some paid -- that help you to look at your own site the way that Google sees it. These tools are critical to your organic search strategy because they allow you to focus on the elements of your site that Google deems important. In this post, we'll walk through 6 such tools that all help you analyze your site like a marketer ... and a Google bot!
1) Webmaster Tools
Perhaps the best way to understand the way Google sees your site is to ask Google. Google's Webmaster Tools is novice-friendly with robust resources explaining the fundamentals of Google search. Plus, it's free and works for mobile sites! For example, the Google Friendly Site is a great starting point for anyone needing a primer on how Google views pages. It succinctly explains a few of the basic parameters involved in Google's search algorithms. Take a look:
With this tool, you're able to see exactly which keywords Google is seeing when it crawls your website -- the list you see above is just a snapshot. If you're not seeing the keywords you anticipated, you know to start creating more quality content around the keywords you're targeting. You can also see how many search queries and click-throughs each of the keywords is receiving. If you're not seeing the rankings and CTR you were hoping for, this tool provides excellent tips to help you improve -- just don't expect them to reveal all their secrets.
Another great feature of Google Webmaster Tools is its breakdown of errors in its Diagnostics section. You can monitor your site for malware and crawl errors, both essential for conquering the SERPs. Malware can get your site blocked, and crawl errors will stop search spiders in their tracks, literally making parts of your website invisible to the search engines. This easy to read list allows publishers to see which links are not working as they should, giving them the opportunity to address the problem. This site, for example, has only one web crawler error found by Google: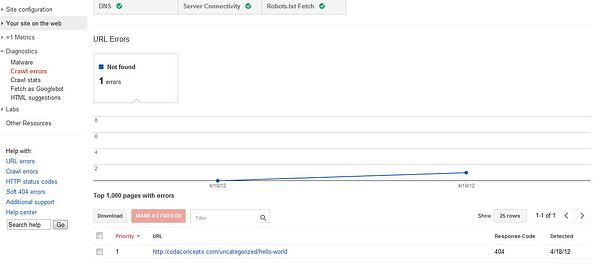 Furthermore, Google's Fetch as Google tool, allows you to see a particular URL as Google sees it, which is critical when troubleshooting for poor SEO performance. The information returned can help you modify the page in question for better optimization, and can even help you isolate problematic code when you believe your site's been hacked.
2) Screaming Frog SEO Spider
The Screaming Frog SEO Spider is a search marketer's best friend. Designed specifically for the SEO-minded, this program crawls the websites you specify examining the URLs for common SEO issues in an attempt to make site optimization easier. This program simplifies and expedites an otherwise time consuming process -- especially for larger websites -- which would otherwise take hours or days to manually evaluate.
The Java program is fairly intuitive with easy to navigate tabs. Additionally, you can export any or all of the data into Excel for further analysis. So say you're using Optify, SEOmoz, or RavenSEO to monitor your links or rankings for specific keywords -- you could simply create a .csv file from your spreadsheet, make a few adjustments for the proper formatting, and upload it to those tools. You've just taken a few minutes to compile massive amounts of data that may otherwise have taken hours, or even days!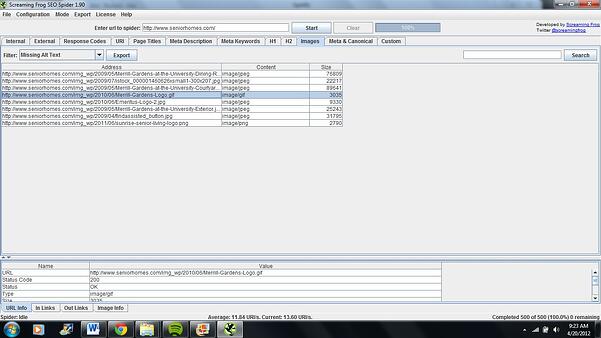 In the screenshot above, for example, you can see a handful of images that are missing alt text, which means that these images aren't going to be recognized by Google. That means they're serving no purpose other than adding aesthetic quality to the page. Adding appropriate ALT tags to each image not only enables visitors to understand what an image is meant to display in the event of a loading issue, but Google can now "see" the image . You can also filter images to see large files (over 100KB) and those with alt tags over 100 characters, which are not recognized as easily by Google.
Screaming Frog can also easily analyze titles throughout your site. The screenshot above shows three headlines which are longer than the suggested length for SEO purposes. If a website is filled with lengthy titles, it is more likely to be ignored by Google and other search engines. This quick snapshot gives a publisher or SEO manager a quick reference as to where changes can easily be made to help optimize the page.
The Screaming Frog SEO Spider LITE version is available free, but with some limitations -- you can only scan 500 URLs per website, and you don't have full access to configuration options and source code features.
3) Check My Links Broken Link Checker
A link building campaign with a broken link is a huge bummer. Check My Links Broken Link Checker can help ensure the accuracy of links -- whether external or internal -- of a webpage, giving a publisher or editor the opportunity to make corrections before the page is live.
Think about a site like Wikipedia, for example -- they must have tons of links! Actually, through a combination of internal and external links , a single Wikipedia post on Kiefer Sutherland has 599 links. Within moments, Check My Links scanned all of the links, finding just five that were broken.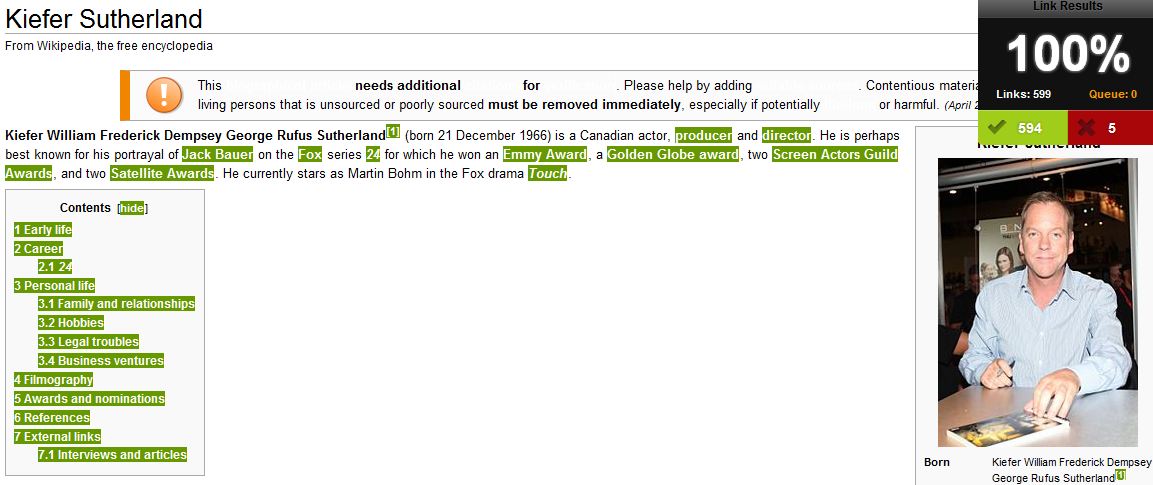 The site highlights all the good links in green, and those which are broken in red, making it easy to spot the ones that don't work or are no longer active. Check My Links also takes it one step further with a quick keystroke so you can see the broken URL, making it easier to recognize the error. Being able to see the erroneous URL makes it easier to replace it with an active link.
Check My Links Broken Link Checker is not only a great tool to ensure the accuracy of your page, but it's also free, so even the most budget-conscious startups can take advantage of this tool.
4) SEOmoz PRO Tools
SEOmoz PRO Tools is designed for small and large businesses alike and can help publishers better understand their Google rankings. Be forewarned that it can take up to 7 days to get the full report, though, so this isn't good for the SEO in a pinch.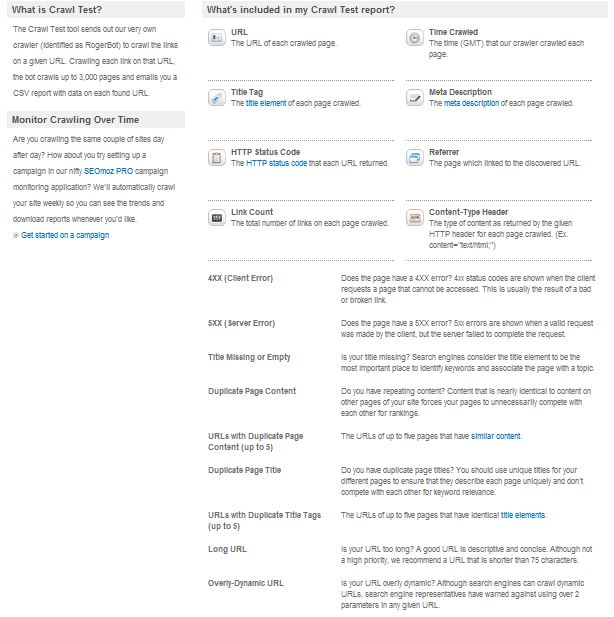 With SEOmoz, you can see where each page ranks as well as see how Google crawls your site. The full web crawl report takes a look at a variety of components that are essential in Google search, including the URL, title, and meta descriptions. It also looks at a list of common SEO errors. The Excel report helps you quickly recognize where errors or missing elements are stumping Google.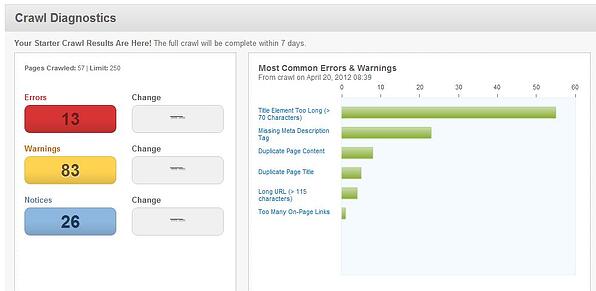 The crawl diagnostics added to the dashboard help you to visualize exactly which errors are critical. It also tracks all changes that are made, helping you keep track of what needs to be done to help Google find your site. The critical areas can then be broken down into smaller, targeted areas. Each of these warnings can easily be fixed to help Google find the URLs.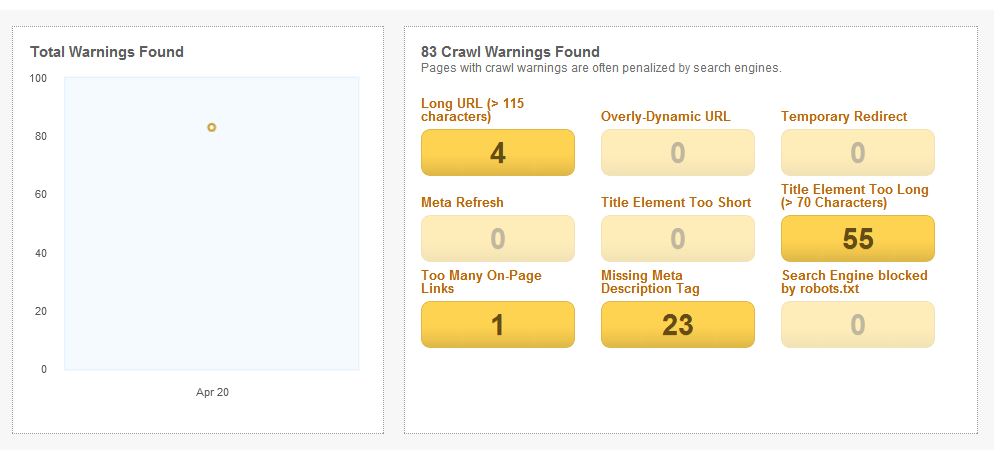 Additionally, you're able to link up to three competitors in order to see how they compare in their optimization efforts. The side by side comparison gives great insight into your strengths and weaknesses, as well as your competitors'. It's like snagging a rival team's playbook, giving you inside information on where opportunities lie!
SEOmoz PRO Tools offers a free 30-day trial, but subscription fees are $99 a month afterwards. SEOmoz also provides its subscribers with a vast array of resources including access to webinars, videos, and guides.
5) HubSpot's Page Grader
A paid tool that comes with a HubSpot marketing software subscription, the Pages tool helps you, well, measure how effective the pages on your website are. The tool both evaluates the SEO performance of each page on your website, and provides actionable advice to improve underperforming pages. On this page, for example, we would know that our meta description needs to be fixed so the correct information is being pulled into the SERPs, but the rest of our meta data is a-okay.
Along with evaluating on-page optimization, the Pages tool tells helps you track inbound links and keywords -- you can see not only what keywords each individual page is ranking for in Google, but also what other external or internal pages link to that page. This helps paint a more robust picture of how well your off-page SEO is faring, and how your link campaigns contribute to an individual page's ranking in the SERPs.
The Pages tool even goes one step further, letting you drill down into each individual link on a page so you can learn which ones are helping your SEO and overall marketing strategy the most. For example, this tool not only gives you an overall link grade, but even tells you which links are sending traffic your way -- because inbound links are important for both SEO and lead generation !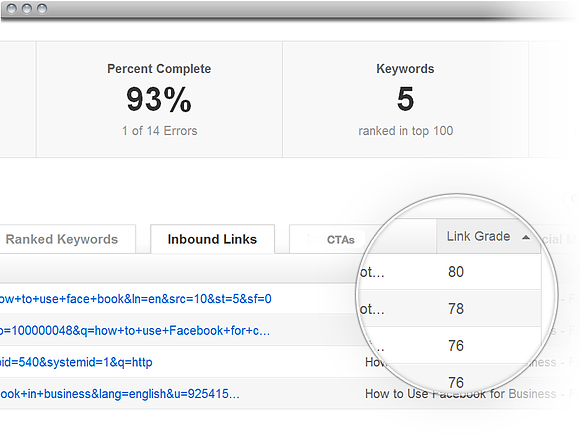 6) HubSpot's Marketing Grader
If you're wondering if your website and social media efforts are making the grade, HubSpot's Marketing Grader is an excellent free tool. As its name implies, this tool gives your website and up to two of your competitors a grade based upon how Google views the site. It allows you to differentiate between B2B and B2C, and take a look at your social media activity, as well. It's a pretty cool tool that also offers tips on how to improve your score -- and thus, your website and marketing.
In addition to looking at how you are using analytics to measure your marketing success , Marketing Grader gives you a grade based upon 2 key areas of the sales funnel:
The Top of the Funnel (TOFU): The top of the sales funnel examines the efforts made to bring visitors to the website. It looks at content creation, optimization, and promotion skills.
The Middle of the Funnel (MOFU): The middle of the sales funnel takes a look at how well your conversion tactics are working. It looks at landing pages, conversion forms, email marketing, and social media.
You can see here that these two competing websites are nearly identical, except in one very important aspect: One is failing to bring visitors to its site. Neither is overly adept at converting visitors, and both are doing a fair job at measuring their success (or lack thereof).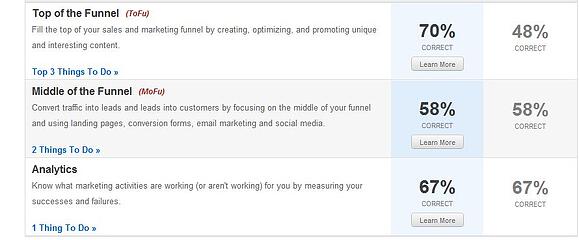 One of the best features of Grader is its top tips to help increase scores. It's like getting a math tutor to help with your calculus homework. Not only does it provide you with easy (sometimes no-brainer) ways to increase traffic, but it also offers credible evidence as to why it's important to do so.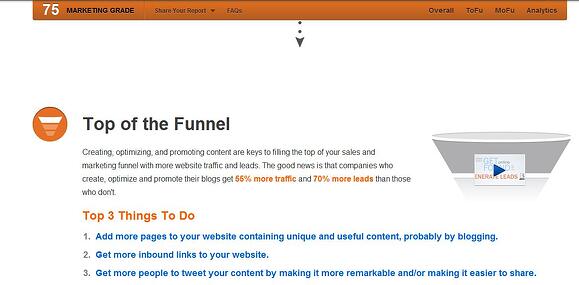 With Google's increasing focus on building keywords into robust, quality content, it's important to understand where how your page content is performing. As you can see based on the results Marketing Grader returns, this website needs to ramp up its content to improve SEO. Likewise, it needs to be savvier when it comes to adding alt tags to images to help Google recognize what the image is about.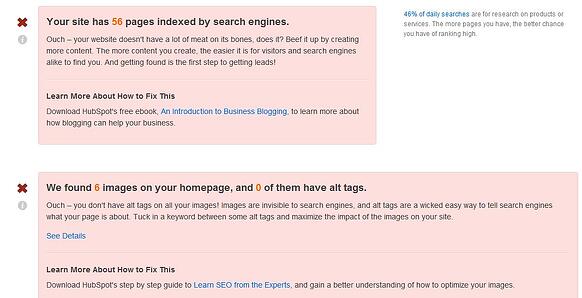 Another epic fail can be seen below, as this website doesn't include unique page descriptions. Although Google doesn't recognize page descriptions as part of its search algorithms, they are important in helping drive traffic. The content placed in the page descriptions is what Google uses to populate the brief summaries you see under URLs on SERPs. If you don't provide page descriptions, it defaults to the first few sentences of the page content -- which can be either good or bad depending on your page design. Google reads HTML code from the top down, so if you're using a column-based layout, for instance, content appearing in a sidebar may come before the main content area, leaving you with a random list of words as your page description in the SERPs. Yikes.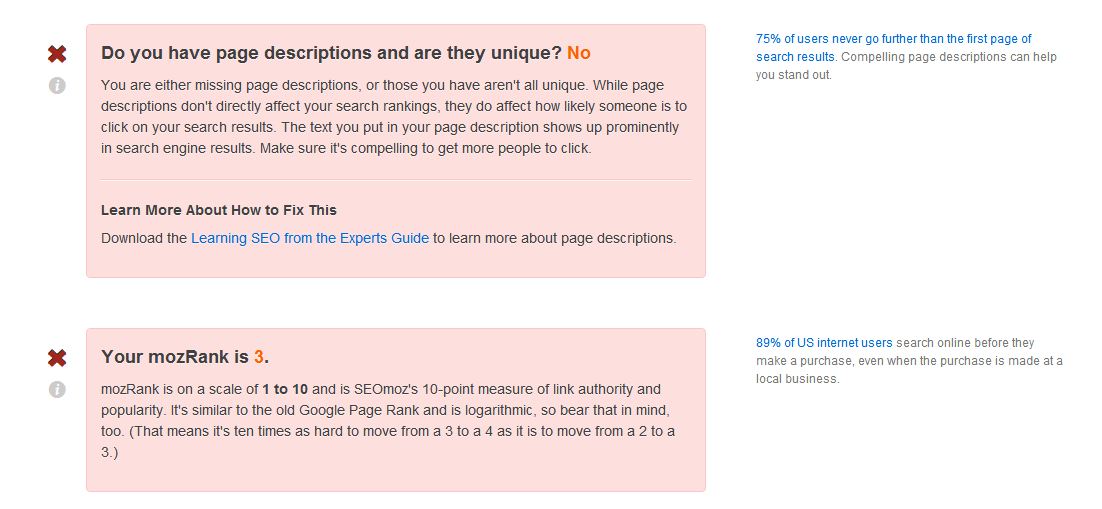 Marketing Grader uses its own algorithm to rank sites, and this one only got 3 out of 10 -- an indication that it needs to work much harder to get Google to recognize it, drive traffic, and ultimately increase conversions. Luckily, this tool not only identifies your site's problems, but gives you tips on how to improve it. HubSpot's Marketing Grader app is also free and ridiculously easy to use, whether you're an SEO newbie or veteran.
While you'll never get a look behind the Google curtain to learn everything they know (or don't know) about your site, by leveraging SEO best practices and getting the most out of tools like those listed here, you can greatly increase the chances that your website will show up in response to the right search queries.
This is a guest post written by Tom Demers. Tom is a co-founder and managing partner at Measured SEM , a search engine marketing firm specializing in pay-per click campaign management, search engine optimization services such as SEO audits , and content marketing services such as guest posting .
Image credit: randychiu
Are there any other tools (especially free ones!) out there that help you get better clarity into how Google sees your website? Share your recommendations in the comments!