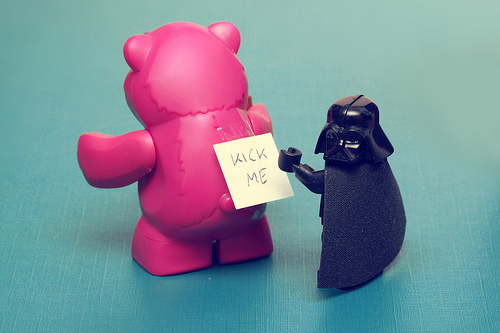 Look, I said ass.
And in a minute, you'll know why. One of the most common questions we get is around crafting titles. In fact, we got one in this blog post's comments section ... hence me writing this here post.
So let's just dive right in, shall we? Here's a simple formula to follow to write kick-ass titles.
A Foolproof Formula for Writing Wonderful Titles
1) Start with a working title.
If you don't know what a working title is, read this blog post. For the sake of demonstration, let's say our working title is "X B2B Companies Using Facebook in Cool Ways."
2) Stay accurate.
Accuracy is critical when trying to finesse a title. Why? It's expectation setting. While I'm sure lots of people would love to click into a post that said "10 B2B Companies Killing Facebook So Freaking Hard They Don't Need Any Other Marketing Channel" ... it's a little bombastic, no?
Unless, of course, you truly did find 10 B2B companies rocking Facebook that hard. And you could confirm that all 10 of them had stopped using other marketing channels.
If you set high expectations in your title that you can't fulfill in the content, you'll lose readers' trust. With titles, it's best to underpromise and overdeliver.
(Note: Accuracy emcompasses more than just hyperbole. With this sample title, you'd also want to confirm all of the examples are, indeed, B2B. Or even that they're all companies -- instead of, say, individual bloggers that target B2B audiences. See what I mean?)
3) Sexy it up.
Just because you have to be accurate (womp womppp) doesn't mean you can't find ways to make your title pop. There are a lot of ways to make a title sexier:
Have some fun with alliteration. The header in this blog post, for instance, plays with alliteration with "Foolproof Formula" and "Writing Wonderful." It's a device that makes something a little lovelier to read, and that can have a subtle but strong impact on your reader.
Use strong language. That's what we did with this title. Strong phrases (and frankly, often negative ones) like "Kick-Ass," "Things People Hate," or "Brilliant" pack quite a punch. However, these must be used in moderation. As one of my coworkers says, "If everything is bold, nothing is bold."
Make the value clear. Presenting the format and/or contents to a reader helps make your content a little sexier. That's why we'll often use brackets at the ends of titles to denote format and content, like [Infographic], [Free Download], or, in this post, just "A Simple Formula" at the beginning of the title.
All of this hinges on understanding your core buyer persona. You need to find language that resonates with them, and know what they find valuable. Your titles might not resonate with some of your readers -- but if they resonate with your core buyer persona, that's the most important thing. (If you haven't created and refined your buyer personas, this blog post will help you out.)
So, how might we punch up our accurate-but-boring working title, "X B2B Companies Using Facebook in Cool Ways"? Here are some options:
"10 B2B Companies With Brilliant Facebook Pages"
"Think Facebook's Just for B2C? These 10 Companies Will Change Your Mind"
"Facebook for B2B: 10 Companies That Could Teach You a Thing or Two"
I like that first title the most, because it's simple, succinct, and has two sexy components. First, "Brilliant" is a very positive, yet strong word. Who doesn't want to be brilliant? Also, I know many of the B2B marketers we talk to believe Facebook is more geared toward B2C companies, though they'd love to take advantage of the platform if they knew how. A post that positions two things commonly disassociated with one another -- Facebook and B2B -- adds some great value.
4) Try to optimize for SEO.
I say "try" because sometimes, trying too hard to optimize for SEO can make your title sound strange. If you can optimize your titles for search, that's great -- but clarity should always be your primary goal.
I think we can optimize our accurate-but-sexy title without compromising clarity, so let's try to make it a little more SEO-friendly. I would do something like this:
"10 B2B Companies With Brilliant Facebook Marketing"
Why? Because I'd rather rank for the term "Facebook Marketing" than "Facebook Pages." And as long as my content talks about the companies' marketing, and not just their Pages, I'm still being accurate.

Make sense? It's a subtle tweak, but retains both the accuracy and the sexiness of the title.
5) Finally, see if you can shorten it up.
I try to shoot for 70 characters or less in my titles so they don't get cut off in most emails and search engine results. Do I always nail it? No. But it's a good thing to shoot for.
Our current title, "10 B2B Companies With Brilliant Facebook Marketing," is short enough. But if I wanted to shorten a title a bit, I would simply try to rephrase things and cut out extraneous words.
For instance, I might do something like this:
Before: Think Facebook's Just for B2C? These 10 Companies Will Change Your Mind
After: Think Facebook's Just for B2C? 10 Companies That'll Change Your Mind
The less of a mouthful you can make your titles, the better!
I hope this has been a helpful walkthrough on crafting titles. Share your tips in the comments, won't you?
Image credit: pasukaru76