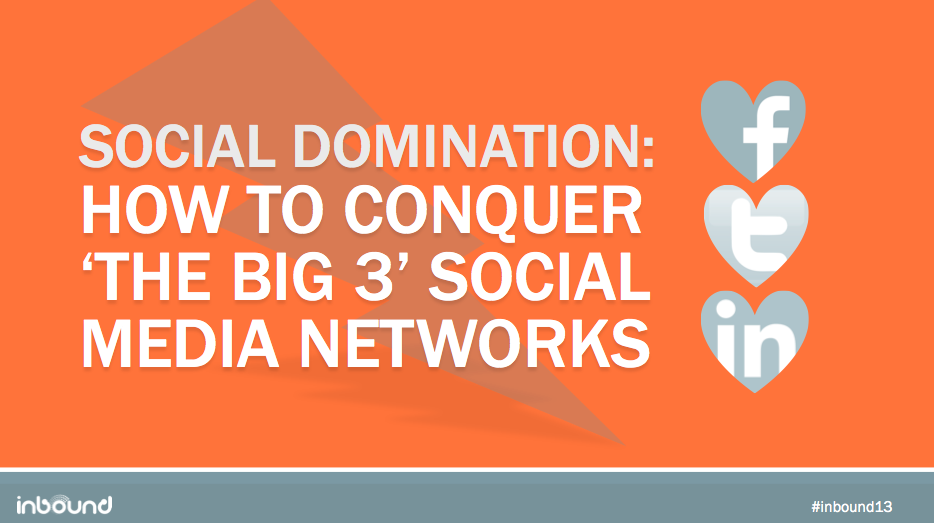 I don't know about you, but I'm tired of hearing "social media gurus" compare the effectiveness of Twitter versus LinkedIn, or Facebook versus Twitter, or Linkedin versus Facebook, or whatever other comparison you bring to the table. At the end of the day, you need harmony between your various social media accounts in order to truly reap the benefits of social as a marketing channel.
I'm so passionate about integrating your social media efforts that I presented on it at INBOUND 2013 with my session titled, Social Domination: How to Conquer 'The Big 3' Social Media Networks.
This presentation dove into the importance of forming an alliance between the three largest social media platforms (Facebook, Twitter, and LinkedIn), perfecting the way you post to each of these networks, and improving how you communicate on each channel.
Click through the SlideShare below to view the entire presentation (adapted from its original form at INBOUND 2013 to provide context on the slides), or jump below to just read the 24 specific best practices for perfecting every post you publish on the biggest social networks. So the next time you launch a campaign across all your channels, get the most fuel for success by optimizing your social media posts using the tips below!
24 Best Practices for Successful Social Media Posts
| | |
| --- | --- |
| | Facebook Best Practices |
According to Facebook, 1,500 possible stories are filtered through per day on an average Facebook user's News Feed -- but only 20% of them actually make a user news feed. So how do you ensure your content is included in that 20%? Let's explore Facebook-specific best practices for posting first.
1) Remove Links From Copy
Keep your copy succinct by removing the horrendously long URL you're sharing from the text in your post. Your update real estate is precious, and you want to ensure any characters employed are purely for the sake of sparking a reader's attention. Any user can click on the generated thumbnail or title for that URL to navigate to the blog post, web page, or any URL you're linking to -- so no need to include it in the copy of your post as well.
2) Employ Photos Over Links
Our own studies show that photos on Facebook generate 53% more likes and 104% more comments than the average post. Whenever appropriate, we recommend uploading a visual to promote the message you're trying to send. You can then use the copy space to include a shortened link to the actual content.
3) Use Optimal Image Upload Sizes
While optimizing image upload size isn't a make it or break it recommendation, it's best to have the visuals you upload fit in the specific dimensions Facebook allows for posts. For image uploads to a Company Page, the image is displayed in 403 px by 403 px. A shared link preview thumbnail (the featured image hosted on your blog post or web page) is displayed in 156 px by 116 px. A shared video preview thumbnail is displayed at 156 px by 87 px.
4) Reposition Timeline Photos
Now, if you are using the same image across multiple channels, or simply couldn't find a photo that fits the Facebook-specific dimensions, fret not! You can still optimize the positioning of the visual on your Timeline by clicking on the light arrow that appears on the upper right side of the post, choosing 'Reposition Photo,' adjusting the position of the photo with the resulting cursor, and clicking the blue 'Save' button.
5) Highlight Horizontal Photos
Also, don't use the optimal image upload sizes to limit your visual variety. If you want to share a horizontal photo, you can have a cover photo-esque update on your wall. After uploading a horizontal image to your wall, simply click on that same light grey arrow in the upper right corner of your post and choose 'Highlight.' This will expand the image across your Page.
6) Post to Timeline Before Album
While albums on Facebook are great for organization, including photos within an album limits the engagement per photo uploaded. We've seen zero engagement on photos added directly to an album. However, if we upload that same image directly onto our Timeline as a one-time update, it suddenly receives endless traction. I recommend first uploading onto your Timeline, and after the initial engagement wears off (about five hours), you can go back and organize that photo update into one of your albums if you really want to.
7) Keep Link Titles Under 100 Characters
When you're uploading a link directly to your Timeline, if the original post has a long title, be sure to click into the title to edit it. Any title above 100 characters gets cut off when posted on your Facebook, and you don't want the core message to disappear as a result!
8) Keep Post Copy Succinct
While there is not a specific character count for Facebook updates you should use (I've personally seen a range of success for different lengths), data from Social Media Today does provide some insight into the correlation between post length and engagement. While comments are not dramatically affected, an update's overall engagement does decrease. The main takeaway here is to be wary of your words and question whether adding certain information will enhance the post or not.
| | |
| --- | --- |
| | LinkedIn Best Practices |
According to LinkedIn, more than three million companies have LinkedIn Company Pages. Furthermore, 87% of users trust LinkedIn as a source of info that affects decision-making. Now how do you ensure your content is among the trusted sources? Let's look at the LinkedIn-specific best practices.
9) Include Shortened Link in Copy
If you directly upload a link to LinkedIn, LinkedIn updates strip the URL of any tracking token you may have attached. So if you added a UTM code to track specific clicks or leads generated from your LinkedIn posts and uploaded those URLs directly to LinkedIn ... those posts aren't effectively being tracked! However, by using a service like bitly or HubSpot, you can shorten your link and then paste that URL into the body of your update so the shortened link will contain the tracking token.
HubSpot Customers: HubSpot automatically shortens URLs, adds tracking tokens to all your social media posts, and provides tracking data right within the software.
10) Rally Around One Post
Rather than updating your LinkedIn multiple times a day, focus on rallying all your engagement power on one post. By promoting one primary post, you increase the number of likes, clicks, comments, etc, the post receives. On LinkedIn, a highly popular post can be bucketed under certain trends or lead to distribution in LinkedIn Today email sends. While this won't happen every time, a highly popular post that gets trending or sent in emails can result in great traffic boosts for your page.
11) Share More Marketing Offers
While you have to strike a nice balance between marketing offers and ungated content on other social networks, LinkedIn is different. Our data shows that LinkedIn is 277% more effective for lead generation than Facebook and Twitter. LinkedIn users are more welcoming to lead gen content -- so long as the content truly is valuable to their success.
12) Engage in Groups
In addition to revealing that 53% of LinkedIn users join 10 or more groups, a Power Formula infographic revealed that LinkedIn Groups is the number one favorite feature for users. Once you have your one company page post up, spend any additional time allocated to LinkedIn for engaging in group discussion. Just remember to be genuine and not to spam the group.
13) Use LinkedIn Announcements
LinkedIn announcements can serve as a powerful tool in upping your LinkedIn lead generation. On the days we send an announcement from a LinkedIn Group, we see a spike in leads for the day. We also see the impact of that send trickle over the next day or two. Now, while you can create your own group, you'll need to nurture a strong following to start generating leads from the announcements. Another option is to engage in a set number of groups and then find a way to use one of the group's announcements for your own (relevant) marketing.
| | |
| --- | --- |
| | Twitter Best Practices |
According to Twitter, it took three years, two months, and one day from the first tweet sent to get to the billionth tweet sent. It now only takes one week to send a billion tweets. So how do you ensure your content is seen among all that noise? Our final best practices are all about Twitter.
14) Keep Tweets Short
There are two reasons to keep your tweets short. First, data from Social Media Scientist Dan Zarrella shows that the tweet sweet spot is between 120 and 130 characters. Second, providing extra character space allows users to easily retweet you without eliminating any of your keywords. If someone reshares your tweet that is exactly 140 characters, in order to add "RT @username:" at the beginning of the tweet, the user has to shorten or delete an optimized keyword from the original tweet.
15) Include Twitter Handles
If you're sharing a quote, stat, or article from a brand or user, be sure to include that brand or user's handle in the tweet. This will increase the likelihood of them seeing your tweet and retweeting it to their own audience. The more your content is shared, the more following you'll gain, and the more your message will be spread.
16) Understand Replies Versus Mentions
This rule is always confusing. In order to understand how your content is being shared, you need to understand how your content is being seen. When you place a Twitter handle directly at the beginning of a tweet, you're directly sending a message to a user, but it is not a private direct message. That tweet can also be seen by anyone who follows both your account and the account you're tweeting to. If you want everyone to see your tweet, regardless of whether they are following both you and the person you're mentioning, a common tactic is to add a period as a character at the start of the tweet.
17) Use Hashtags Judiciously
As if seeing #every #other #word in a #tweet as a hashtag isn't irking enough, a report from Salesforce even revealed that tweets with one or two hashtags receive 21% higher engagement than those with three or more hashtags. Twitter also explicitly writes, "Including more than two [hashtags] in a tweet is probably overkill, and you only need to tag the most important word that represents the theme of your tweet."
18) Don't Force Trending Hashtags
At the time of this post being drafted, the top trending hashtag was #ReplaceASongNameWithTwerk. I don't know about you, but I'm not sure how to include that trend into my business tweets ... yet the recommendation to incorporate trending hashtags still exists! Unless it's an event hashtag like #INBOUND13, just stray away. In fact, Twitter reveals that 17% of the top 1,000 search terms on Twitter "churn over" on an hourly basis. So if popular search terms are churning at rapid rates, what's the use of forcing your content into those queries?
19) Incorporate Visual Content
While visuals are important for multiple marketing channels, they are often forgotten on Twitter. An analysis from Simply Measured shows that while photos are not shared as frequently as normal tweets (tweets that are solely text-based), tweets with photos receive the highest engagement. While this could be related to the fact that less photos are shared than text-based tweets, it's important to test out visual use.
20) Direct Upload Photos to Twitter
This is the mistake I see most often on Twitter ... stop sharing your Instagram photos directly to your Twitter profile! When an Instagram photo is shared, a user must click on the link and be directed away from Twitter just to view the image (it doesn't appear automatically in the feed). Instagram photos are also not indexed in your collection of Twitter photos that are featured prominently on your profile. Data from that same Simply Measured analysis also mentions that photos directly uploaded on Twitter receive about five times the engagement per tweet as photos with Instagram photos. So please, just stop it.
21) Place Links in Middle of Tweet
I know this is tedious, but when possible, place links about 25% of the way through a tweet. Data from Dan Zarrella shows that links placed earlier in a tweet receive much higher clickthrough rates than links placed at the end of a tweet. Presenting the link earlier catches a reader's attention faster, and is different from the majority of tweets placing the link at the end.
22) Include Links in Employee Profile Bios
Encourage your employees to include your brand's Twitter handle in their profiles' bio information. This one is truly simple. The more visible your handle is, and more personalized by actual humans, the more likely someone is to follow your brand.
23) Use Shortened Links
When sharing links, another best practice is to shorten those links. Not only will shortened links host tracking information for you to assess the effectiveness of your tweets, but they also appear much cleaner in a tweet. A link can be around 20 characters before Twitter crops the tweet with an ellipsis.
24) Optimize Posting Schedule
As important as how you tweet is when you tweet. More data from Dan Zarrella highlights two key tweeting times. His data shows that the highest number of clicks appear between 1 p.m. and 3 p.m. Monday to Thursday. The data also shows that the best time to get retweet is from 4 p.m. to 5 p.m. on Fridays.
With these 24 best practices under your battle belt, you'll be prepared to completely dominate on social media. To see the full presentation, scroll up or click here. And if you have any additional tips to share, comment them below!