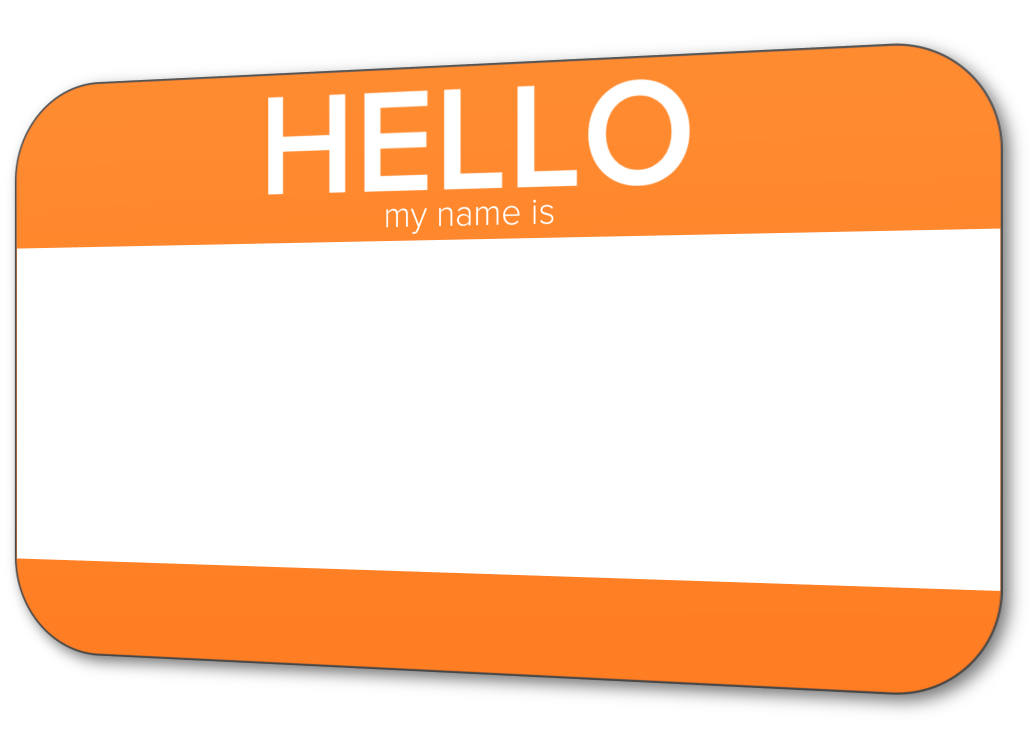 When you're building a website, it's tempting to get distracted by all the bells and whistles of the design process and forget all about creating compelling content. But having awesome content on your website is crucial to making inbound marketing work for your business.
So how do you balance your remarkable content creation with your website design needs? Why, with your 'About Us' page, of course! For a remarkable 'About Us' page, all you need to do is figure out your company's unique identity, and then share it with the world.
I know ... easier said than done.
Still, there's no excuse for you to neglect one of the most important pages on your website -- which also happens to be one of the most commonly overlooked pages. Let's read on to discover six companies with awesome 'About Us' pages and see how you can emulate them on your own website. By the end of this post, showing off how awesome your company is won't seem like such a challenging feat.
Why the 'About Us' Page Rocks: It tells us a story.
Have a cool story about how your product or service was created? Put it on your 'About Us' page. Good stories humanize your brand and provide context and meaning for your product. What's more, good stories are sticky -- which means people are more likely to connect with them and pass them on.
Yellow Leaf Hammocks does an amazing job of telling you about its product by describing the founder's journey to Thailand and the birth of his "big idea" for the brand. Like any good storyteller, Yellow Leaf Hammocks uses words to paint a picture, rather than simply describing the events that happened. Sentences like "the hammock wrapped around him, cocooning him in its cloudlike embrace" immediately give you a mental picture of what's happening.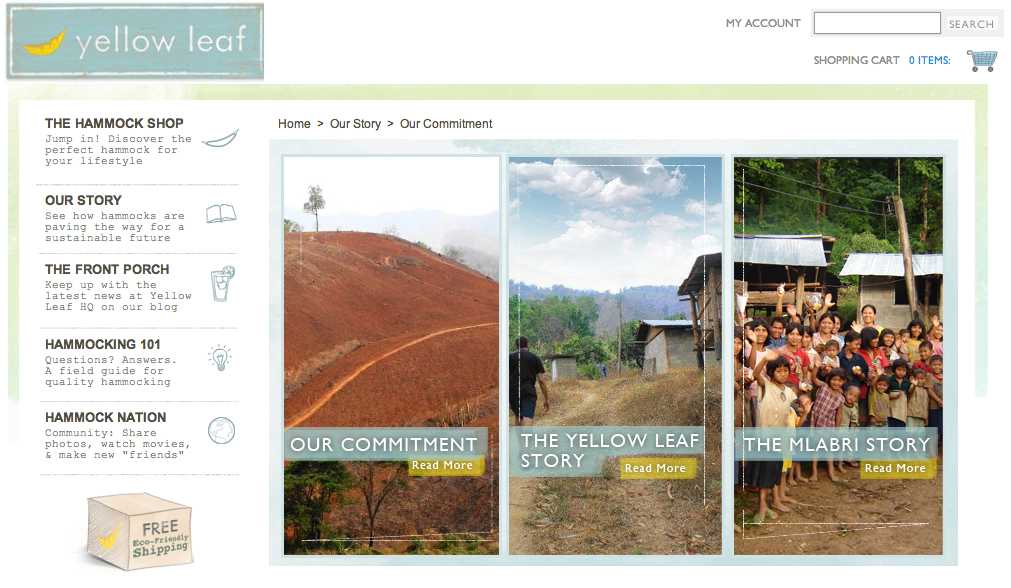 Every company has a story to tell, so break out your storytelling skills from that random English class you took years ago and put them to work on your 'About Us' page. Using descriptive and emotive copy, an 'About Us' page with a story works harder for your business than a generic one.
Why the 'About Us' Page Rocks: It shows some personality.
You're not like everyone else -- so why should you sound the same as everyone else? Stand out with an 'About Us' page that shows off who you really are with witty headlines and a real brand voice.
That's exactly what video production company LessFilms accomplished on its site using witty copy and the image of a large wrestler (yes, a wrestler). Although the wrestler dude and the funny headlines have nothing to do with LessFilms' business model or product, they show off the founders' sense of humor and give the brand a personality.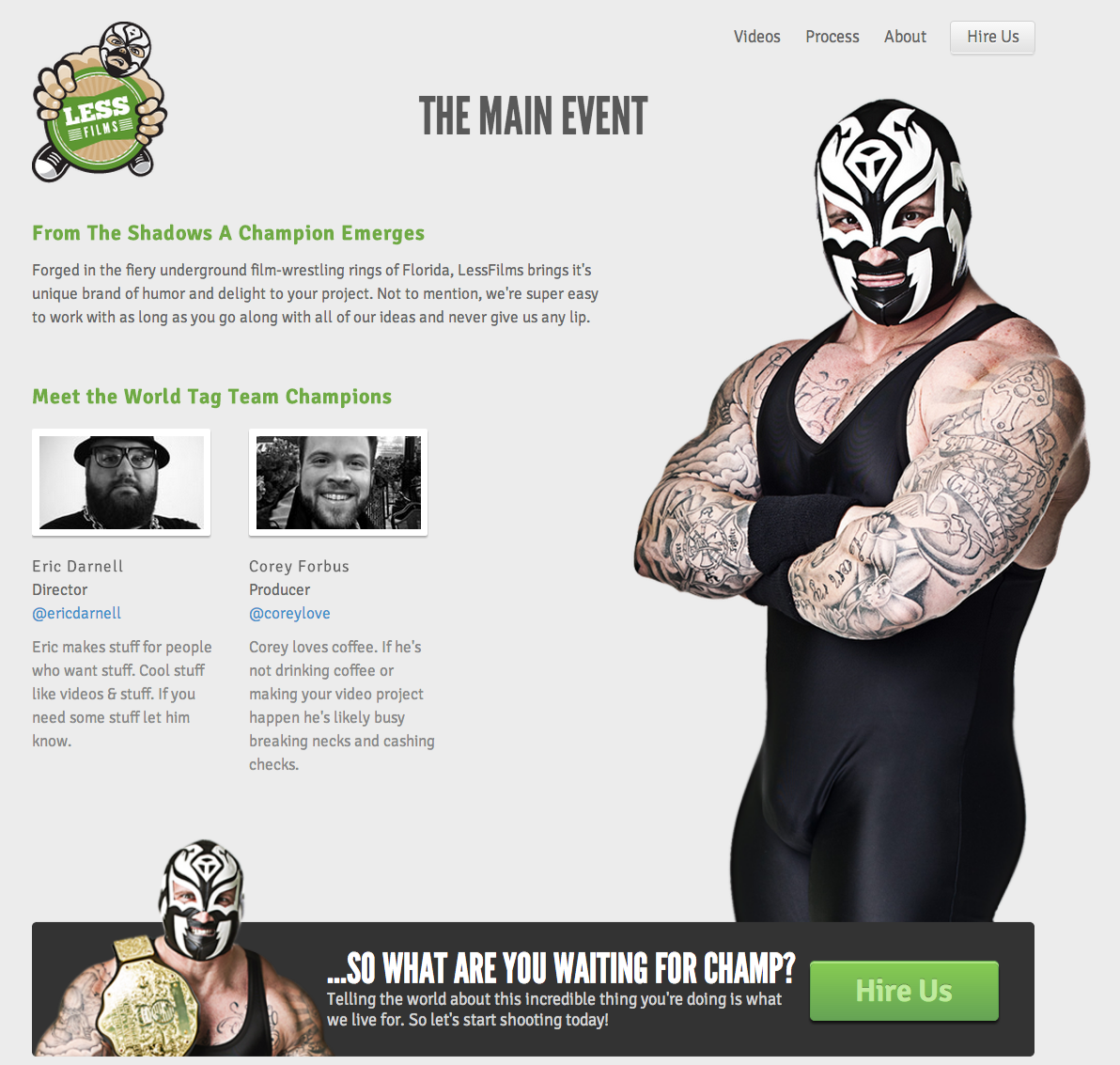 For your 'About Us' page, you don't need to pretend to be a comedian if that isn't part of your brand's personality. Find another aspect of your brand's personality to showcase and make a lasting impression by being yourself.
Why the 'About Us' Page Rocks: It's human.
People tend to think that 'About Us' pages have to sound formal to gain credibility and trust. Most people find it easier to trust real human beings rather than a description that sounds like it came from an automaton. Trying to sound formal on your 'About Us' page results in stiff, "safe" copy and design -- the perfect way to make sure your company stays invisible.
Eight Hour Day does a great job of showcasing the people behind the company to make the brand seem human. Including the founders' names in the header of the website and featuring the photos of them on the 'About Us' page drives home the point that Nathan and Katie are a "couple that loves to create." Even the picture of their dog makes you think Eight Hour Day has real people behind the brand.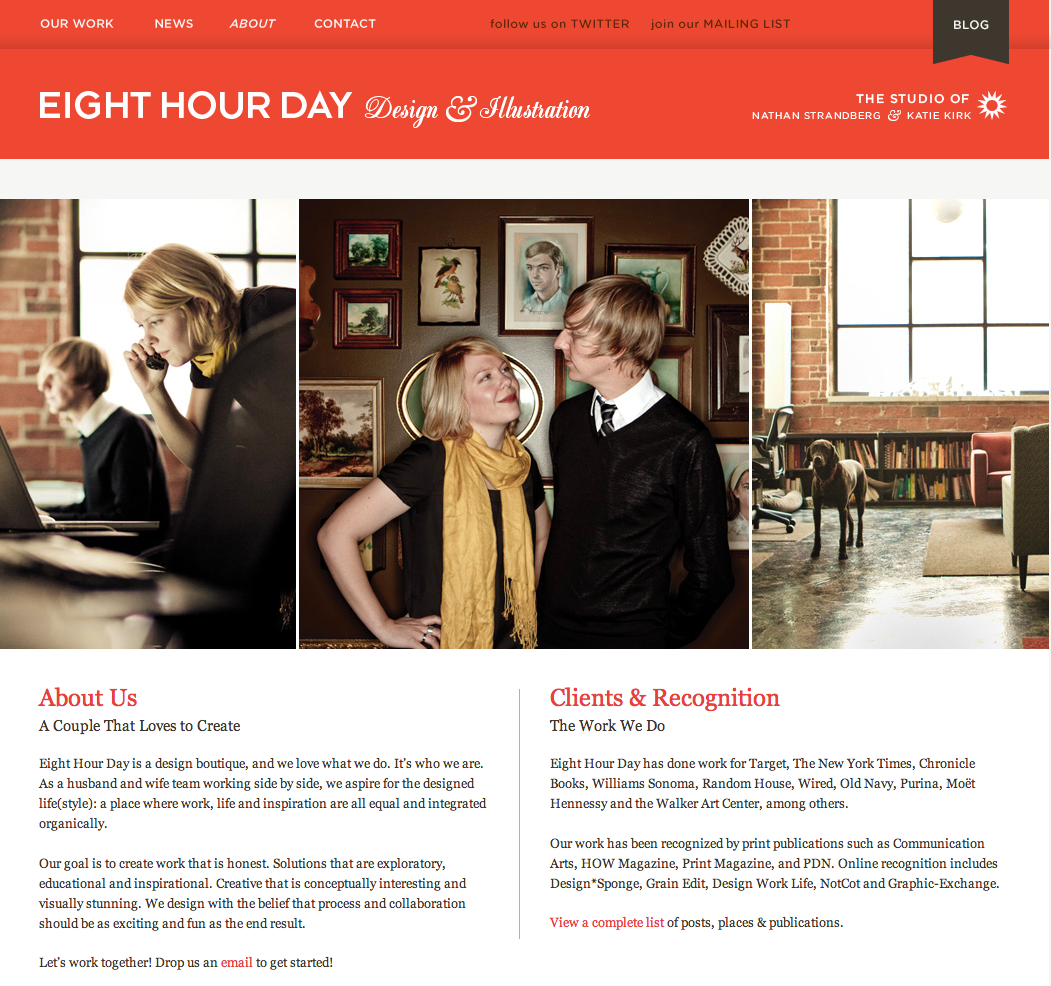 When you're whipping up your 'About Us' page, make sure to avoid industry jargon and instead use your authentic voice to describe your product or service. Sure, it needs to be polished and free of errors, but it should always sound friendly and real.
Why the 'About Us' Page Rocks: It lets customers do the talking.
Would you rather trust a company talking about how awesome it is or a colleague raving about the company's work? I'd bet a lot of money you'd prefer the latter -- that colleague is more likely to be unbiased and give you a realistic understanding of what the company is like. Including customer testimonials on your 'About Us' can give prospects and leads a more down-to-earth view of your company.
For a great example, let's look at Callia Media's 'About Us' page. Andrea Butterworth, the owner, is an accomplished marketer, and the 'About Us' page of her company makes that clear. But you know what's even more important? The difference Andrea has made in her customers' businesses. By including testimonials immediately after Andrea's biography, Callia Media balances personal and company achievements with the voice of its biggest fans.
Personal testimonials build credibility and trust, which is why they have a natural home on your 'About Us' page. If you have a customer who has nothing but good things to say about your company, why not hand them the mic and let them do the talking?
Why the 'About Us' Page Rocks: It skips the business babble.
Think industry jargon makes you sound super smart on your 'About Us' page? Think again. People want -- and appreciate -- straight talk about what your business does. After all, if people can't figure out what you do, how will they know they need your product or service?
So, skip the industry lingo like Apptopia does on its 'About Us' page. The startup's simple but polished language effectively communicates the company's offering while still allowing the Average Joe to understand it. Take a look at the last paragraph -- using short and punchy sentences, the paragraph explains a complex product in a very simple way.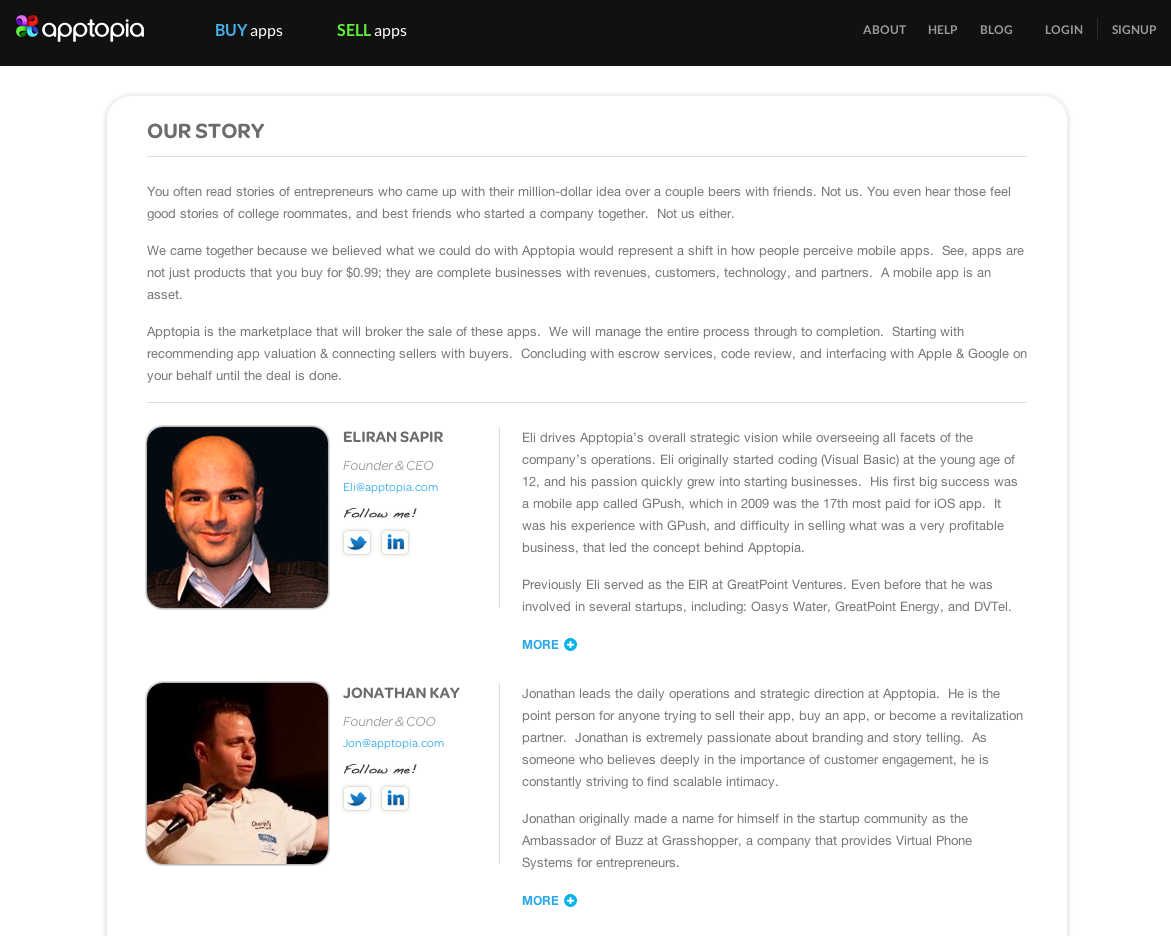 The moral of the story here is that you should try to get rid of jargon on your 'About Us' page whenever possible. Show your smarts through simple copy -- not business babble.
Why the 'About Us' Page Rocks: It totally breaks the mold.
You don't always need to wait for a website visitor to get to your 'About Us' page to make a statement. I know this whole post is dedicated to 'About Us' pages, but it's important to remember that you don't always have to fit the mold to showcase your company's personality.
I Shot Him is different. The creative studio communicates that point with both a super edgy name and an incredibly fun presentation of who the company is, right on the homepage. Rather than waiting for the 'About Us' page, I Shot Him shows its true colors right from the creatively designed homepage with parallax scrolling. And while the 'About Us' page is a gem once you get there, it's great to see a company embrace its own brand of quirk consistently throughout the site.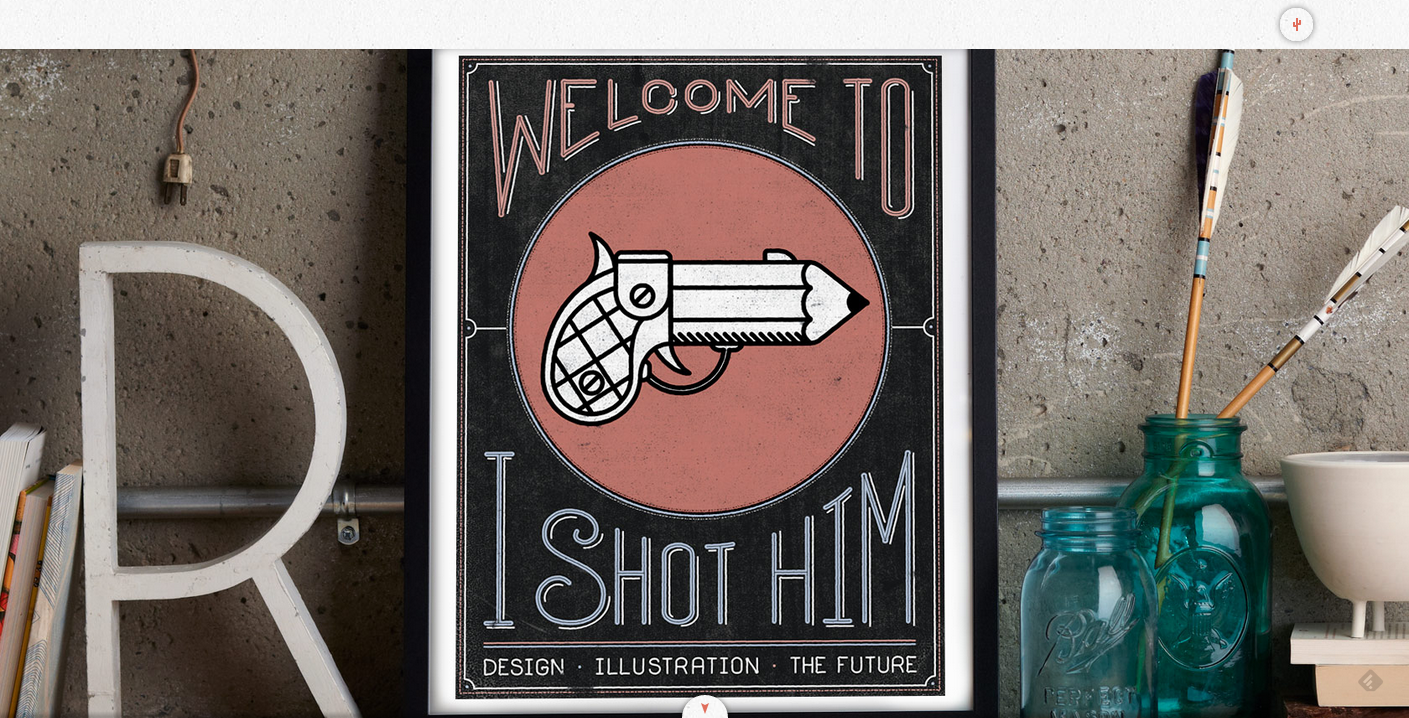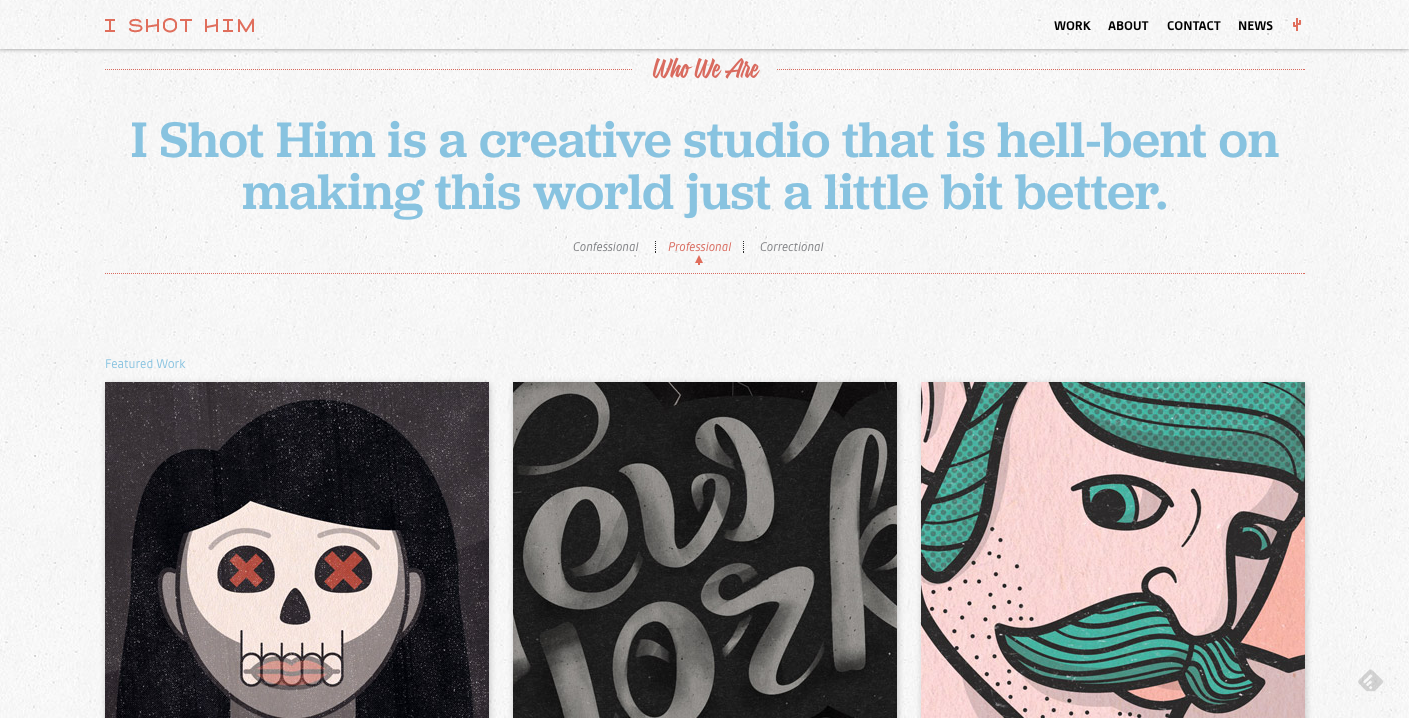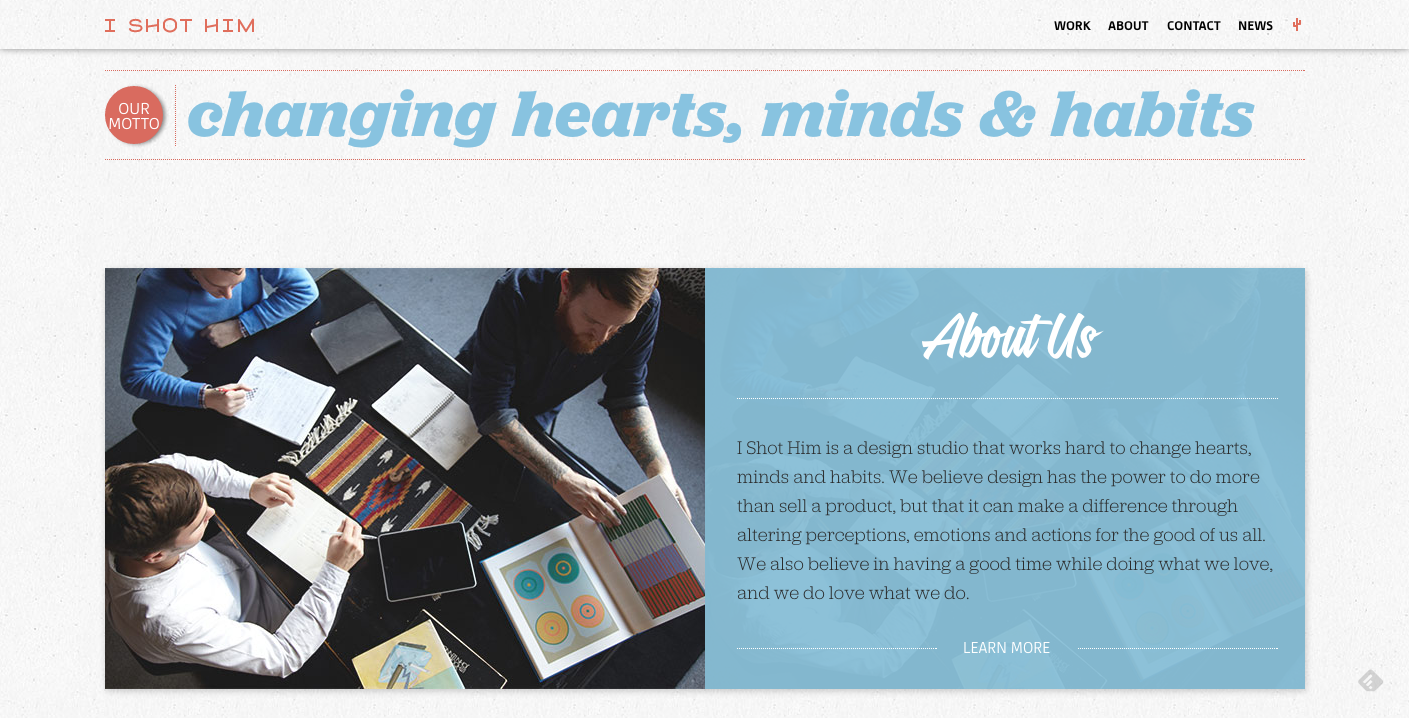 Even if you have a dedicated 'About Us' page, there are plenty of ways to creatively showcase your company's personality throughout your website. Breaking the mold is harder than filling a stock 'About Us' template, but it can have a significant payoff for your brand.
Which companies do you think have awesome 'About Us' pages? Share your favorites with us below!