Editor's Note: Because it was brought to our attention that this rollout may only be for select users (not all), the original title of this article has been changed to reflect that. Stay tuned for more updates about this once Twitter makes an official announcement.
Although there's been no official word from Twitter, today The Next Web alerted us to a brand new Twitter feature. Ready for it? Get excited ...
... Tweet Performance Analytics! Oh, you'd already read the title? Duh.
In any event, I can already hear marketers everywhere rejoicing. Here are the deets about who has access, what you get, and why it's useful to us marketing folk.
Who Has Access?
Well, it's hard to say. Here's the thing. Twitter's been a little wishy washy about all this. Earlier today when I started researching and writing this post, my colleagues and I all had free access, regardless of whether we use Twitter's advertising platform. The analytics dashboard is available within its advertising platform, which is why I say that, and previously, Twitter Analytics was only available to accounts that pay for Twitter Advertising.
Then it seemed my access has been revoked. And then ... it came back. I'm telling you all this just in case Twitter changes its mind again. For now, while it seems like many people do have access, let's move forward.
To access Twitter Analytics, simply visit http://ads.twitter.com, log in using your regular account credentials, and click on the Analytics dropdown in the top navigation. Like this ...

What Do You Get?
As you can see from the screenshot above, you can choose from two options: Timeline activity, or Followers. Let's see what happens when I click Timeline activity for my personal Twitter account.
Timeline Activity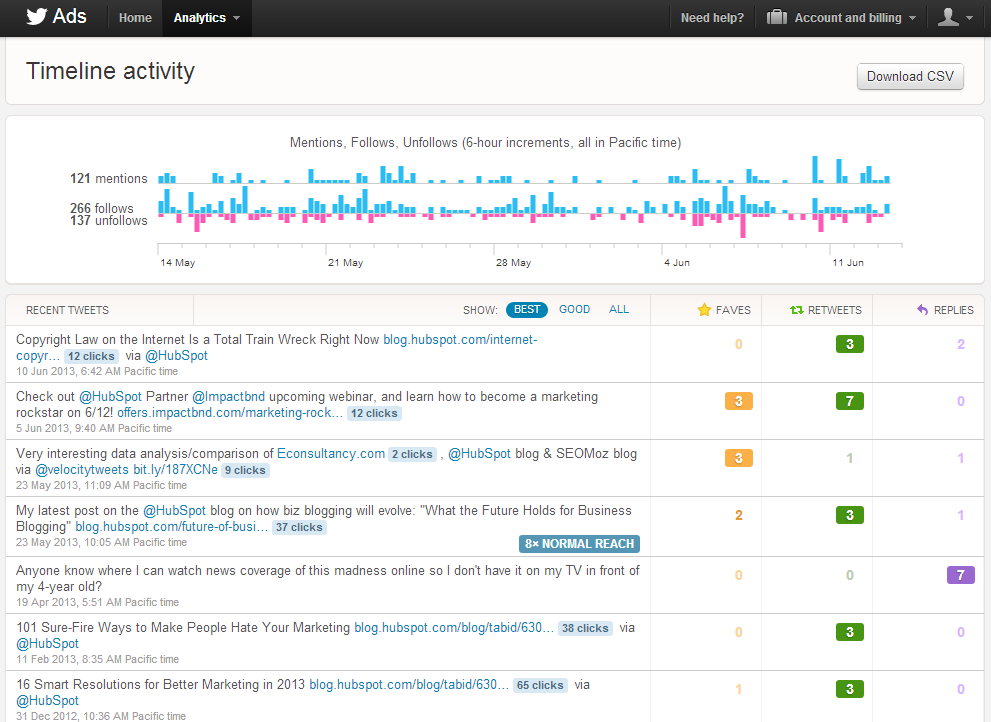 As you can see, the dashboard gives me a little summary graph for the last month near the top, including the distribution and overall number of mentions, follows, and unfollows (for you 137 Twitter users who have unfollowed me, I see how it is).
Below that, I'm able to sort tweets by three categories: Best, Good, and All. Here's what each of those buckets actually mean ...
Best: The top 15% of tweets with some level engagement in the past month.
Good: The top 2/3 of tweets with some level engagement in the past month.
All: All tweets with or without any level of engagement in the past month.
In the columns of data provided, I can see the number of favorites, retweets, and replies generated from each individual tweet, in addition to click data for any links included in my tweets (although, unfortunately, it doesn't seem to show clicks for hashtags). Click data is displayed in-line with the tweet copy itself.
Twitter also provides annotations like the "8x NORMAL REACH" note you see in the screenshot above. This means that, compared to my other tweets in the past month, this particular tweet reached 8x the number of people as a result of retweets.
I can even export this data to a CSV or XLS. I simply click Download CSV at the top right, and specify the time frame for the data I want to export.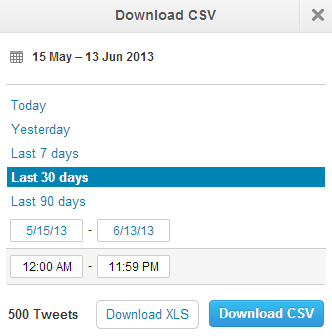 The export includes the tweet copy along with the number of favorites, retweets, and replies. Unfortunately though, it doesn't include the link click data shown in the dashboard.
Good stuff! Now let's see what happens when I click Followers from that top nav dropdown.
Followers

Womp womp. I guess Twitter still has some kinks to work out here. Out of curiosity, I looked to see if I could get it to work by looking at the @HubSpot Twitter account instead.
Jackpot!
This dashboard shows our follower growth over time, highlights our followers' most unique and top interests, the distribution of their locations and gender, the top most followed people our followers also follow. (I'll give you a second to wrap your head around that last part.)
So why does the HubSpot account have access to this part of Analytics when personal accounts (we checked a few) do not? This could be because HubSpot's account has already been paying for Twitter Advertising, and has had access to this data for some time now. It could also be that Twitter needs some time to pull this data for non-advertising accounts. It's not certain, but hopefully this is something non-advertisers will have access to in the future. It seems promising, considering it's listed in the drop-down menu for Analytics.
Why Twitter Analytics Are Helpful
Because when are free analytics not helpful? Being able to analyze the performance of your tweets can provide a wealth of knowledge and insight into the effectiveness of your Twitter strategy.
By exporting your data, you can sort and analyze which tweets are your best performers. Which means if you were trying to expand your reach on Twitter, there are probably some lessons you could learn from those most retweeted tweets. What should you replicate? What didn't work? Or, if you wanted to increase the engagement of your tweets, you could analyze which tweets generated the most replies and extract some insight from the content of those tweets. More data leads to better insights, which leads to smarter, more effective marketing.
With no official word from Twitter and access getting granted, revoked, and granted again all in a day's time, let's hope this isn't just a fluke.
Image Credit: Rosaura Ochoa