Video content has exploded on Facebook since the company changed its News Feed algorithm last year to favor the format. Analysts are even predicting that Facebook will actually deliver two-thirds as many video views as YouTube in 2015 -- an absolutely stunning shift.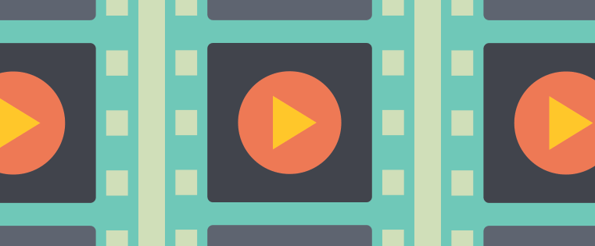 Video has long been an important component of the social strategy toolkit, but the current ranking and action policies make it an absolutely vital format for maximizing organic reach, which means advertisers and agencies need to pay attention.
If you're looking to jump into the Facebook video world, follow these five tips.
5 Tips for Creating Engaging Facebook Animated Videos
1) Captivate with visuals first, not sound.
Facebook videos automatically play in the News Feed without sound. The user must click on the video to hear the audio. To ensure full engagement, you need to grab your audience's attention immediately through eye-catching visuals that entice people to click the video for sound before they scroll past. The first ten seconds of the video are thus incredibly important.
Which brands are doing Facebook animated visuals right? Well, first and foremost, Facebook itself. Its "Helpful Tip" animated videos feature a fun value proposition at the beginning that promises to teach the user something useful during the next 20 to 30 seconds.
Here are two great examples from Facebook:
Helpful Tip: It's easy to create a group for anything you're into.

Posted by Facebook on Monday, October 5, 2015
Helpful Tip: It's easy to add one friend or lots of friends to a group.

Posted by Facebook on Thursday, October 8, 2015
2) Follow Facebook's design guidelines.
Facebook videos have a tendency to look wonky and unprofessional if not exported correctly from your movie editor. The company has very specific design guidelines that should help your video look crisp and sharp, including using 30fps or less and H.264 compression. You should familiarize yourself with these criteria at the beginning of the video creation process, not just at the project deadline when you're scrambling to upload.
3) Include a call-to-action.
A view is great, but a click is even better. With Facebook's call-to-action function, you can direct viewers to any URL at the end of the video using Facebook's menu of buttons such as "watch more" or "shop now". Your landing page can be set up to encourage these new guests to sign up for a newsletter, register for an event, or download additional content. Try adding a vocal call-to-action at the end of the video's narration for additional impact.
4) Remember the 20% rule.
If you plan to put ad budget behind your video, you will need to meet Facebook's requirements for other ads and promoted posts, including the "no more than 20% text" rule -- the nemesis of social marketers everywhere. The good news is that the rule applies only to the thumbnail, not the full video. Even better, you can choose the image you want to use as the thumbnail and upload it separately. Don't forget to run it through Facebook's Grid Tool to make sure it meets the ratio criteria.
5) Avoid animated GIFs -- for now.
In June, Facebook rolled out support for animated GIFs in the News Feed. The move was met with a mixture of "It's happening!" and "It's about damn time!" by fans of the format. In standard Facebook fashion, however, the functionality was phased in over time, and it's still not available to brand pages. Instead, post .mov or .mp4 files for shorter videos. You can still achieve the loop -- you'll just need to force it in your video editor.