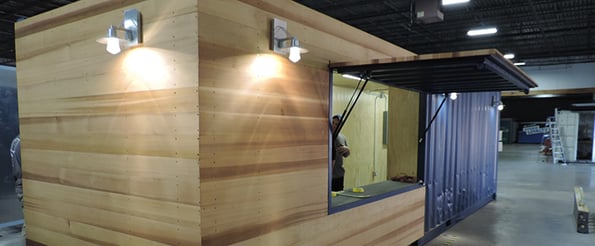 You've watched them flash by as you wait impatiently at the tracks: stacks of rectangular containers carried by a fast-moving convoy. They are usually adorned with splashes of spray paint -- a bandit's "artwork" during a pause in motion.
These steel storage units may seem like an unlikely fit for the world of branded marketing experiences, but this is exactly why they make such an imapct.
From Selling Homes to Building Brands With Metal
David Campbell was in the real estate industry when the recession hit.
While the market was doing a downward spiral, Campbell was trying to find a way to reinvigorate his opportunities. An article about shipping containers caught his interest, so he bought one and set it in a field in Charlotte, North Carolina. He experimented with the form, and eventually figured out that this could be a competitor to the event tent.
He launched Boxman Studios in 2009, and in 2014, the company landed on the Inc. 500 list of the fastest growing privately held companies in the U.S., boasting a three-year growth rate of 3,074%.
This success is reflective of more than just landing on an interesting idea. It fulfilled a need from brands that were struggling with how to build connections with their audiences as more and more "experiences" moved online.
Oreo's structure housed 3D printers that created cookies featuring trending topics at SXSW 2014.

Vinay Patel, a digital marketing strategist at Boxman Studios, says that brands shouldn't approach investing in digital or physical experiences as a choice between one or the other. These type of structures can include both.
This is why e-tailers such as Amazon and Etsy are creating more and more pop-up experiences.
"They know that no matter the strength of online, a true connection and a true relationship with a consumer will win out every single time," Patel said.
These Google sponsored structures housed a coffee bar, interactive YouTube screens, and Android charging stations.
Loyalty is built through experiences -- whether that is the experience of using the brand, customer service, or an interaction in the store. Brands need to sell the experience of their company, and the physical is still the best way to do this.
Patel also points to new trends such as beacons and Oculus Rift as signals for how brands should approach merging the physical with the digital.
"People still want interaction," Patel said. "They still want to touch and feel. They still want an experience. Online is an effective way to to inform people, but it's still a one-way connection. Connecting with all those senses of a consumer is going to be more powerful than a digital screen every day of the week."
The Logistics of Branded Containers
Boxman Studios' projects are all custom built, which they do from a 65,000-square-foot warehouse. Each project goes through a three-step process that begins with the question any agency asks: What is the goal?
The team tries to understand the goals of the brand and the people who will be in attendance. They consider things such as how many minutes the brand wants a person to be in a space, how many interaction points there should be, and even where power outlets should be located.
Digital agency Razorfish showed off the future of retail in this container that housed four 75-inch LED screens and a projector wall with an interactive touch screen.

Once they have a solid idea of the goals, the design aesthetic, and the layout, an architectural designer creates the floor plan and a 3D rendering of the space. This is reviewed by a design engineer who tests the design for structural integrity and considers things such as wind load. All drawings are reviewed by third-party experts and inspectors for safety and quality.
Next, fabricators and technicians begin designing and building the environment. They use lightweight, durable materials, and the team considers things like sustainability and insulation of the structure. Then, the deployment phase requires the team to map routes, transport the structure, and set up and break down the container for the next event. The company also researches temporary structure codes and helps to secure permits for its structures.
The control Boxman Studios maintains over the entire process allows it to ensure the structures meet the brand's and the audience's expectations.
"People are sharing in real time, but they have to have something to share," Patel said.
Boxman Studios worked with IMG College to create a three-story structure comprised on nine shipping containers.