It's hard enough to find great talent. But the challenge can seem overwhelming when you need to hire people who can come up with ideas for things that have never been done before.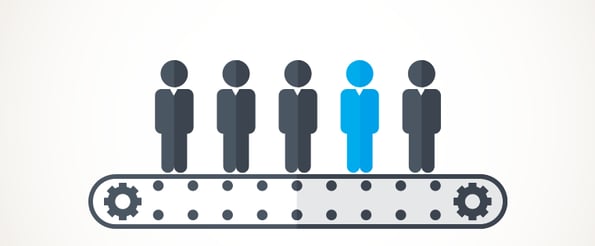 What types of projects are we talking about? For B-Reel, it means creating a sphere made of 13,211 LED lights that can detect and react to a person's breath. Or it's using the darkest night of the year as an opportunity to transform an office building into a music sequencer that users across Stockholm can control.
These projects weren't defined by a creative brief. They didn't need market research. They required innovative individuals who knew the limits of technology so they could push right past them.
Sourcing, hiring, and retaining digital talent who can dream up these types of projects takes a thoughtful approach.
Building a Company of Tinkerers
B-Reel was founded in Stockholm in 1999 with the idea to explore the opportunities at the intersection of the web and video. At the time, the technology wasn't there. They had to hack and test and try out different technologies. This attitude towards approaching digital projects -- even as technology has advanced exponentially -- has been embedded in the organization.
"This company started with disrupting what you could do with video and the internet, and that's built into our culture of tinkering and trying things," said Keith White, the global talent director at B-Reel.
And B-Reel has helped to push along the rate of reinvention in the web video industry while also tying these projects to physical experiences.
"You can't really rest on your laurels here because clients are expecting that innovation from us," White said. "We have to reserve some time for future facing projects or technologies that will enable us to stay interesting and fresh and new."
In 2010, B-Reel partnered with Google and Arcade Fire to create an interactive music video built in HTML5 for Chrome called The Wilderness Downtown. The video pulled in Google street view images from each viewer's hometown so that the main character in the video is seen running through familiar territory.
It's also known for its production work with Pereira & O'Dell to produce The Beauty Inside, an online film series for Intel and Toshiba that won three Grand Prix awards at Cannes in 2013.
Today, B-Reel is a team of 170 people spread across six offices (Los Angeles, New York, Stockholm, Berlin, Barcelona, and London).
The Way You Work Matters
Agencies, tech firms, and startups are all competing for creative and tech talent.
For B-Reel, the most useful recruiting tool is their current work. Many candidates seek them out after seeing a commercial or tech project they've created. When you create a strong brand, talent -- especially highly skilled and sought-after -- finds you. And better talent creates better work, which means clients then seek you out. It's an attraction cycle that begins with hiring the right people.
They also stay away from the way more traditional agencies work.
"It's a faster process -- more aggressive," said Anders Wahlquist, co-founder and CEO. "You need to be more collaborative, agile, and nimble in your organization."
The team doesn't require downtime or even clear lines between ideation, prototyping, and execution. They also understand that sometimes there isn't a problem that needs to be solved. For certain brands, it's about finding an opportunity and figuring out a way to create something exciting, imaginative, or shocking. It's less about the ROI from the project.
And this is the way many younger digital creatives want to work: they like the fast pace, the lack of layers of review, and the chance to create more thoughtful, artistic brand experiences that aren't driven by sales numbers.
What Digital Talent Cares About
B-Reel has a strong referral program, which brings in many of its top candidates. It also has developed partnerships with universities and schools that feed its intern program. It is oftentimes from here that the firm will look for its next hire.
But attraction and recruitment are only the first step. Hiring and retaining this type of talent requires companies to rethink how their company is structured and what types of benefits (outside of the normal) it provides. It's about creating a better company, but it is also about creating a company people want to work for.
According to White and Wahlquist, there are a few main things young digital talent care about that you need to provide to attract, hire, and retain them.
5 Key Things to Remember for Retaining Your Digital Talent
1) Opportunity
Highly talented individuals are also highly ambitious. I don't mean this in terms of wanting a corner office by the time they are 30. They are ambitious to make a mark, to create beautiful, interesting things, and to be a part of something that is changing the industry.
"You learn by making," Wahlquist said. "It's all a part of the process. You learn by going wrong and by going right, by doing small things that you build into big things."
This thirst for opportunity and innovation must be a company-wide value though. Prospective employees want to surround themselves with people who will inspire and drive them to be better.
2) Mentoring
Young creatives and technologists are eager to learn from the best. That means you need a formal or informal mentor program. This is not about creating managers who can provide "mentorship." Creatives want to watch, learn from, get feedback, and ask questions of those whose work they respect and want to emulate. If you have a stellar team of people creating things, make them available to newer employees.
The type of digital talent you want cares about their craft and improving. Find ways to support this, and these people will be loyal.
3) Culture
While work-life balance is important, most highly skilled individuals don't join a company because of the separation between work and home. They want the company to feel like home, like a family.
White says he looks for people where there is little disconnect between the values someone has at work and at home. Also, when a candidate is being considered for a position, he or she meets many other members of the team. White wants the team to make a decision about whether or not this person is a good fit -- both in terms of skills and personality. If the team agrees, it is an act of "welcoming" a new member of the family.
4) Autonomy
Creative individuals want to experiment, try out new ideas, and learn from their failures. What they don't want is someone micromanaging their every minute and hour. Find people who value independence but also have the innate drive and skills to manage their own time.
B-Reel gives employees the opportunity to invest time away from billable work in R&D projects, many of which are used in or influence future client projects.
5) Flexibility
Creative output requires flexibility in how it is accomplished. Many of B-Reel's projects are inspired by art, music, games, and culture. So they need employees whose interests go beyond creating commercial work. Anders said they once employed someone who was an expert in RC car driving, a skill and knowledge set that was eventually used for a project.
To attract this type of talent, employers need to build flexibility into the work place -- in the form of time off, where individuals work, and how they set their schedules.
B-Reel has a Wellness Wednesdays program, where every two weeks, employees can take off and go do something that makes them feel better, such as going surfing, camping, or hiking.
Hiring for Tomorrow
How we do marketing and advertising is constantly changing, and so the way we attract, vet, and hire people also needs to change.
Wahlquist said that they don't pay as much attention to where someone went to school or even what their experience is. They look for people who are intensely curious, flexible, and willing to fail. When you hire and attract people with these qualities and give them the freedome to create, the results are truly surprising.
"I like people who are curious and are wanting to grow and learn," White said. "They are going to keep pushing things and looking for new ways to express themselves for either the company or the client."