To create a culture where ideas rule, you must become a Creative Leader. There is a premium on originality. Building creative environments, inspiring creative ideas, finding creative solutions -- these are the signatures of peak performing organizations. I call this the SuperVUCA challenge, the drive to create outcomes that are V-ibrant, U-nreal, C-razy, and A-stounding. In a SuperVUCA world, the crazies reign and the speed demons rule.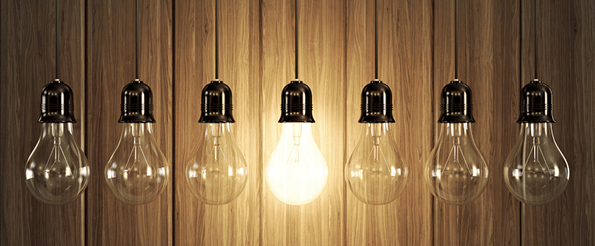 4 Primary Things That Define A Creative Leader
Change the Language
In making Winston Churchill an honorary citizen of the United States, President John F. Kennedy said: "He mobilized the English language and sent it into battle." Revolution begins with language. Change the language and you can change everything. If you want people to join you, work for you, partner with you, buy from you, talk about you, speed your cause, then you need language that inspires people.
Apple is a strong example: Think Different; Stay hungry. Stay foolish; Why join the Navy when you can be a pirate? Popular potent examples range from Once a Marine Always a Marine, to Inspire a Generation, to I Love New York, to I Have a Dream. Dr. Martin Luther King, Jr. did not say "I have a nightmare." He said: "I have a dream." We need a dream. We need to inspire a worldwide movement of personal activations that is irresistible.
Have Tons of Ideas
A growth company is an ideas company, an ideas company has an ideas culture, and an ideas culture means leaders running lots of ideas continuously. The winner of today is not the company bent on one big idea. It is the company with the most ideas. It is the company with a non-stop production line of small ideas day after day.
Double Nobel Prize winner Dr. Linus Pauling said the way to get a good idea is to have lots of ideas. A Creative Leader has a plethora of ideas. In this Age of Now, you have to be relentless about having ideas. I get asked all the time what the future holds. I don't have a clue.
Neither does anyone who says they do. You can't see the future, so hack your way in. The hacker recognizes that big ideas are scarce, strung out over time, and investment-hungry. Get to your big idea by having lots of small ideas and testing them quickly, cheaply, and widely. Chances are your customer or your audience will turn one of your 20 small ideas into a big one. Chances are someone will try to stop you too. Ideas are fragile and most organizations murder them at birth. Keep yours moving, adjust them on the fly, and don't let the "Abominable No-Man" get his ghastly hands on them. The big idea is often stumbled on or found one degree away from where you are now. For example, the moving assembly line for putting cars together came from stumbling upon how animal carcasses were being taken apart. The success of Apple was trial-and-error. Apple overcame a series of often humiliating hurdles and failures with incremental change.
This enabled Apple to permanently change the way we look at personal computers, purchase music, edit video, and watch animated movies. If you create a culture with lots of ideas then you are a Creative Leader. A Creative Leader recognizes that ideas have unlimited power.
Surprise With the Obvious
A Creative Leader surprises with the obvious. A surprisingly obvious idea is one staring you in the face. It just makes sense. It springs the lock. It makes you say: "Why didn't I think of that?" It is now obvious that people would buy single songs online from iTunes, but it wasn't obvious to the music companies. Now it's become obvious that you shouldn't need to own music to get all the music you love. Surprise!
The whole "sharing economy" is surprisingly obvious. So is the on-demand future of video that is starting to flow through our screens. Technology is the enabler, but behind each leap is someone who unlocked what makes sense.
The leap from "like" to "love" in business was staring me in the face. Lovemarks is a surprisingly obvious idea. People decide with their emotions no matter how much they rationalize. Analyze all you want. Do your research. Make your shortlist. Arrive at flawless logic. In that unbridled moment you choose a husband, a wife, a friend, a house, a car, a dog, a whatever -- what happens? Reason goes out the window. Emotion decides. Love trumps. Love binds too.
Fail Fast, Learn Fast, Fix Fast
I believe in Tom Peters's credo "Test fast, fail fast, adjust fast." Creative Leaders act now and ask for permission later. They fail fast, learn fast, fix fast. This is how creativity gets airborne. Failing is just a step on the road to what works. When you find what works, that's called winning.
They're not so far apart. The important part is the fixing and learning. Without change, there is only repetition. As someone said, a genius is someone who makes the same mistake once. I learned about velocity in my first job at Mary Quant. I worked for Mary Quant for three years, opening new markets for her cosmetics line. You had to be decisive, intuitive, but most of all, fast. We had nine months to conceive, produce, launch, sell, and then discontinue a complete line. We got better at it.
Creative Leaders anticipate failure. They eliminate fear of failure to encourage more ideas. Spare me the perfectionists who never get it wrong or, worse still, the conservatives who never take a risk. All business is a leap of faith. Execute now, or you will be executed. Fail fast, learn fast, fix fast. A good game is a fast game.
Excerpted from 64 Shots: Leadership in a Crazy World (powerHouse Books, June 21, 2016) by Kevin Roberts, Chairman Saatchi & Saatchi and Head Coach Publicis Groupe.