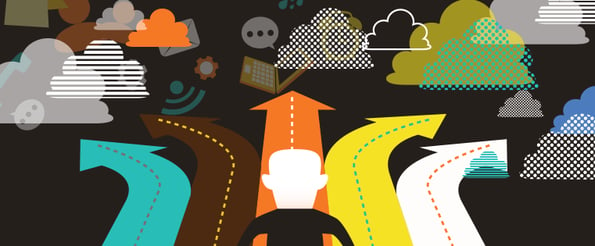 A company is only as good as its employees.
And the best companies spend their time cultivating a superior talent pool. Unfortunately, even those companies that prioritize the employee selection process don't always take the same approach to evaluating potential marketing technology partners.
In reality, these partners influence and represent your company every bit as much as your employees -- if not more so. Choosing the right partners requires just as lengthy and thoughtful of a process as hiring an account executive or project management.
According to the Studer Group, a new employee doesn't reach full productivity until the five-month mark. With technology partners, waiting five months to get that level of productivity is rarely an option.
When your clients need additional services or expertise that require you to bring a new partner into the fold, they need it immediately. This puts tremendous pressure on the partner selection process -- especially if you want one that will fit your company's culture, communication style, and workflows. In short, you need to find a partner that can provide the services you need without impeding your team's effectiveness. And you need to approach this process with the same mindset that you do when selecting a long-term employee. It's that important.
These five questions will help you thoroughly evaluate potential marketing technology partners for your next project:
1) In what capacity have you partnered with other organizations before?
To help determine if your potential partner can handle the work you'd be sending them, you need to know what they've done in the past and what kind of results they've achieved. Depending on what you are looking for within a partner, ask them: Have they done co-development with other technology companies? Do they have a defined methodology for partnering with others? Do they typically work through an agency relationship or directly with clients?
And don't just stop there. Ask for actual numbers, examples, and references. In marketing speak, "numerous integration projects" can be as little as two.
2) How are your engagement teams structured? Who will be working on our project?
This one is really important for determining how your agency will work with that partner. All of the successful past projects in the world don't mean anything if your team is not going to be able to efficiently work with theirs.
What does their engagement model look like? What expertise will you be able to leverage, and how will it complement yours? How much involvement will management have in the collaboration process? What tools and methodologies do they utilize to manage their projects? Are they willing to use XYZ tool or methods to collaborate with your team?
During this stage of the evaluation process, dig deep to see how empowered their team members will be to make decisions as they interact with you and your clients. At the end of the day, your client's satisfaction with the work and relationship is the most important piece, and how you and your partner engage plays a key role in maintaining that satisfaction.
3) Do you understand our business? Can you speak to both the technology and design side of things?
Clearly, partners need to bring project-specific technical expertise to the table or you wouldn't be considering them in the first place. However, finding a partner that understands the bigger picture is critical as well.
Say you are a design agency embarking on an experience design project. You need a partner who can help you bridge the gap between theoretical design and real-world implementation -- a team that understands your ideas well enough to show you how to use technology to make your vision come to life. A true marketing technology partner is more like a solution architect than a developer coding functionality (though they do that as well).
If disconnects and misalignments occur between the teams at a basic level, your design will not be properly translated into technology, and client outcomes will suffer.
At Verndale, our ability to speak the same language as our partners yields stronger, more effective collaboration. A partner that can understand the overall goals set for a specific marketing campaign or digital development project is extremely valuable. Rather than simply doing what they are told, these partners can offer insights that help you maximize objectives throughout the project.
4) What level of project involvement (before, during, and after) are you willing to have?
Before the technology work begins, is your partner willing to be involved during the the initial engagement and implementation planning? During the project, are they OK working directly with your client and collaborating with you to allow for clear lines of communication? After the project, what kind of education and ongoing support do they offer?
Architecting and implementing a customer experience management system requires a tremendous amount of thought and training to ensure the client will be able to leverage all the features in the platform they purchased. As skilled specialists, a technology partner brings a lot to the table if you allow them to. Get them involved with the client early, and invite them to strategy sessions and planning meetings from the start. Make sure you provide your technology partners with data and a clear understanding of their role in client discussions to ensure productive discussions.
5) How do you see this partnership evolving moving forward?
The best agency partnerships are the ones built for the long term. Do they see your companies working together on multiple project? Are they willing to share their knowledge? Being able to speak intelligently with clients about an expanded solution set may help you win more business in the future.
Thinking long term is critical. Is your partner willing to provide ongoing support for the software or services they offer? As an agency, you must stand by every bit of work you do a month, a year, or even longer after it is completed. If you need to reach out to your technology partner to assist in supporting this work, will they still be around to help?
No agency can be expected to meet 100% of a client's needs. To grow, you need a network of skilled partners to fill in your service or expertise gaps. To prosper, you need to carefully evaluate, select, and work with these partners. Treat them as you would any potential employee -- wait until you find that perfect match. Even though you may not see them every day, these partners can have a tremendous impact on your company and client relationships.