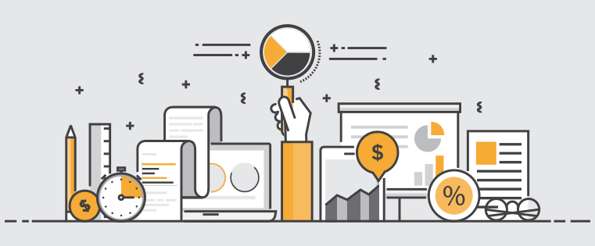 On average, people receive 304 business emails per week, attend 62 meetings per month, and deal with 56 interruptions to their work each day.
That's a lot of time wasted considering that so much of email causes additional confusion and follow-up questions, it takes 16 minutes to refocus after dealing with an email, and most meetings are considered unproductive and a waste of time.
These problems become even more complex and problematic when it is the leader of a company who is spending her days attending useless meetings and responding to never-ending email threads. This isn't an effective use of a leader's time, and it rarely results in decisions and practices that have a wide-sweeping and positive impact on your agency and your team members.
You need to find focus, prioritize the activities of value, and control your schedule and output. And part of this is learning to be more productive -- to remove distractions and focus on what really matters. This is what your company truly needs from you.
Learn how to be a more productive and impactful agency leader with these best practices and tips from agency leaders.
9 Habits That Will Increase Your Productivity
1) Focus on the "Big Rocks"
Letting client fires and email control your task list is easy to fall victim to. Before you know it, it's Friday afternoon and you've yet to address that employee retention issue or new business plan. MOSH.'s Elizabeth Aris starts her week by determining her priorities so that she can maximize her productivity.
"As I start my week, I put together a work plan, which I then update and adjust at the start of each new day," Aris said. "Through this process, I prioritize the tasks that must get done versus those that I can delegate to my team or postpone, if need be. I call this focusing on the 'Big Rocks' -- a lesson I learned as a child while trying to fill a vase with rocks. I treat each week like that vase so if I try to put the little rocks first, the big ones will never fit. However, if I take care of the Big Rocks first, the smaller ones will find their way into the 'nooks and crannies' of my days, and they will get done regardless. The key thing to remember is that time is finite, so having a work plan or strategy that suits you and helps you maximizes time each and every day, is the best way to maintain a healthy, happy and productive work-life balance."
One way to accomplish at least one "big rock" each day is to defer checking your email until you've worked on the top priority item of the day for an hour or 90 minutes. This way you start the day feeling productive, and prevent your inbox from completely making a mess of your schedule and output.
2) Say "No" A Lot
You can't be the only one who can solve problems in your business. It might feel like that some days, but to build a stable and profitable operation, you need to step out of working in the business and refocus on working on the business. This is what your clients and staff really need, and it should take priority over all else.
Saying "no" is essential for keeping your focus on the business and what it needs. This might require you to list out the things you get pulled into on a regular basis that you need to say "no" to, or you could determine which top-level managers should be contacted for different categories of issues.
3) Use the Right Tools
Work is becoming increasingly complex as the number of communication channels grow, employee needs change, and how people work evolves. This -- coupled with a culture of "always busy" and "always connected" -- has led people to spend more and more time outside of typical office hours working, thinking about work, checking email, etc. Without downtime and breaks, people actually become less productive. One study published in the American Journal of Epidemiology found that people who worked 55 hours per week had poorer vocabulary and reasoning that those who worked 40 hours.
To get done what you need to get done, consider using productivity-boosting tools and techniques that can help you to focus on what really matters and reduce the anxiety and confusion that comes with overwhelming workloads.
Peter Sena of Digital Surgeons recommends using tools such as Sane Box to control email overload, x.ai to make scheduling meetings more efficient, and Omvana for harnessing the power of meditation to increase your mental energy and stability. He also uses a productivity system for prioritizing the right things each week.
Sena said: "I use Kanban techniques and tools like Trello to think in terms of outcomes and not outputs. Trello fosters agile workflows that create autonomy. This allows team members to collaborate and share responsibilities."
This type of clarity in projects and priorities is also an accountability measure. By outlining the desired outcomes from a week's worth of work, you can gain a better understanding of your true capacity and how to optimize your time and efforts.
4) Eliminate Distractions
Richard Gallagher, founder and chief creative officer of Engine Digital, recommends controlling the small distractions that can destroy your focus.
"To increase mental clarity and tackle those wicked problems, you'll need to rid yourself of any micro-distractions: smartphone notifications," Gallagher said. "Achieving brain focus and flow, much like REM sleep, requires our brain to be free of interruptions for a certain period of time. Turning off all but essential notifications -- and I urge you to really think about what's critical, here -- is the best way to ensure that you're taking a break on your own time."
Use the Do Not Disturb function on your iPhone or Android device to temporarily pause notifications or schedule a interruption-free period of time.
5) Have a Morning Routine
It's a shared approach by some of the most successful executives: Get up early and focus on yourself. Many get their workouts in before 8 a.m. Others meditate, eat a healthy breakfast, plan their day out, write, list the things they are grateful for, or check the news.
Whatever the activity, your morning routine should be built around creating a positive start to the day, focusing on yourself for at least a few minutes, and preparing to be a fully present leader that day.
6) Be Lazy
At some point, leaders need to step back and let the people they've hired take ownership over projects and client success. Being productive is about focusing on different types of issues and problems, and being involved in the day-to-day is not where they could have the largest impact.
Jeff White, co-founder of Kula Partners, calls this being "lazy."
"As an agency CEO or owner, you owe it to yourself, your employees and your clients to see just how lazy you can be," White said. "Your job is to help set the vision, empower your team, and get the hell out of the way. It's not to design or code or write on behalf of your clients. That's why you hired people who are far smarter than you. Built properly, your agency will continue to grow and improve as your team iterates upon the processes you helped create. So, crack open a cold one, and start planning how you're going to use all those extra hours in your day. Just as soon as you build an agency that can run without you."
7) Batch Your Work
It is easy to become distracted by the latest incoming email, a whisper of a client issue, or the slightest possibility of a pitch. And when you choose to focus on one big problem, it can feel like you are falling behind. During that time, you could have answered 10 emails and dealt with three client issues. That might be true, but more often than not, jumping from task to task means you are simply putting a band-aid on non-emergent issues and activities that have little return.
In addition, switching from task to task greatly reduces productivity -- by up to 40%. Instead, batch your work and block off chunks of time on your calendar to accomplish a project or move a big initiative forward. Spend an hour answering emails twice a day. Hold an open office hour where anyone can bring up issues that need to be solved that day. This helps you to control and manage your schedule, not the other way around.
Andre' Savoie of WSI follows this advice to deliver the best work to his clients.
"Digital agency owners are constantly being pulled in different directions from clients, employees and vendors," Savoie said. "During the day it's critical that you block out 30 minutes to several hours to work on specific projects or tasks to focus on them without interruption. I've found that by managing my day in this way, I'm able to do better quality work in less time."
8) Create a Dashboard
You can't measure or track your productivity if you don't set the right priorities in the first place. To easily be able to determine where you should direct your attention and what needs leadership-level involvement, consider creating a dashboard where you measure and track against your monthly, quarterly, and yearly targets. It should also contain key metrics, such as your employee NPS score, client happiness, target revenue versus actual, proposal win rate, etc.
Mike Lieberman, co-founder and president of Square 2 Marketing, uses HubSpot to monitor the success of his clients' inbound marketing programs -- his No. 1 priority.
"For me, productivity includes helping my teams generate results for our clients, so I stay connected to our client programs by reviewing all of them once a week in our HubSpot portal," he said. "I can quickly see from the account dashboard who's not green for visitors and green for leads. Then I request a quick email update on those few clients who might need a little extra attention. This is a big payoff activity that only takes a few minutes each week."
9) Take Care of Yourself
Taking care of your body and mind through healthy eating options and regular exercise is one of the most important things you can do to maintain high energy and cognitive function. Yet, you often see leaders skipping lunches and grabbing unhealthy snacks due to convenience.
"Running an ad agency is an endurance sport," said Daniel Stein, the founder and CEO of EVB. "Travel, late nights and stress are part of the business. Exercising and eating right every day lets you go harder, longer, and bounce back quicker. It also keeps you sharp and prevents you from getting sick and taking yourself out of the game."
How do you stay productive and efficient? Share your tips in the comments below!