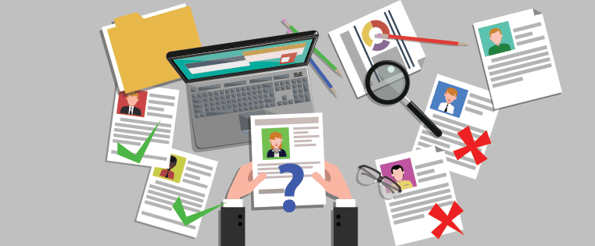 There's been quite a bit of buzz over the past couple years about inbound sales and how it's revolutionizing the sales process. It's true, it has. The inbound methodology isn't effective at solely generating customers though. Now, it's changing the recruiting and hiring landscape.
I've seen hundreds of website design projects over the years at New Breed, and one thing I notice time and again are companies cutting corners and underinvesting in portions of the site aimed at recruiting new employees. It's time for this to change and for recruiting to go inbound.
What Is Inbound Recruiting?
Inbound recruiting is the process of taking your existing inbound processes and content to scale your hiring funnel. You create content and a conversion path on your site to drive potential hires into your recruiting funnel. Then, you nurture these candidates until the right position comes available or you use qualifying measures to disregard candidates who are not the right fit based on their actions.
How Does It Work?
The first step is to begin to treat your applicants the same way you would a lead and to segment them appropriately. For example, we have an applicant persona in our HubSpot portal:
With this step in place, you can then start to see how engaged your applicants are throughout the follow-up and interview process by reviewing their digital body language. We've even created some content offers targeted specifically at this persona, such as an overview of why some of our team members chose to work at New Breed. If you want, you can even try to prompt this process with some targeted emails following up from the application, such as:
Then, you can see exactly what content the applicant is engaging with and if they're really doing the due diligence on your company and exhibiting the enthusiasm you're looking for. You could also set up triggers so that hiring managers are alerted when an applicant views X number of pages so you can provide more personalized communication to those fans of your agency.
Of course, this doesn't just apply to the initial steps after an application has been submitted. It can be referenced throughout the hiring process. At our agency, applicants go through three rounds of interviews with different action items between each where this digital body language can be referenced to measure engagement.
We were able to speak with Angela O'Dowd, Agency Partner Marketing Manager at HubSpot, about how she uses inbound recruiting to hire. She gave some advice on the process:
Inbound recruiting has proven most helpful with interns and entry-level candidates. When I have a preliminary phone screen that reveals a lack of knowledge around HubSpot's software or the inbound methodology, I typically follow up with an email containing gated resources such as ebooks and videos for the candidate to review. What I want to see is a candidate who spends a lot of time reviewing the documents and videos and who checks back on them multiple times in advance of our next call. When someone waits to open the resources, or worse, doesn't open them at all, I know he or she isn't serious about learning inbound or working at HubSpot. Most importantly, if applicants don't realize that I can see their download and video activity, then they haven't done their homework to understand the power of our software.
A great example of this was this candidate who had two weeks to review the content but only took three minutes to quickly download before responding:
Inbound recruiting can be a powerful tool to help recruiters and hiring managers understand how engaged a candidate is with the opportunity. It can also show which candidates are truly curious and interested in your business and which applicant's might be going through the motions.
Bringing Inbound Recruiting to Your Agency
Inbound recruiting does require a shift of focus and some initial planning. You'll need to outline the steps in the hiring process, including what you want candidates to do before you even contact them for an interview.
For an in-depth dive into exactly how you can do this, check out this presentation on creating an inbound hiring plan: