A single post on LinkedIn will typically reach 20% of your followers, according to Buffer. But that's not good enough for many brands.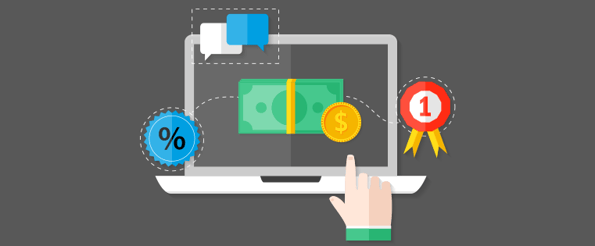 Research suggests that 90% of the buyer's journey is complete by the time a person engages with your sales team, so increasing your visibility is key to remaining top of mind on the platform.
Many sophisticated marketers are looking for more strategic ways to stay in front of their audience on LinkedIn, which serves the largest community of influential, affluent, and educated people. So they are investing in LinkedIn's native ad formats to drive awareness, clicks, and engagement.
Why Invest in LinkedIn
According to LinkedIn, four out of five members impact business decisions within their organizations. With more purchasing power than the average U.S adult online, it's clear that this is an audience that businesses should want to tap into.
However, while most businesses have a Company Page, there are additional ways to leverage the platform's powerful marketing capabilities. Sponsored Updates serve as LinkedIn's flagship native advertising format. These updates provide members with the means to reach a more niche audience that extends beyond a Company Page's followers.
In combination with posting regular, informative updates, Sponsored Updates provide marketers with the ability to reach the right audience, on every device, with a budget that makes the most sense for them.
LinkedIn also allows advertisers to employ a variety of content formats -- blog posts, infographics, videos, PDFs, presentations, etc. -- so they have the freedom to incorporate Sponsored Updates as a strategy for supporting all stages of the funnel.
How to Set Up a Sponsored Update Campaign on LinkedIn
1) Access LinkedIn Campaign Manager.
When you land on this page, LinkedIn will greet you with two options: Sponsored Updates and Text Ads. To get started with Sponsored Updates, select the first option.
2) Set up your ad account.
To get started, you'll need to have a Company or Showcase Page set up. Don't have one? Build one here. Already have one? LinkedIn will prompt you to fill in some basic account information for your new campaign.
3) Create a campaign.
Before you dive into content selection and creation, you'll need to enter a name for your campaign as well as a desired language.
4) Determine what content you'd like to sponsor.
Campaign Manager allows users to either sponsor existing updates or create a new Sponsored Update. If you have an existing update you'd like to boost, simply select the corresponding check box, and select Next. If you'd like to start from scratch, select "Create new sponsored content" and follow the prompt.
5) Define a target audience.
Determine whom you want your content to reach by choosing from a number of targeting criteria such as location, job title, company name, member age, etc.
6) Set a budget & duration for your campaign.
LinkedIn allows users to select one of two different bid types: CPC (pay when someone clicks your ad) or CPM (pay when someone sees your ad). From here, the Campaign Manager will suggest a bid and daily budget.
7) Launch and monitor you content.
After launching a Sponsored Update, you can track its progress in the Campaign Manager homepage under the Sponsored Updates view. Using this dashboard, users can track performance metrics, turn campaigns on and off, adjust bids, and make changes to the targeting criteria.
Use this dashboard to track the success of each update and test different formats.
5 Tips for Creating Engaging Sponsored Updates
1) Understand what your audience wants to hear.
Throwing budget behind your content doesn't guarantee that it's destined to succeed. To increase the ROI of your investment, you need to clearly understand what it is that your audience is interested in. Ask yourself: When my audience scrolls through their feeds, what's going to make them stop and click?
While this information inevitably comes from extensive research, reflection, and a bit of trial and error, it's entirely possible to direct your strategy using telling industry insights. For example, LinkedIn recently analyzed trending topics in some of the most popular sectors on the platform to uncover the following:
If you don't have time to do the research, be sure to launch multiple campaigns featuring different types of content on different topics to find what resonates with your target audience.
2) Include a clear CTA.
Call viewers to action by prompting them with a bit of text that encourages them to click, sign up, subscribe, etc., in the introductory text section of your update.
Keep in mind that there is no set character limitation for this section, but rather, truncation is based on padding. While the maximum number of characters you can include is approximately 600, typically 160-190 characters will display before a "...read more" link appears. To ensure that LinkedIn members see your CTA without having to click another link, keep the copy simple and concise.
Here's a great example from Chango promoting its session at Advertising Week:
3) Be mindful of mobile users.
Speaking of simple and convince, marketers should take note that 44% of B2B buyers researched company products on a smartphone or tablet in 2014, according to a study from Acquity Group.
To ensure that you're maintaining a quality experience for both desktop and mobile viewers, you'll want to optimize your content for small screens and short attention spans. This means avoiding long-winded explainer text by employing a quick, persuasive sentence or two to encourage clicks.
Check out the way Microsoft leveraged clean, lean copy to create a Sponsored Update that works for mobile:
4) Leverage an interesting visual.
While larger visuals tend to command more attention than thumbnail images, marketers should focus on the predetermined ad specs to ensure that they are delivering the highest quality visual.
According to LinkedIn, the recommended full-size image dimensions are 800x400 pixels. Within this image, it recommends that you place a title within the "Title Safe" Area (530x300 pixels). Aside from titles, LinkedIn also recommends that members avoid placing logos, icons, or additional text on the edge of the image to avoid any awkward cropping issues on different devices.
Here's a strong example of a full-size image in action from AWeber:
5) Experiment with frequency.
Want to maximize your reach? LinkedIn recommends running two to four Sponsored Updates at a time.
With multiple variations of an update running at once, marketers can keep tabs on their progress and rotate the most effective options in and out to improve their collective performance and better position themselves to reach their goals.
Notice that one update isn't performing well? Cycle it out completely, and make note of it for the future. Find that a particular image is powering a ton of engagement? Use it as a template for your next Sponsored Update.
Experimenting with frequency will help you devise a posting strategy that delivers the best results for your business.
Have you experimented with Sponsored Updates on LinkedIn? Let us know in the comments section below.