A new report from ZenithOptimedia predicts that mobile will be the No. 1 digital advertising format by 2018 and account for $114 billion in ad spend. This equals a growth rate of 32% year-over-year, accounting for 90% of new advertising dollars.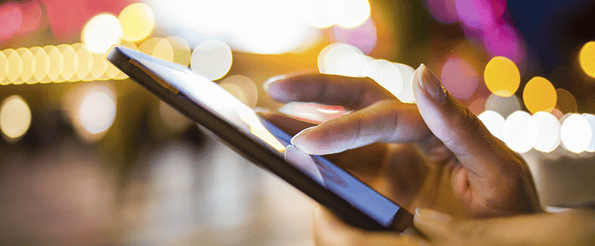 This prediction shouldn't be a surprise -- advertising dollars follow consumers, and U.S. consumers are now spending more time in mobile apps than watching TV.
Part of the growth and confidence in the mobile ad market has also been fostered by companies that have been working to solve the mobile advertising problem -- banner ads don't work on mobile. One study found that 50% of mobile banner ad clicks are done by accident, and the average clickthrough rate of a mobile banner ad is 0.14%. In addition, ad blocking has gone mainstream on mobile with the release of iOS9, so there are hurdles to following consumers to their most personal devices.
There are a few companies working to solve the mobile ad format problem and cross-device tracking issues. It's time you got to know the options for mobile advertising and how your clients can take advantage of attracting attention via smartphone.
10 Interesting & Innovative Mobile Ad Tech Platforms
GumGum provides two ads formats, both of which are mobile friendly.
In-image ads appear over an editorial image. They can appear at the bottom of the image, or if animation effects are used, the ad can overtake the image before collapsing as a smaller banner at the bottom of the image.
In-screen ads appear as a banner at the bottom of the viewer's screen and remain visible as the viewer scrolls.
The platform can analyze data about the image and surrounding content to serve targeted ads, and the company claims an 81% viewability rate.
GumGum also recently inked a deal with Time Inc., giving the publisher the ability to offer in-image ads to advertisers across its network.
Kargo has developed more than 75 different ad unit types for publishers it has exclusive partnerships with, including Billboard, Meredith, and Spin Media. The company only creates premium mobile ad experiences, and last year, it guaranteed advertisers 80% viewability or they would return the brand's investment.
Ad unit examples include a mobile game for Corona where the viewer tries to throw limes into beer cans and a campaign for Tic Tac, where viewers shook their phones and could click on a Tic Tac to visit the brand's Facebook page.
Kiip allows brands to reward app users for activities with free samples, virtual currency, and other prizes. For example: Propel used the platform to reward people who had just completed a workout with free samples of the product. It showed the below banner to its target group, resulting in a 14% engagement rate.
Appsfire has created five different mobile ad styles to drive app installs on mobile devices.
It's Uramaki ad works by sliding the current app to one side to make room for an ad, as seen below.
It's Udon Noodles ad unit appears when a user pulls to refresh, using the normal features and functions of a mobile phone in an interesting way.
It also offers a carousel function to showcase different ads in one display unit.
One of the biggest problems facing digital marketers is accurately tracking users across devices: People search for something on their desktop, read reviews on their device, and buy on their tablet. A study from OMD found that the average person switches his or her attention between devices 21 times each hour.
Drawbridge's technology works to solve the multi-screen challenge by linking customers across all their devices -- desktops, smartphones, tablets, and connected TVs -- so brands can better target and optimize their cross-device campaigns. Currently, it has matched more than 3.6 billion devices to 1.2 billion anonymous user profiles.The company recently announced offline visit attribution features, enabling brands to better connect digital to retail conversions.
NativeX is an ad exchange platform built for running native ads in mobile games and apps to drive user growth and reduce acquisition costs. Most of the ad formats are built around the viewer watching a video, installing an app, or completing some task and earning a reward, such as points or coins, which plays well with the current mindset and experience someone playing a game. It also offers a software development kit (SDK) so game developers can create and experiment with different ad formats and creative.
Tapestry works with brands to create premium mobile advertising creative that combines images, text, GIFs, and videos. It works similar to a project on SlideShare: The user taps the screen and a new slide, video, or part of an image or text appears. Tapestry reports that users spend on average 3:08 viewing the ad units, and 54% of viewers complete the ad. The company has produced work for GE (example below), mobile game Two Dots, and Showtime's The Affair.
This year, Instagram released "shop now" buttons, Pinterest introduced "buyable pins," and YouTube created advertising options where product information cards provide more information and buying options. The ability to buy as you browse, watch, and share will become more and more pervasive, and Shoppable is one provider making it possible for publishers and retailers to add purchasing options to editorials and ads. It creates a more seamless experience for mobile users as people can add multiple products from various different retailers to their Shoppable cart, and buy with one transaction. There's also a Chrome plug-in for desktop users, which makes any site shoppable.
Celtra is a rich media mobile advertising solution that has a centralized platform for ad creation, management, and reporting. It also provides support for producing and serving dynamic ads: First- and third-party data can be brought into the self-service platform, and this is used to define rules and serve ads based on the viewer.
The company also provides some interesting mobile ad formats, including interstitial ads that are shown after scrolling, banner ads that expand as you scroll past them, and ads that grow and shrink as the user scrolls past the ad.
TripleLift is a native programmatic advertising platform with real-time bidding capabilities. Ads are delivered in a format that works on any device -- from mobile to tablet to desktop -- and ads are formatted to be a seamless part of the user experience. While not mobile-specific, native advertising is arguably the most mobile-friendly format, and TripleLift provides brands a way to do this at scale.