When it comes to email, it's more important than ever that you write concise, effective communication when communicating with or trying to gain the attention of a prospect.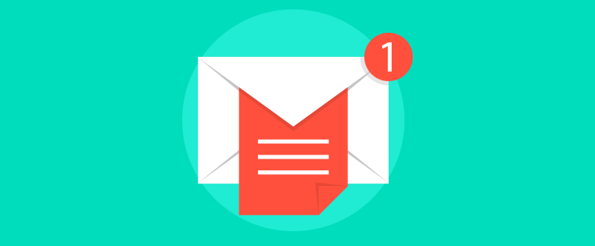 Many agencies ask us what kind of emails we send on behalf of our agency clients, so we're going to share four examples that can inspire your own new business outreach.
A few caveats: 1) These are generalized to a greater degree than emails we would typically send to apply to all types of agencies and all types of categories. (I've given you some examples of different language you can use as a guide.) 2) You can certainly get more creative than the email examples below, but be careful. That can backfire if you get too cutesy or familiar.
The bottom line is that your prospects don't have time to read long, fluffy emails filled with the buzzwords of the day. Make sure your emails don't scream SALES. Be personable, direct, and always put yourself in your prospect's place.
No one wants to read a sales email. They want help with their challenges.
4 Email Templates to Help Agencies Connect With Prospects
Awareness Email: Landing the First Meeting
This email would be used as an initial introduction to your agency. The key is immediately establishing your expertise, as well as asking for the meeting fairly early.
Hi [Prospect],
[Your name] with [your agency]. We're a [agency type -- e.g., full-service, digital, inbound, branding] agency that specializes in [choose either your primary vertical or a vertical you have experience in] to [insert a typical challenge you help clients face, e.g., increase enrollment, drive dealership traffic, establish competitive differentiation].
I'm wondering if you might be open to an initial conversation to gauge a fit?
We've worked with companies like [insert 2-3 clients here relative to the vertical] to [insert a typical client goal, e.g., introduce new products, provide packaging solutions, create custom web development solutions].
If you have a minute or two to learn more about us, you can visit us here at [agency site]. If I don't hear from you, I will reach out to you via phone later in the week.
Thank you,
[Your Name]
Follow-Up Email: Landing the First Meeting
This would be used as a follow up to the above email (either the next day or the following week), and I would recommend the subject line: "Sorry I Missed You." We often see 30% to 40% open rates with this email. You'll also want to introduce a case study at this point.
Hi [Prospect],
Quickly following up on my email from yesterday, tried to call you, but was unable to connect. Hoping to set up a call to introduce my agency, [agency name]. Do you have 30 minutes anytime early next week that would work?
While I have you, I thought you might find some interest in our work with [client]. We [increased enrollment, drove dealership traffic, established competitive differentiation, etc.] resulting in (Ideally you have a % increase to use here, but any meaningful result will suffice.). You can read the whole story here. [Provide case study link.]
As a reminder, we're a [e.g., digital, media, full service] agency, expert (or specializing) in the [X] category. We've worked with [name 2-3 clients], and many others to [provide packaging solutions, create custom web development solutions, develop a lead generation strategy, etc.]
Best,
[Your Name]
Educational Email: Post-Meeting Nurturing
The two previous emails could be sent in an email blast using personalization token, but the following two should be sent individually.
This is a basic follow-up email after you have met briefly with the potential client. Obviously what you attach, or if you attach anything, depends on the conversation, but at a minimum, try to provide further links to work. This should drive the prospect to ask you for a proposal.
Hi [Prospect],
Thank you for your time and extra effort to meet with us. We enjoyed talking with you and learning more about your initiatives entering new markets (or whatever challenge or initiative you discussed).
I have attached some of the examples from our presentation, and we look forward to meeting in person later in December.
Please let me know if you have any immediate questions or require any additional information. Per our conversation, I'll reach out and set up a convenient time to talk.
All the best,
[Your Name]
Follow-Up Email: Post Proposal Send
This one should be used sparingly and only if your prospect has gone dark. This email typically gets a response as it gently points out to your prospect that they've gone dark, but you've stuck with them. It's simple but effective, and it continues to provide the prospect with opportunities to learn about your agency, read your thought leadership, and be reminded of your expertise.
Typically the prospect's response is apologetic and appreciative. And even if you don't get the business at this point, at least you'll know if you can move on or move on and keep this prospect on your radar.
You'll typically want to use the subject line, "[Agency Name] -- Still Interested?"
Hi [Prospect],
Hope you had a good weekend (been well, etc.*).
Not sure if you've been really slammed or you've decided to hold off for now, but I wanted to see if you might have any feedback on our proposal?
Certainly no rush on our end -- I don't want to become a pest if you'd prefer I hold off on contact.
I also thought you might have some interest in a recent post our owner wrote on [a post specific to the prospect's category, or if you don't have one, a category-specific third party article]. You can read it here: [link].
Look forward to hearing from you.
Thanks,
[Your Name]
*I would never lead with "Hope you've been well/had a good weekend" unless you've actually spoken with the person.