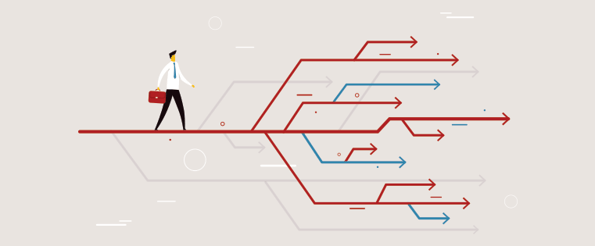 During the past 12 years of our agency's existence, I've been asked "what's your business development plan," or "who heads up your marketing," or "how do you get your leads" more times than I can count. And for a long time, I was slightly embarrassed to answer the question because the truth is -- we don't.
Some might say it's a "cobbler's shoes" scenario, but more than that, it's a different perspective. We don't believe you have to have a complicated biz dev plan to grow your agency.
What do you need? To execute flawlessly on these five things:
1) Keep your current clients happy.
Ever heard the saying "dance with the one that brought you?" That same logic applies here. The clients you have should not be shorted in time, attention, or ideas because the firm is spending its efforts chasing new clients. Happy clients not only grow their programs (which is a much more sustainable and effective strategy for business growth of the firm), they also talk about the agency team they love. Referrals fuel the kind of business agencies want. And happy clients often refer to their networks, or they leave that company and boomerang back to you at their next career stop.
2) Keep your team happy.
Your people are your best ambassadors, and you never know who they know or who they'll meet. Build a place that clients and employees want to stay, and they will attract more of the same.
How do you do that? Perks are helpful, but the biggest attraction to employees is the opportunity to do meaningful work. That may be working in a new or exciting industry, having the opportunity to stretch their wings with a new skill, or simply working with people they respect and learn from (clients count here big time). Make sure those clients you're keeping happy are ones your team finds rewarding to work with as well -- that's a win/win.
3) Share your knowledge.
Giving feels good, and it creates good karma that can come back around in the form of a positive image for your agency, and thus an opportunity for referrals. Do pro-bono work or volunteer in your community. Take that informational interview and help a young grad get her foot in the door with your network. Answer questions when asked, and provide referrals to other agencies when potential clients or employees aren't a fit for you.
4) Build partnerships.
You can and should build partnerships with other creative firms and businesses that compliment what each of you do. This isn't about shared revenue; it's about making connections. Referrals to other agencies turn into referrals from other agencies, and some of these have turned into clients for us -- we won one of our largest clients through one such relationship.
5) Be your own best client.
We're masters at showcasing the good things our clients do, from new product launches and customer wins to thought leadership platforms that showcase their opinions on industry trends. Why then not for ourselves? It's time-consuming, sure, but the investment is worth it. Use social media to share your thoughts, ideas, and wins. Write about your experiences for your industry via your blog or an industry publication. Submit your work for awards. By showcasing your own work, you'll build buzz about your agency and leads will come in.
We've incorporated these five things into how we do business without a traditional business development department or plan. How else do you grow your business without a biz dev plan? Shout it out in the comments below!