Since the dawn of time, human beings have looked to the stars and wondered: How can we better align our sales and marketing departments?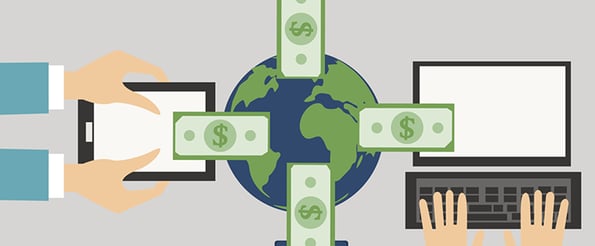 Okay, maybe it's not that serious of a question, but it is one that goes back a number of years -- since the dawn of inbound marketing, at least. Luckily, it also happens to be a question with a very simple answer: create better sales enablement content.
While marketers focus much of their time and energy wooing prospects and customers, they routinely neglect what is arguably the most important audience of all -- the sales department. Although blog posts, whitepapers, case studies, and other forms of content excel in generating leads and awareness, they rarely close deals on their own. For that, you need a driven sales team equipped with content for its own use.
But what types of content should you be creating for your sales team? And how can you make sure they actually use it? I'm glad you asked. Before I give my take, let's first come to a mutual understanding on how the term is defined. Personally, I have always been a fan of IDC's definition:
The delivery of the right information to the right person at the right time and in the right place.
Make sense? Good. Now let's take a look at a few types of sales enablement content you should be creating within your organization.
Content for Lead Generation
Wait a minute ... I thought you just said that blog posts, whitepapers, and case studies are not examples of sales enablement content? Wrong. I said that these deliverables were primarily used to woo prospects and customers. Rarely are these type of assets used to educate and equip the sales team, but they should be.
Think of it this way: If your content is generating leads (and we hope that it is), wouldn't you want your sales reps to know as much about said content as possible? Wouldn't you want them to know what kinds of leads the content is generating, including the topic and likely audience? Of course you'd want them to know these things. It will give them better context to nurture the lead or make the sale.
For this reason, it's critical that you share this type of content with your sales team as if it were a one-pager or phone script (more on these assets in a moment). Send them out via email. Share them on LinkedIn. Create an easy-to-access content library that contains all of the latest resources. Make it easy for them to find and use.
That said, sales enablement is a two-way street, so here's what marketers will need to make these assets successful:
1) Blog Posts
You've probably heard that one of the best places to find great blog content is from the questions your customers ask. Where is the best place to learn what those questions are? Your sales reps, of course. Without an open line of communication between sales and marketing, these questions will continue to go unanswered.
2) Whitepapers
Likewise, when marketing and sales don't communicate, there's a good chance the primary mechanism for lead generation (whitepapers and ebooks) will miss the mark. I can't tell you how many hours I've spent writing whitepapers only to find out that the leads it generated were no good. By regularly consulting with your sales team, you can help ensure that this doesn't happen.
3) Case Studies
"It would be great if we had some case studies on this," said a salesperson I once knew. I responded: "We have 35 case studies on this." I learned a valuable lesson from this conversation. I learned that sales people love to have good references to share with prospects. I also learned that if you don't constantly remind them that they exist, they will never use them.
Content for Internal Sales Support
In an IDC customer experience panel, respondents found only 16% of sales reps were "extremely prepared" for their initial meeting while 26% were "not prepared at all."
As a marketer, that statistic should scare the hell out of you. It should also prompt you to create the following:
4) Sales Scripts
On the one hand, there's nothing worse than a salesperson who reads a script line-by-line to a prospect. On the other hand, you want your sales team to hit the right points of conversation during a sales call. Create a sales script that is really more like a talking points document. It gives reps the information they need, but it doesn't require them to memorize lines like an actor.
5) Product Sheets
This is another asset that's useful for both the sales rep and the prospect. This piece of content should answer at least some of the following questions:
Who is the product for?
What does it do?
How does it help?
How much does it cost?
Having a sheet like this readily available that lists the brand's core (and obscure) products and services is essential for any initial meeting with a prospect.
6) Competitor Comparisons
Sales reps should be aware of what the competition is offering and how their brand differentiates itself. It's important to understand why your company is the best. Summarize this information in an easy-to-view format, and your sales team will increase its odds during competitive situations.
Content for Sales Conversions
As noted previously, not all sales content created is meant to stay in-house. Here are a few pieces of content that should be delivered not by marketing but by the sales team itself:
7) Emails Templates
Apart from the company newsletter, a marketing department will want to equip its sales team with templates for a number of different occasions. There should be follow-up emails, outreach emails, check-in emails, etc. Ideally, there should be a canned email for every type of customer or prospect interaction.
8) One-Pagers
This form of sales collateral is a fast and easy way for prospects to view what services the brand provides and whether or not the brand's product can solve their pain point.
9) Presentations
Customer slide decks should always be a joint production. When marketing does it all, the content can miss the mark in terms of what actually drives a sale to close. When sales does it all, the decks often lacks clarity and consistency. While marketing should take the lead in generating this content, they must do so with heavy input from sales.
10) Social Messages
Although social media isn't immediate thought of as a sales tool, it's important for sales reps to interact with prospects via social media, so be sure to provide them with some suggested tweets and LinkedIn messages.
Ultimately, the content produced by your marketing department must serve the business in some way. The best way to make sure this happens is by focusing more of your energy creating content geared towards the sales department.