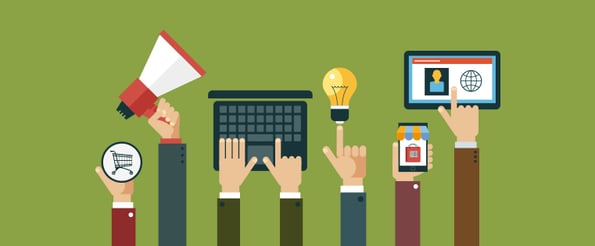 Not all potential clients immediately understand the benefits of marketing automation. If they have used disconnected tools or focused on more traditional tactics in the past, they might feel overwhelmed when you start listing off a long list of benefits.
To help you better understand the primary ways marketing automation can help a client's business, I put together this list of the top four points to mention when selling marketing automation to a client.
1) Eliminate Cold Calling
With the addition of marketing automation, the team will have the tools necessary to nurture top-of-the-funnel leads until they are ready to be designated as either a sales qualified lead or an unqualified lead that should be removed from the list of prospects. With tracking and nurturing tools, a client can view every interaction a prospect has had with a brand. This is extremely valuable when it comes to creating a more efficient sales team. With qualifying, sales reps will only go after prospects who fit the brand's buyer persona and are likely to buy.
2) Shorten the Sales Cycle
Nothing is worse than when a lead gives you a soft "maybe." You have researched the lead. You have reached out to connect and established a relationship. You have slowly build up enough trust to be able to offer your company's services as the solution to the lead's problems, and you are hit with a wishy-washy answer like "maybe." For any sales person, this is beyond frustrating. Honestly, most of us would prefer a hard "no" because at least we know where we stand. Time is a precious commodity, and one of marketing automation's selling points is its ability to reduce the average time of the sales cycle. Let an automated nurturing program take over, and then you can jump in for the sale.
3) Get the Most Out of Email
Staying connected with your community of leads and current customer base is extremely important for all businesses, and one of the most commonly used tools to do this in email. But mass messaging just doesn't work as well as it used to. With marketing automation software, you can personalize messages, so every message is personally tailored to them. Also, you can take advantage of the contact list tools to help you better segment your emails to ensure they are as targeted and effective as possible. In addition, the analytics tools can help you understand when the best time to communicate is and what type of message gets the most attention.
4) Align Your Sales and Marketing Teams
When marketing automation is correctly utilized, the beneficial effects will become apparent quickly. Your sales people will be able to spend more time selling. Your marketers will have more tools and resources available to them to help them track and quantify the effects of marketing actions. Both parties will be able to use the same software to ensure that they are all working toward similar goals.
When it comes to selling marketing automation software, you would think the product always speaks for itself. While it does in many cases, you often need to make sure that the lead is listening to the right story and that you are clearly communicating the benefits, not just the features.