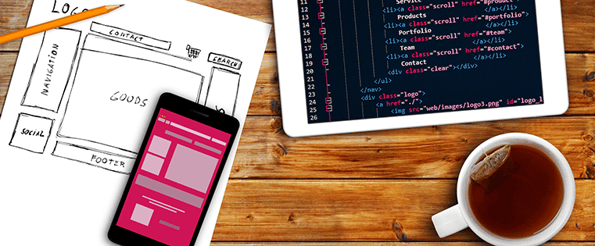 Agencies act as trend-informers for companies that lack the time and know-how to keep up on their own, and though most agencies are all-too-familiar with client objections and techniques to combat them, changing technology brings with it changing questions.
Mobile apps are far from new, but SMBs still have trouble digesting why they should buy in when they have a website that's "good enough." What they're missing is the long-term investment a solid mobile marketing strategy represents.
The Stats Are In
As you've likely noted, mobile is still on the rise. Internet usage on mobile devices finally surpassed desktop usage in 2015, making mobile-friendly websites integral to a successful marketing strategy. Consumers are now qualifying companies based on their desktop-to-mobile transition, expecting cohesive, consistent experiences on both their laptops and their smartphones and judging harshly when they're given less.
But mobile websites are far from enough. Studies have closed the books on consumer media preferences: smartphone users are devoting 89% of their content consumption time in mobile apps, compared to just 11% of their time on mobile websites.
Chart via Nielsen
The Opportunity for Agencies
For digital agencies, these stats represent a giant, gaping hole of opportunity. The main obstacles to execution are cost of development and seamless delivery, which are minimized when you go with an app platform.
Custom-developed apps for businesses cost anywhere from several thousands of dollars to a few hundred thousand on the high end. These price tags can deflate hopes and dreams of mobilization in an instant. But the end products these numbers are pinned to are generally far outside the functionality a mid-sized business would need -- or want.
As a creative partner to those businesses, presenting a cost-effective mobile app solution differentiates your agency from every other provider that has nothing affordable -- or nothing at all -- to show for mobile.
How Sell Your Clients on the Move to Mobile

To the SMB owner, big media studies like the one above often feel irrelevant, especially when they're working with a comparably tiny marketing budget. Regardless of how successful their current marketing strategy has proven, they're likely to ask why they should devote more money to yet another channel and how you can build a mobile app that will work for them.
Here are some tips on sweetening your clients on the need for mobile apps:
1) Show them their competition.
Run a quick Apple App Store search with their industry and location (e.g., "San Francisco salons") and pass the phone over. It's more succinct than a Google search, and the results demonstrate the need and the opportunity to enter the mobile app market.
If you can point to several salons that are already ahead of the game, that's motivation for your client. Whether they've locked up two or 20 new customers who have discovered the competitor through the app, those are sales your client lost out on, not to mention return customers, referrals, Yelp reviews ... you get it. In a city the size of San Francisco, "several" might seem small to them. There's the opportunity. The likelihood of a mobile user discovering your salon ahead of her competitor's skyrockets when you simply get on the map. Pro tip: Throw in the term "early adopter" to make their eyes glisten.
2) Up the options.
If your client is just now getting comfortable with the ins and outs of email marketing, pitching mobile may seem outrageous. It doesn't have to be. Most people assume that app creation and maintenance require -- at the very least -- a degree in development, and at most, unlimited marketing funding.
The fact is, neither is true these days. By using app-building platforms, you can build and launch a mobile app for your client without touching a line of code. Your client doesn't need to do a thing, which makes a low price tag even more attractive to them.
On the other hand, clients who already appreciate the benefits of mobile may want more features, integrations, and platform-compatibility. In that case, start small, and then offer upgrades and tiers that won't cost you more to execute, such as a 2-for-1 iOS and Android package that makes the client feel like she's ripping you off.
3) Paint a picture.
We're visual creatures. Putting an image to an idea is a surefire way to pique a client's interest, so when you pitch a mobile app, make sure you have a mobile app to pitch. Demos don't need to be polished or perfected to make an impression. Just seeing their business name pop up on a smartphone could seal the deal for a client who's on the fence, and the more stubborn sells are often swayed by the functionality they see when they're holding the product in their hands.
Show them how a customer would interact with the app: the user experience, the opportunities for ROI, the contact capabilities, etc. If they're not convinced, compare the app's neatly packaged solution to that of a full website, and remind them that an app goes everywhere your phone goes, which in this day and age is pretty much everywhere.
4) Create a roadmap.
Few tactics are as powerful as the simple act of getting a lead talking about what they need, about what's going well and not so well, and about where they see opportunities for growth.
Once you open the door to the client's own ideas, you can align those with a mobile strategy that tackles all of them. That may seem optimistic; it's not. Mobile apps solve problems in customer care, sales, marketing, commerce, operations … the list goes on. Run with the assumption that mobile is the solution for them, and design a rollout plan that shows them, step-by-step, how you'll deliver it.