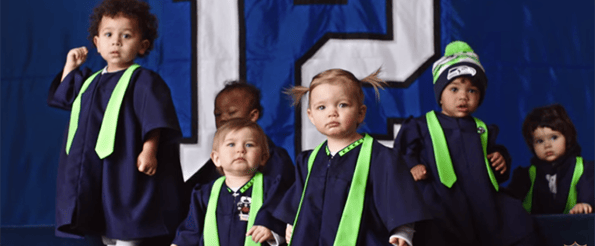 According to Venables Bell & Partners, 78% of people were more excited about the commercials than the game last night.
Maybe that's why brands continue to pay exorbitant amounts of money for 30 seconds of airtime. This year, most ad slots ran upwards of $4.6 million, which could buy an advertiser a lot of online media.
If you were too busy filling up on your third plate of pigs in a blanket or were more concerned with how your Puppy Bowl Fantasy Team was doing, then it's time to catch up on the biggest advertising event of the year. Watch all our favorites below:
13 of the Best Ads of Super Bowl 2016
Wiener Stampede | Heinz
Wiener dogs in hot dog costumes running through a grassy meadow: Yes, I'll watch that one again.
Marilyn | Snickers
William Dafoe's appearance in the brand's Brady Bunch-inspired ad at last year's Super Bowl was ranked the second best ad of the year by Adweek. He returns this year with a bit of a different look.
#Pokemon20 | Pokémon
To celebrate the 20th anniversary of Pokémon, the game reminds of us the power of competition.
Find Your Magic | Axe
Axe departs from its typically highly sexualized imagery, hoping to get rid of "outdated views of masculinity."
Restricted Bling | T-Mobile
Even Drake knows to never ask the client for "input."
#GiveaDamn | Budwesier
Helen Mirren, while supposedly eating a hamburger and fries, describes herself as a "notoriously frank and uncensored British lady" and scolds viewers for drunk driving.
Ryanville | Hyundai
Ladies, you might want to find a new home in the town of Ryanville.
Kung Fu Panda Discovers the Power of Wix | Wix
Kung Fu Panda and his co-stars recreate a few iconic ads to drum up business for Mr. Ping's Noodles.
#AvosInSpace | Avocados From Mexico
Aliens take a tour of the Museum of Earthly Wonders where they learn about the simple ways humans communicate and get to meet Scott Baio.
Breathe | Michelob
The brand focuses on fitness and its low-calorie option for the big game.
The Bud Light Party | Bud Light
Who's ready for a Schumer-Rogan 2020 ticket?
Super Bowl Babies Choir | NFL
According to research, a Super Bowl victory is correlated with a rise in the city's birth rate. To highlight the game's ability to spark romance, the NFL recruited people believed to be conceived on Super Bowl Sunday to sing a customized version of Seal's Kiss from a Rose.
Strong Is Beautiful | Dove
NFL players show off their mastery of the "dad-do," continuing the brand's theme of celebrating fathers.
Was was your favorite Super Bowl ad? Let us know in the comments below!