In 1996, Under Armour's founder, Kevin Plank, was selling his sweat-wicking compression T-shirts out of the trunk of his car in Baltimore. That year, he made a team sale, bringing the total sales number for the year to $17,000. In 2015, revenues grew to $4 billion, an increase of 29% from the previous year.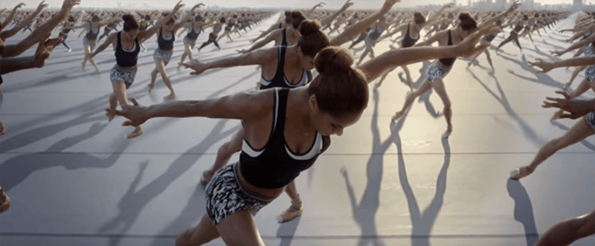 These humble beginnings for Plank have been translated into the brand's attitude -- it's the underdog, the challenger, and the brand of those out to prove everyone wrong.
Under Armour overtook Adidas to become the second largest sports apparel company in the U.S. in 2014, becoming the closest thing resembling a competitor to Nike. And to Nike, the competition is about dollars and endorsements -- it has spent $8 billion on sports sponsorships since 2002 alone. Last year, the brand inked a lifetime deal (the first for it) with LeBron James, reportedly worth more than $500 million. High-profile athletes at the top of their careers have turned to Nike for some of the largest endorsement deals in history -- Michael Jordan, Kevin Durant, Tiger Woods, Kobe Bryant, Cristiano Ronaldo, and Roger Federer, among others. For reference, consider that Nike revenues reached $30 billion in 2015.
And while Under Armour has followed this athlete-focused approach, it has done so in a way that supports its underdog attitude and meets its budget by making strategic and smart picks of athletes just before they become headliners or those whose star power is thought to be waning. The brand is known for placing bets, and these have (luckily) paid off.
Due to this, Under Armour has come to represent the athletic apparel of some of the most interesting and promising stars in the market. It's also why the company is predicting 25% growth this year.
8 Risky Endorsements That Helped Under Armour Become a Nike Competitor
Stephen Curry
College recruiters overlooked Stephen Curry, now the point guard for the Golden State Warriors, due to his size. And in 2013, Curry was let go from his Nike endorsement deal as the retailer thought the athlete would be unable to sell signature shoes. Fast-forward to today, and the Under Armour-sponsored Curry is predicted to become a two-time consecutive MVP Award winner. Last year, he made 286 three-pointers, breaking his own record from two years earlier, and the Warriors won the NBA Championship against the Cleveland Cavaliers. In addition, he released a shoe last yea, which sold out online within hours and led to sales in Under Armour's basketball footwear category to skyrocket, growing 754% in the second quarter of 2015. Since then, Curry's shoe line business is the second largest in the industry, coming in behind Michael Jordan's. ESPN called this the "marketing heist of the century."
Jordan Spieth
Jordan Spieth is another athlete whose promise was well-known yet unproven when Under Armour presented an endorsement deal in 2013. In 2015, Under Armour renegotiated Spieth's deal to be a 10-year contract, and the 21-year-old went on to win two majors (the youngest to do so in 93 years) and a total of five tournaments before being named the PGA of America's Player of the Year.
After Spieth won the Masters Tournament at Augusta National Golf Club last April, CEO Plank told ESPN.com, "Thanks to Jordan, our company grew up today. He was challenged by the greatest players in the world on the biggest stage, looked them straight in the eye and never blinked. This is a global event and he's the leading trending athlete in the world right now."
Spieth appeared with Stephen Curry and Misty Copeland in the below ad, part of Under Armour's messaging that "you are the sum of all your training."
Misty Copeland
Misty Copeland, one the brand's initial breakout stars, was the first face of the "I Will What I Want" campaign and solidified the company's attitude of facing rejection with perseverance. This was prior to Copeland being name the first black female principal ballerina at the American Ballet Theatre, the release of her documentary, or her appearance in a joint interview with President Obama.
When the ad was released in 2014, she was a "relatively unknown ballerina" and the selection was a "disruptive choice." The ad has since been viewed more than 10 million times.
Adrienne Lofton, SVP of global brand marketing, told Fast Company, "What separates us from the clutter is this blue collar work ethic. We're an underdog brand. We work with athletes who most people wouldn't or didn't draft in the first round, or who they wouldn't traditionally give a prima ballerina title to. We pick that athlete with a chip on their shoulder and their desire to win because it aligns with our own attitude."
And this attitude of fighting misperceptions and negative opinions of what it means to be an athlete -- of rebelling against stereotypes -- has performed well with female consumers. Under Armour's women's business grew 60% year over year in 2015, and its growing favorability with the female athlete will make it a contender to Lululemon and Athleta.
Gisele Bündchen
The next female to appear in the "I Will What I Want" campaign was known more for her catwalk skills than her athletic prowess. When the announcement of the partnership was made, the brand's agency of record, Droga5, was banking on the fact that people would have something to say about the choice of a woman who is more well-known in athletic circles as being the wife of Tom Brady.
Two days after the announcement of the partnership, the commercial featuring a toned and fierce Bündchen was released. The ad included social media reactions to the announcement, such as, "Stick to modeling, sweetie" and "She's old." A website for the campaign -- WillBeatsNoise.com -- continued to pull in social media chatter and highlight the message of having confidence in yourself even as people criticize and doubt your abilities.
The campaign won a Cyber Grand Prix at the Cannes Lions International Festival of Creativity in 2015.
Cam Newton
Under Armour signed Cam Newton before he was even drafted in 2011 to the Carolina Panthers, resulting in what was reportedly the largest endorsement deal for a rookie player. This year, he was named the NFL MVP prior to his appearance at the Super Bowl where his team was ultimately defeated by the Denver Broncos.
Michael Phelps
Under Armour saw a ton of success with its roster of athletes last year, and it has a chance to be a part of another surprising story at this year's Olympics in Rio. Phelps, the most decorated Olympian, came out of retirement and will compete this summer in his fifth Olympics competition. Last August, soon after the athlete turned 30, he swam the fastest times of the year in three different races at the U.S. National Championships, proving that he has a high chance to become the oldest swimmer to win a gold medal and the first to win a gold medal 12 years apart, not to mention it will add to his collection of 22 pieces of gold, silver, and bronze.
Lindsey Vonn
In 2014, right before the start of the Sochi Olympics, Lindsey Vonn announced that she would be unable to compete due to a knee injury.
Since her return, though, she's gone racked up more World Cup wins, bringing her total to 76 and setting the all-time record for women. In addition, she won her 20th World Cup title in February, making her the most awarded male or female skier of crystal globes.
Tom Brady
While Tom Brady is one of the most well-known quarterbacks of all time -- winning four Super Bowls and three Super Bowl MVP awards -- his start in the league was anything but promising. He was the 199th pick in the sixth round of the 2000 draft. However, he's now listed as one of the most valuable draft picks of all time.
Brady signed with Under Armour in 2010, after his Nike contract expired. The brand released a new ad for its "Rule Yourself" campaign featuring Brady even as the athlete faced a four-game suspension at the beginning of the 2015 season.
In the ad below, Brady wears the No. 199.