After your newly converted leads fill out a form, you should always send them to a "thank-you" page, which delivers the content you have promised on the landing page.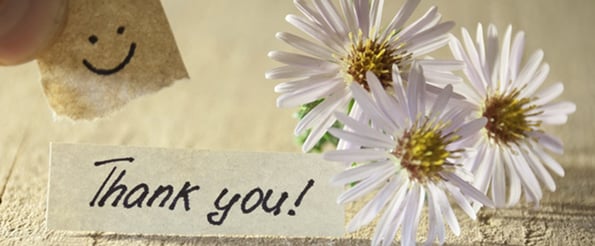 This is where you bring back the navigation and direct people to other parts of your site or more offers in which they might be interested. Just as for landing pages, there are a number of distinct strategies that you can use to optimize your thank-you pages.

The four most important components of an effective thank-you page are: access to your offer, social media sharing links, secondary calls-to-action, and auto-response emails.
1. Access to Your Offer
First of all, your visitor has just taken the time to complete your form, and has decided to download your content or sign up for your offer. So begin by making sure you cover the conventional purpose of the "thank-you pages," and say thank you!
It is also a good idea to include the title of the offer in the title of your thank-you page to reassure the viewer that they are on the correct page. Then, if applicable, provide a means to download or view your content. This may take the form of a link to the PDF of a whitepaper or embedding a video in the thank-you page itself. If the offer revolves around a consultation, be sure to set expectations and explain to people if they should expect a phone call or something in their inbox.
2. Social Media Sharing
Next, add in social media sharing links. As important as these are to have on your landing pages, they are even more important to include on your thank-you pages. Think about it – your visitor has actually decided to download your content, which means they are now more likely to share what they have read, watched, or signed up for with others in their network. Note: Make sure that your share buttons link to your landing page, not your thank-you page – otherwise your viewers will have access to your content without filling out your form, and you'll be missing out on valuable lead generation.
One quick and simple strategy that makes it even more likely that your viewers will use the share buttons on your thank-you page is having the downloaded content open in a new tab or new window. This gives them a chance to read or otherwise consume your content without closing out of the thank-you page, to which they might return more inclined to share it. In other words, having your content open in a new tab takes advantage of the effects of recency and convenience on people's willingness and likelihood to share it – if they're still excited about it and the buttons are right there, you stand a better chance that they'll help spread the word.
3. Calls-to-Action
When optimizing your thank-you page, it is also critical to include calls-to-action to suggest ways to connect with your company or other offers in which the viewer might be interested. Examples of strong calls-to-action include: "Subscribe to Our Blog," "Connect With Us on Facebook," or "Sign Up for Our 30-Day Free Trial."
You can also take this one step further and customize your calls-to-action based on the specific offer. For instance, below is the call-to-action on the thank-you page for HubSpot's "Introduction to Search Engine Optimization" ebook. Note how it takes advantage of the viewer's expressed interest in SEO and emphasizes that specific aspect of the HubSpot software, instead of just recommending the trial in a general sense.
When a lead downloads another of your offers, or reconverts, they are indicating a stronger interest in your content. Essentially, the more engagement a lead has with your content marketing and product, the stronger their lead quality, and the more likely they are to convert from a lead to a sale. So the bottom line is: make sure to include at least a couple strong calls-to-action on your thank-you page to optimize for reconversion.
4. Auto-Response Emails
In addition to redirecting people to a thank-you page, you can also set up an auto-response email to be sent to the visitors who fill out your form. This email strategy serves as an additional way to follow up with your new leads and increase reconversion by suggesting another offer they might enjoy.
You should use both thank-you pages and email responses to help your newly converted leads to further connect with your company or brand, and to keep them engaged. Take advantage of these strategies to generate higher-quality leads that will be more likely to convert into customers for your business.
This post is an adapted excerpt from our free ebook, Optimizing Landing Pages for Lead Generation and Conversion. To learn more about landing pages and thank-you pages, download the free ebook here!