February is the shortest month of the year, but that hasn't stopped our Product team from delivering a bunch of new features developed specifically with you in mind.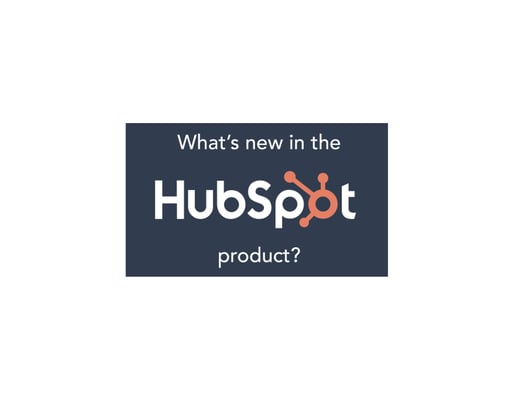 Check out the February 2020 Product Spotlight video and written descriptions below.
What's New in Marketing Hub?
Increased Capabilities for Contact Workflows
Workflows are your automation engine in HubSpot, saving you countless hours by automating your most monotonous tasks.
In the last few months, you've seen massive upgrades to your company, deal, ticket, and quote workflows to save you time and automate tedious tasks. And with our most recent update, you're now able to use all these awesome functionalities in your contact workflows, creating a more consistent user interface and experience throughout your workflows tool.
Workflows are available in Professional and Enterprise hubs, and with these updates, they're more powerful than ever. Here's what you can now look forward to in all your workflows:
Use the "Go To" action to merge branches so you don't have to recreate the same branch again and again.
Copy contact properties to deals, quotes, and tickets. You can also set and clear deal, quote, and ticket properties from contact workflows.
Add multiple conditions to if/then branches, making complex workflows easier to build and understand.
Use Asana task creation to create a to-do when a contact does something that merits follow-up action.
Ready to get started?
Boost Your Facebook Posts
You now have the ability to boost a Facebook post, giving it better reach as well as additional targeting and engagement. Boosting allows you to take any Facebook post that you made within HubSpot's social tool and easily get more visibility around your greatest content or campaign in a few clicks. To start, click "Create Ad" under the "More" dropdown on any Facebook post within HubSpot.
Ready to get started?
Prioritized SEO Options
By some estimates, Google changes their search algorithm over 500 times a year — a frequency that is incredibly hard for anyone to keep up with. With Marketing Hub, we'll give you a prioritized list of SEO optimizations to ensure your content is ranked highly across every search. Head over to Marketing, select Planning and Strategy, choose SEO, and then select the recommendations tab. From there, click on any of the prioritized issues to learn more and address each SEO optimization across your site.
Ready to get started?
A More Consistent Content Creating Experience
Creating content should be painless, so we've made a few updates to our content editor to make it easier than ever to create pages in HubSpot. First, we've updated and reorganized the content editor for website pages, landing pages, and the blog editor. This update makes the content editing experience consistent across all content tools — from pages, to blogs, to email.
Ready to get started?
Learn More About My New Content Creation
Edit Global Content from the Page Editor
We've also made it easier to update global content without having to jump into the design manager. With global content editing, you can now click into a global module or group in the page editor, review the pages that your change will impact, and update your content — all on the same page.
Ready to get started?
Learn More About Editing Global Content
What's New in Sales Hub?
Improved Quotes Interface
Quotes has made its way to the main navigation (under the Sales dropdown), making it easier than ever for you to view existing quotes or create a new one. You can also now recall and edit previously published quotes, meaning reps can update a quote or make small revisions instead of having to create an entirely new quote.
Note: Once a quote has been signed or paid, it cannot be recalled and edited.
Ready to get started?
Mobile Improvements Bring the Desktop Task Experience On-The-Go
The improved task experience for sales reps on-the-go makes it even easier to filter, sort, set priority, and access all of your task queues. We've also rolled out some improvements to the activity feed for mobile AND introduced a new cross-object search experience to make working on mobile as seamless as working on a desktop. Update your mobile app to access all of these features.
Ready to get started?
New Task Property, and the Ability to Complete, Skip, & Reschedule
In addition to the mobile improvements, we've made further updates to tasks. A new task property called "task completion date" makes it super easy for managers to report on task completion and ensure that tasks are being completed on time. And to make it even easier for reps to complete those tasks on time, the new task queues experience gives reps the option to complete, skip, or reschedule tasks right from the top task queue bar.
Ready to get started?
The Flexibility to Share (or Not Share) Your Templates, Sequences, and Documents
Last, but certainly not least, new permission settings for sales content are now available to Sales and Service Hub Professional and Enterprise customers. The new settings allow you to decide which templates, sequences, and documents are shared and which are just for you.
What's New in Service Hub?
Password-protected Knowledge Base Articles
Now you can password-protect Knowledge Base articles. These restricted articles allow you to share information directly into the hands of a certain audience. The cool thing about this update is that you control access via lists. It's as simple as creating a list of users, hopping over to the article you want to restrict access to, and you're good to go — you can set the article to private, restricting it only to the people on your chosen list.
Ready to get started?
Learn More About Password Protection
Knowledge Base Articles Now Have Search Tags
You can now add search tags to your Knowledge Base articles. Search tags improve the results visitors see. By tagging an article with common words or phrases people typically use to find it, more people will find your article in a search. You can add these helpful tags from the Knowledge Base insights screen or while you're creating an article.
Ready to get started?
Knowledge Base Searching from Inside the Chat Widget
Visitors can now search Knowledge Base articles right from your chat widget. Yep, you read that correctly — HubSpot live chat now provides the ability for people to search and discover the Knowledge Base articles that will help solve their issue. This is the type of immediate self-service that customers are looking for.
Access this new feature in Conversations by selecting the "Knowledge Base + Live chat" chatflow template.
Ready to get started?
What Else is New in HubSpot?
Improved Insights with the Revenue Attribution Reporting Tool
We have some exciting updates to share about the new Revenue Attribution Reporting tool. You can now see revenue attribution by campaign and compare the success of your recent campaigns within HubSpot. Not only can you filter attribution by marketing or sales, but now you have access to an array of pre-loaded attribution reports in the reports library.
Ready to get started?
55 PieSync Connectors are Now in Your App Marketplace
You now have access to the top 55 PieSync connectors in the new App Marketplace.
HubSpot's App Marketplace is a diverse collection of over 400 apps designed to help you maximize the value of HubSpot. But sometimes, your favorite software service hasn't built an integration yet, leaving you without a solution to a specific need.
This is when an integration platform as a service (iPaaS) solution can help. With the recent acquisition of PieSync, HubSpot provides you a richer iPaaS experience by listing individual PieSync connectors on their own listing pages to help you fill those integration gaps.
To access the collection, go to the App Marketplace Collections filter section on the left. There you will find a "Data Sync by PieSync" collection where you can browse all of the available PieSync connectors.
Ready to get started?
Bring Me to the App Marketplace
That's it for this month — make sure you check back in to see what we have to show you in March.
Want to connect with others on HubSpot tips, tricks, and updates? Head over to the HubSpot Community to join a conversation or start one of your own.