Let's talk about the elephant in the room: the impact of COVID-19 on the advertising landscape.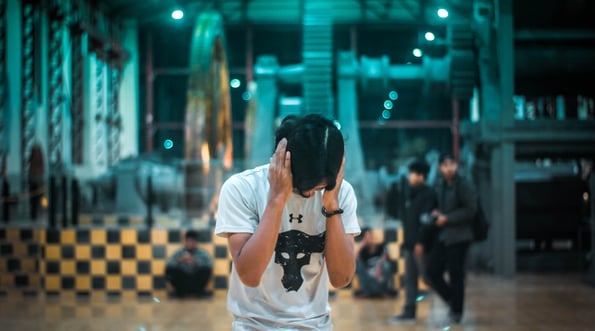 From almost zero mentions in November 2019 to over 1.2B to date, this year has been dominated by the virus. But when it comes to advertising, it's important to think about COVID-19 as a catalyst, not an outcome.
What does that mean?
This virus expedited already bubbling issues, ideas, and initiatives — they would have happened eventually, but may not have happened quite so soon.
For example, despite a widespread shift to online shopping, nearly 90 percent of U.S. commerce in 2019 took place in the physical world. Small businesses, including restaurants, bookstores and yoga studios, have long earned through brick-and-mortar operations built on attracting customers to come in, gather, mingle, and spend money.
But the pandemic has changed that.
As people have embraced social distancing as a way to slow the spread of the virus, a drop-off in brick-and-mortar shopping has occurred.
Many major cities have some form of restrictions in place, and the threat of another round of shutdowns looms as COVID-19 cases spike. This has deeply impacted business.
Since the start of the pandemic, one in five small businesses have had to temporarily close down, according to the U.S. Chamber of Commerce.
What does this mean for you?
More consumers than ever before are buying online.
A large number are buying online for the first time.
Consumers, approaching the rest of 2020 with apprehension, will likely narrow their retailer and brand choices early.
Many businesses are turning to techniques such as social media, SEO, and advertising to help reach their users and potential buyers. But it's getting quite crowded in the ads space.
So the question becomes how are you going to continue to reach your audience?
The good news is that as a HubSpot ads user you don't have to do it alone. You have access to tools like:
Ads optimization events (also known as offline conversion tracking)
Ads sequences
Attribution reporting
These tools make it a breeze to target personalized experiences toward your buyer personas, at scale. And while they're simple to use, they bring the power of machine learning and data-driven decision-making to each of your ads campaigns.

Ads Optimization Events (Facebook & Google)
The Purpose: Sync Offline Conversion Data to Google
Ads Optimization events allow you to sync your HubSpot CRM contact lifecycle stages directly to Google or Facebook and feed offline customer conversion data, such as calls or closed deals, right from HubSpot into your preferred ads network — no integration work nor developer help needed.
By syncing data with Google or Facebook, you can measure what happens after a prospect clicks your ad or calls your business. This gives you a more comprehensive look at which keywords and targeting criteria drive the most cost-effective conversions.
In short, your ads will not only target the right users but will also be optimized for the right conversions. Amazing, right?
Now you may be thinking, "Does this really make that much of a difference?"
In short, yes.
Customer Spotlight: CallTrackingMetrics
CallTrackingMetrics is a global inbound call tracking software that helps businesses make meaningful connections with their customers. They made the switch to HubSpot in order to better consolidate their data across sales and marketing teams to run more effective campaigns. Through HubSpot, they can leverage Ads Optimization events to share CRM data with Google and optimize campaigns to generate the most valuable leads for their business.
According to Lisa Salvatore, Senior Paid Media Manager at Call Tracking Metrics:
"The Ads tool in Marketing Hub adds another level of insight for us. The quality of the data is great, building reports is easy and intuitive, and I can quickly pull up and reference the reports when I'm in a meeting."
Using the Ads tool in Marketing Hub, CallTrackingMetrics gained more control over the quality of their leads at each lifecycle stage. The team now spends more time optimizing ads for the most crucial conversion types.
The results?
From September 2019 to September 2020, CallTrackingMetrics saw a 101% increase in Marketing Qualified leads versus the previous year. They also saw a 63% increase in qualified leads.
Read the full case study here.
Ads Sequences (In Beta for Facebook)
The Purpose: Easily Build Journey-Based Ads
With ad sequencing, you can create an end-to-end lead generation sequence that takes a cold audience and finds warm leads that will turn into paying customers.
This feature is built around the concept of Journey-Based Advertising, a digital advertising strategy where you tailor your ad targeting and ad creation to align with the buyer's journey.
At each stage, this means meeting buyers where they are. During the awareness stage, ads should break the ice with a cold audience and build trust. During the consideration stage, you want to prove you're a worthy contender. And finally, when the buyer has reached the decision stage, your ads should seal the deal by showing how your solution is the best option. To be effective, these ads need to reach the right people at the right time, all without conflicting or going over budget.
Where does Ads Sequences fit in? The automation takes the guesswork out of targeting. This allows you to focus on crafting the best ad messages for each stage in the buyer's journey while using your budget for the right types of leads.
Hidden benefit of the Ads Sequences feature: Embedded Workflows
One of the most powerful tools in HubSpot is automation. Having this embedded directly in your ads campaign creation means you can automate all of your lead follow-up at scale.
You can set up lead follow-up workflows quickly and easily, without having to remember what form they used or what ad ID converted the contact. HubSpot will automatically do it for you.
Customer Spotlight: Airstream
Airstream and their agency Element Three generated 78% more leads than a previous campaign by implementing a journey-based advertising strategy using Facebook Lead Ads within HubSpot.
More importantly, they generated leads at scale — decreasing cost per lead by roughly 44%. Airstream and Element Three attribute their success to the insights they received from HubSpot's reporting tools and the advanced targeting and segmentation they achieved — all from creating their ads audiences using HubSpot contact lists.
According to Tim Morse, Digital Marketing Manager at Element Three:
"The combination of Facebook Lead Ads integrated with HubSpot's marketing automation platform make certain that this information is delivered to the right audiences in the most seamless, frictionless way possible."
Read the full case study here.
Note: This feature is currently in beta. However, you can access the feature early by contacting your CSM.
Attribution Reporting (All ads networks)
The Purpose: Go Beyond the Click
Being able to see metrics when looking at ad-spend data is critical for marketers to make strategic decisions.
The attribution reporting found within the HubSpot ads tool goes a level deeper to give you insight into how your ads are influencing contacts at every stage of the buyer's journey.
Because at the end of the day, it's difficult to measure the immediate ROI from advertising campaigns that generate brand awareness and trust. With HubSpot, you can track longer-term metrics to understand if each awareness, consideration, or decision stage ad did what you wanted it to do (such as generate site traffic, blog traffic, an increase in purchases, etc.) over time.
In short, use attribution reporting to understand how your ads are performing at all stages of the buyer's journey.
See which ads influenced everything from a contact's first web session, all the way through to booking a meeting with your sales team. Then, tie in your sales data so you can more accurately report on the ROI of your ad spend.
Bonus: Company List Targeting (LinkedIn)
The Purpose: Automate your ABM Strategy
LinkedIn has a powerful ads platform. If you're already using pay-per-click (PPC) techniques to power your presence on Facebook, Twitter, or Google, consider yourself lucky — you can add LinkedIn to that list, too. This is especially easy to do if you're already using the HubSpot ads tool.
Whether you've dabbled in LinkedIn Ads before or not, it's easy to see the value of boosting your own content and targeted promotions to reach a specific audience of LinkedIn members.
But there's a catch.
If you're using account-based marketing, you need the ability to target ads based on lists of companies instead of lists of users. Why? You're likely targeting and nurturing multiple personas at one company.
Enter HubSpot's company list targeting. It dynamically syncs your company lists to LinkedIn. This means when a company is no longer a target account, and doesn't need any more ads targeted at them, the company will automatically be removed from the Matched Audience in LinkedIn.
In this way, your ABM campaigns are automatically optimized to target the most valuable prospects for your business at any given time.
Note: This is available for HubSpot Starter, Professional, and Enterprise users.
Customer Spotlight: Tugboat Logic
Tugboat Logic was created to address the skills and expertise gap in the security and compliance industry. Their goal is to simplify and automate information security management for every enterprise.
Understanding the importance of Tugboat's services in the current environment, the team looked to create brand awareness quickly and efficiently, turning to LinkedIn ads through HubSpot for lead generation. Although they were mostly focusing on brand awareness, Tugboat also struggled to generate leads at scale.
With LinkedIn's incredible firmographic data, there is no disputing the audience targeting capabilities on options such as Titles, Industry, and Company Size. As such, LinkedIn ads prove to be incredibly effective with the right messaging and landing page.
Victor Lin, Director of Demand Gen at Tugboat Logic:
"Having a dedicated Account Manager and resident HubSpot expert allowed us to unlock the power of both platforms and exceed our expectations. Adam is the Goose to my Maverick, and LinkedIn plus HubSpot continues to 'take my breath away'."
Tugboat has embodied the Inbound Methodology HubSpot is built from, leveraging HubSpot Ads to manage their marketing on LinkedIn, HubSpot Workflows to manage lead nurturing, and HubSpot landing pages to provide additional education and direct click-to-book meeting integration that builds trust, creates urgency, and ultimately leads to closed deals. As a result, the team was able to reduce their CPL by 64% and generate 2X ROI.
Read the full case study here.
Want more information or have further questions? Join the conversation about ad tools over in the HubSpot Community.