Hey <<lead.firstname>>! Don't you just love seeing those? The obvious broken token doesn't exactly scream personal, does it?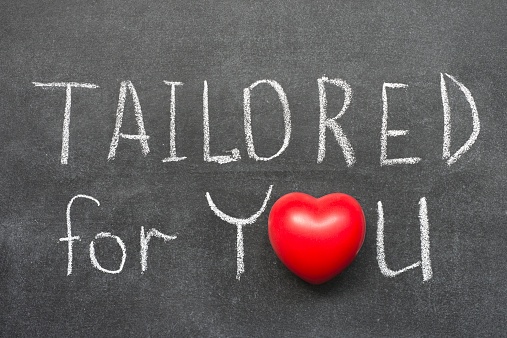 There are many factors that make or break your chances for building a good relationship with your audience – taking advantage of personalization tools (carefully) is just one of them. This quick lesson from seeing a broken token is creating a bad first impression.
In many ways, best practices for converting and nurturing leads can be looked through a dating lens: making a good first impression, communicating effectively, keeping a reciprocal conversation going where both marketer and lead are engaged.
So when using this dating perspective – what are some very easy bad habits inbound marketers can correct for their content approach? And how can these minor adjustments spark up a better relationship? Here are three examples of bad habits to avoid and how to break them.
1) Mixed CTA Messages
A common early-dating complaint is someone getting "mixed messages."
Your calls to action, whether in an email, blog post, or webpage are the centerpiece of that particular piece content – it's what all the build up was the leading to, the next step.
One of the bad habits for many marketers is not paying enough attention to button or callout language. Often, button copy is left untouched from template copy of "Download now" or "Sign Up." Use the CTA Builder to its full effect by testing different copy and imagery across your channels. By adding a background image and using more playful language like "Count me in!" or "Let's do this" is a refreshing touch of personality to stand CTA language. Here's an example of an effective CTA within a blog post:
To strengthen CTAs even more, it helps to have a mix of more dynamic, interactive content that helps create a more personal experience. Think of using a quiz approach to a content design and what that might open up for your CTA options: "Test Yourself" or "How much do you know?" CTAs like these have shown to increase click rates by as much as 42%.
On top of this, make sure your CTAs are delivering on their promise.
When I click on a button that says I'm going to get 10 tips on demand gen trends, I expect 10 tips on demand gen trends. You don't want to promise your audience something and not deliver on it.
Recently I got an email with the subject line: "Your complimentary tickets are waiting! Don't miss this networking event!" The CTA was "Get Your Ticket." I love complimentary tickets and the opportunity to network with my peers. Too bad it wasn't a networking event, but a webinar about sales tips. I felt duped and it turned me off of the company altogether.
2) Too Much Texting
Another dating bad habit is the "too much too soon.'
Maybe this series of messages looks familiar to some:
Monday, 2PM: "Hey!"
Tuesday, 10AM: "Hey! How are you?"
Wednesday, 1:30PM: "What are you up to today?"
Thursday, 3:45PM: "Want to see a movie later?"
Monday, 9:30AM: "Hey! How was your weekend?"
Tuesday, 12PM: "I think we should hang out soon, are you free tomorrow?"
Be honest, if you got this many messages from someone you talked to once, maybe twice, you'd be a little… disinterested.
This brings up the cadence of your nurture stream emails and how well you can score each new lead. Take a close look at your calendar for email sends. How does it look? Cluttered? Sparse? Is there a different cadence for the freshly converted versus the actively engaged leads?
New leads need to be treated delicately, and this is where scoring comes in. Creating the right point system is crucial. When a visitor downloads an ebook, the only thing you know about them is they downloaded that ebook – so don't overwhelm them with attention. It doesn't help your sales team either because you're sending them leads they think are ready to talk, when in reality, they just wanted to read your content. To track this, HubSpot offers lead scoring (pictured below) so you can weight the value of your converted contacts.
However, a visitor that downloaded an ebook, and then clicked through a follow-up email three days later – they're expressing continued interest, and more points should be assigned to them.
As a lead continues to be engaged, you can increase the level of attention they get, if slow down, you, too, should slow down.
3) Not Enough Focus on the Prospect
Have you ever been on a date and can't get a word in edgewise until farewells? Well, your content can be like that too. When people think about content marketing, the few big channels that usually come immediately to mind are blogs, ebooks, and whitepapers. But, audiences increasingly prefer more visual and interactive formats to experience, and marketers need to listen to that request.
Why? Because it benefits them more, too.
As we discussed about the importance of scoring above, using content that creates more of a dialogue gives you even more criteria to score and qualify on. The power of asking a simple question like the size of your company or your highest priority focus right now can help you accelerate those leads through sales, and give your sales more talking points for when the time comes.
These types of interactive content assets can be embedded directly into blog pages or landing pages as different quizzes or assessments that go along with the subject matter of the page. In fact, 75% of marketers using interactive content plan to increase their use of the medium in 2017.
However, you can also increase your audience-listening habit by segmenting your follow-up content simply based on the subject they download or page they visit. With on-page behavior, you can ID which leads fall in different verticals and only pull in the content that would pertain more specifically to them.
This way, everyone is getting a little of what they want. Marketers are getting more granular insight, and leads are getting more relevant information. That type of relationship will get date two, three, and four going much faster.
So Let's Recap…
Sending the wrong CTA message can confuse your audience. When you don't deliver on your promises, they'll remember and be skeptical of future content. Make sure your CTA is clear, compelling, and leads the audience to what they're promised.
Texting too much (or even too little) can throw off a new lead. Make sure to score your audience appropriately to better understand when and what they need from you. It also helps put sales into a better position for effective conversations with the right leads.
Not enough focus on the prospect can be detrimental to the relationship you're building with your contacts. Have a dialogue with your audience! Create content that is more active and question-base to learn what they need, what their challenges are, and what their role is like. The more you learn about your audience, the more you'll be able to personalize and segment your communication and create a positive experience that builds a strong, trusting relationship. Experiment with your CTA builder and segmentation lists to collect and provide the most relevant follow-up content possible.
By taking an isolated approach with little engagement, you'll be left with uninterested contacts who will turn out to be missed opportunities. Personalized, relevant and timely content can help cure this. Remember, it's just like dating :).
There's a whole lot more to learn. Find out several other marketing bad habits that could be slowing down your lead life with SnapApp's webinar, How to Lose a Lead In 10 Days on Wednesday, February 15th at 2PM ET // 11AM PT.
This guest post was contributed by SnapApp, a HubSpot Connect Partner and interactive content creation platform.