Events are one of the fundamental reasons our customers sign up for HubSpot Enterprise. They want more power and more control over how they do marketing.

Events can help you do things ranging from tracking asset downloads, all the way to helping you figure out what part of your home page gets the most action so you can decide what stays and goes in your next website redesign.
In this post, we're going to share four clever ways we've seen our customers take advantage of Events in HubSpot Enterprise.
#1. Tracking which contacts click your blog's social share links
This is a particularly clever application of the most basic use case of Enterprise Events: click tracking.

A customer came to us one day and asked if they could create a list of all the people that shared any given article through the social share icons on their blog. The thing is, this customer wasn't yet fully taking advantage of Social Media Monitoring in Social Inbox, making it difficult for them to target these folks for promotional messages. All they wanted to do was thank them for their karmic shareage via email.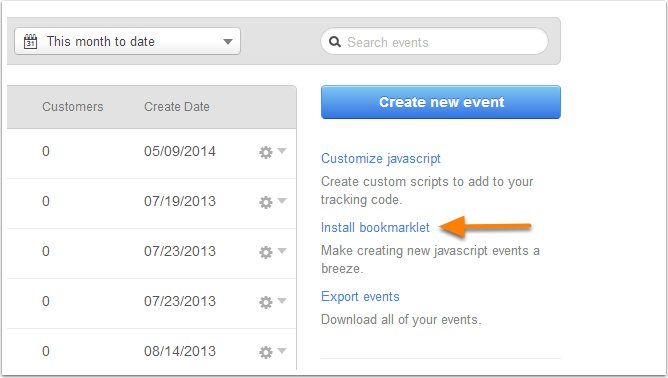 By using the Events Bookmarklet, our customer was able record a click event for every time anyone clicked on those share icons. That way, if a contact was revisting their site after having converted on a form, HubSpot would automatically tie this click event to their contact record. This allowed them to create Lists targeting only their contacts who had this event completed for their nurturing campaigns.
#2. Measuring clicks on ads or downloads of assets
We all know that CTAs are often the best way to go when it comes to tracking the number of times something was clicked, and how often those clicks led to a conversion- but what if all you want to do is offer up an asset like a whitepaper or video without a conversion at all, and simply see how often your prospects are engaging with it?

Maybe you have several assets available for download behind the login of your member site, you don't want to have to design and embed a bunch of CTAs just to see who downloads them, and how often.

Perhaps you have an advertisement on your site and you'd like to know which of your contacts have clicked on it.

The beauty of the Events Bookmarklet is that it rides on top of the HubSpot Tracking Code, so all you have to do to click the bookmarklet, click the links that already exist on your page, and name your event. Boom.
#3. Tracking who visited specific URL variations of a page
For our most accomplished link-building customers, this might be a familiar plight: you create an amazing landing page, and you share unique tracking URLs for each place on the web you're posting the link to. But then, when you want to make a list of your contacts that have ever visited one of those specific tracking URL, you can't because the Lists tool ignores query string (the stuff after the question mark in your URLs).

This time, we're going to use Visit Events. These operate a little differently, in that they will track visits to any URL you define, query strings included.
All you have to do is head to Reports > Events > Create New Event. The next time you send out those Tracking URLs, just pair them up with an Event looking for that specific URL. Then you can make the list of your dreams.
#4. Understanding the most-clicked elements on your home page or navigation menu to inform your next redesign
Websites are typically redesigned every two years, and often for arbitrary reasons. The best websites are changing and evolving all the time to optimize for growth. Growth driven design is a new model for web design which values constant testing and iteration to continually grow a website's conversion paths and increase it's close rate.

So, how do Events help you with that?

This may seem extreme, but if you're dedicated it can yield some very actionable data. All you have to do is create click events around every possible interaction a person can have on your home page and let the event reports accumulate a significant amount of data. Once you have some real numbers, print out (yes really) your home page or your menu tree and label each part with your funnel numbers (meaning the ratio of total event completions, to contacts having completed the event, and/or the ratio or contacts to customers that have completed the event in the same time frame).

Coming to your designer with that kind of data might scare them off, though. Not everyone is as data driven as you might be. Our Partners on the other hand, are well prepared for this kind of thing.
The long and short of it is that you don't have to be developer to get value out of Events.
Don't hesitate to ask questions or share your own uses of the Events tool in the comments below!