As a new HubSpot user, the marketing team at EnergyCAP, Inc. began creating landing pages to drive conversions. We attended HubSpot training classes, read forum discussions, and consumed blog posts, but we quickly realized there was a lot to remember in launching successful landing pages. How would we ensure our landing pages popped every time?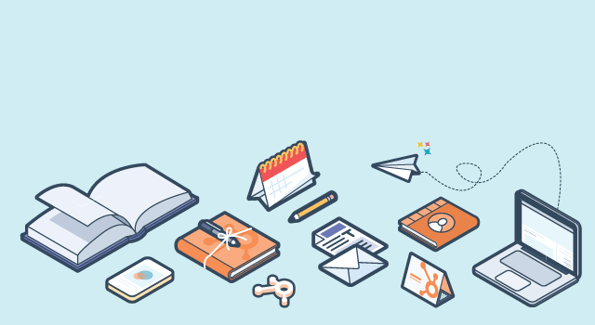 We created a simple acronym to keep in front of us when making new landing pages. Following this method has resulted in an average submission rate of 63%, rapid roll out of high quality landing pages, and forced us to put deliberate thought into each step.
If you want to create landing pages that pop, then remember S-O-D-A:
SODA: The Acronym for a Successful Landing Page
SODA stands for Source, Offer, Delivery, and Action.
Step 1: Source
Main Takeaway: Identifying the source informs the contact's intent.
Consider the source. Where did the contact come from? And how should that knowledge inform your landing page? The source is sometimes a call-to-action (CTA) button created in HubSpot and:
Placed in a blog post:
On a website:
On the thank you page for another offer:
The source isn't always a call-to-action button. Sometimes a text link on your site or even a:
Pay-per-click ad:
Not all CTAs are created equal. Simply designing a call-to-action button in HubSpot (no matter how awesome the tool is) isn't enough to ensure the landing page pops.
For example, one of our PPC ads includes keywords with our brand name. The resulting landing page takes into account that the contact has heard of us, so we use our name more freely as the direct solution. On the other hand, we also have PPC ads that don't contain our brand name. A search for "energy management software" (without our name) yields a different landing page on which we're more discreet about our brand.
By considering the source, we treat each landing page uniquely in order to present an educated offer that contacts can't turn down.
Here are questions to ask about the source:
What is the source?
What can we determine about the contact?
What will compel the contact to click to the landing page?
HubSpot Note: If you have a professional or enterprise HubSpot account and are using COS landing pages, you can also leverage smart content and personalization tokens to customize your landing pages to each viewer. Here's more on that.
Step 2: Offer
Main Takeaway: Develop quality offers and quality landing pages will follow.
Next, the offer. We work hard to create a variety of offers that appeal to a variety of contacts. The value in creating variety is that we can try different offers and see what works best. Plus, there are more types of content to deliver, which gives more reasons to communicate. We've discovered that more offers equal more traffic. More offers mean more options for marketing tactics.
The key to mastering the offer is to major on the offer, not the landing page. HubSpot makes it so tempting to roll out landing pages like you're on a caffeine bender, but without a good offer, the landing page won't be effective. Think of the landing page as the vehicle for presenting the offer. Put your time and effort on developing quality offers first, then design the landing page and conversion form around the offer.
After developing a qualify offer, try repurposing content. For example, we led a 30-minute webinar on the topic of receiving bills electronically. Afterwards, we created other offers based on the content. One offer bubbled to six more and now we're overflowing:
eBook: In development
Tip Sheet: In development
Here are some questions to ask about offers:
What exactly is the offer?
What value will the offer bring to the contact?
How can the offer be repurposed into other formats?
Step 3: Delivery
Main Takeaway: Decide the best delivery options for the offer.
This step is about delivery. After promising something, it's time to deliver your offer. HubSpot provides three delivery options that deserve thinking through:
Redirect to another page
Show an inline thank you message
Send a follow-up email
There may be advantages of one delivery method over another. Also, they're not exclusive. You can redirect to another page and also send a follow-up email, for example.
We created an eBook called 20 Ways to Find Utility Bill Savings. We chose to redirect the contact to a thank you page, which provides a download of the offer. In addition, we created an email replica of the thank you page so they also receive the ebook link in their inbox.
The key is to deliver the content in the manner it is best received. Creating a thank you page is more work for you, but you can provide secondary offers like case studies or ebooks that are related to the primary offer. In this way, contacts will keep guzzling your content. Making a follow-up email is also more work, but it's courteous—the contact doesn't have to rely on an open web page, but can download the offer at their leisure. A follow-up email also makes it easier for a contact to forward the offer to a colleague and spread your content across their organization.
Here are questions to ask about delivery:
What are the best options for delivery?
What is the contact expecting?
What content is needed to create the delivery methods?
Step 4: Action
Main Takeaway: Assigning internal actions will ensure appropriate next steps.
Yay, the final step - Action! This step refers to the internal actions that occur when the contact converts on an offer. This step is often forgotten in planning, but governs who is notified and what happens next.
HubSpot has two options:
Send a notification to email addresses
Add the contact to a workflow
Is the contact owner notified? Is the contact put into a drip email program for further communication? These options are left unchecked by default, so you'll want to be sure to add them.
Here are questions to ask about action:
Should anyone be notified upon conversion?
Should the contact be added to a workflow?
A Form Submission Notification will go to the designated email everytime anyone completes the form. A workflow (which is used at the professional and enterprise levels) enables you to trigger tailored communications to each individual contact as well as their relationship manager or sales rep in your office. With Workflows you can also increment their lead score or make other changes to their contact record.
Using HubSpot's landing page tools is one thing, but creating meaningful landing pages is another. Following the four SODA steps helps us to be intentional in creating landing pages that pop.
Do you have an effective process for creating your landing pages? Please share!