With more and more remote work environments emerging, it's never been more critical for sales, marketing, and service teams to stay aligned. And truthfully, the same goes for traditional office settings. Whether you are at home or in the office, throughout the day you can use the Microsoft Teams and HubSpot integration to make sure your business, its teams, all employees, and customers are on the same page.
And what happens when these systems don't talk to each other through an integration? Unfortunately, a lot of frustration.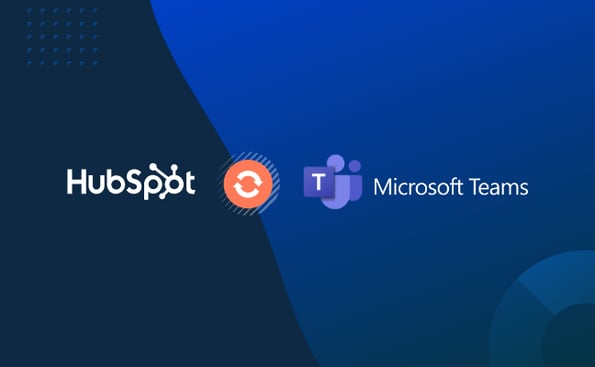 A sales representative may not have details, like job role or even first name, for a new lead. Marketing may not know that sales even needs that data. Or worse, a bottom-of-the-funnel form submission can come in and no one in your company knows and doesn't immediately respond to it. When you can't simply walk up to someone's desk to resolve this miscommunication, or can't easily find what you need in your company's internal tools, the frustration only increases.
To resolve these bottlenecks and improve overall efficiency, consider Lynton's HubSpot Microsoft Teams Integration, now available on the HubSpot App Marketplace. The integration helps with five end goals that will enhance you and your organization's productivity and team alignment:
Improved real-time communication
Cross-functional collaboration
Increased overall productivity
Aligned systems
Secured data
Let's dive into each of these goals and see the overall benefits for you and your team.
A quick note before we get started: to integrate the systems you must have contacts and workflow permissions set up in your HubSpot portals.
#1 Real-Time Communication
Real-time communication is essential to help nurture a lead or even close a deal. By integrating Teams with HubSpot, you can add the action "Microsoft Team Notifications" to any HubSpot contact, company, deal, ticket, and quote workflows, so your users get automatically notified of important activities. In Teams, you'll see information related to the HubSpot workflow logged with relevant details so that users can respond accordingly. No more searching and no more missing a beat.
#2 Department Collaboration Through System Alignment
Generating leads, closing new customers, and delighting clients moves a business forward. To do that, you need marketing, sales, and service teams fully equipped with the tools they each need. The teams also need to be able to collaborate to avoid confusion or miscommunication. But when those platforms aren't connected, your efficiency can falter. Alignment can swiftly turn into misalignment, and your campaigns suffer. Fortunately, the HubSpot Microsoft Teams Integration can solve this issue almost immediately. The Microsoft Teams HubSpot Integration connects to CRM Hub, Marketing Hub, Sales Hub, and Service Hub to keep Teams and HubSpot in full system alignment.
Using Workflows, you can set up instant alerts to individual members or entire team channels. Include contact properties to get them the information they need. For example, you can set up a Teams alert every time someone submits a form that is tracked in Teams so everyone within your company can react and work together on the lead appropriately. Or you could build a workflow that triggers a Teams notification to a specific service team member, including customer details, when someone needs support. Whatever the case, the idea is to get departments working together to improve your interaction with prospects and customers.
Even more importantly — all information from your HubSpot workflows (think: email, name, job titles, whatever you need) will be tracked in Teams as soon as it comes in, eliminating the need to wait or toggle between systems. Your reps can find the information they need whether they're in HubSpot or Teams, making it easier to grab the most up-to-date information on the go and stay connected with one another.
#3 Increased Productivity
Spending too much time on manual tasks, like digging for information in HubSpot to send to a coworker in Teams, decreases productivity. With this integration, crucial lead and customer details are instantly provided to the right team members so they can spend more time nurturing and less time looking for contact data. All it takes is a few minutes to set up a workflow action, and you're on your way to instant notifications. Here's an overview of the steps needed to set up your workflow:
Click the "Automation" tab and then "Workflows."
To create a new workflow, click "Create workflow."
Click "Start from scratch."
Select the object you want to send a notification to and then click "Next."
5). Set enrollment triggers, pick the object, set enrollment criteria, then click "Apply filter."
6). Click "Save."
7). Click the + sign to add workflow action, scroll down, and click "Microsoft Teams Notifications."
8). Select "Team" to send notification to and enter a message. Please note: Surround any text with "*" for bold or "_" for underline. Click "Save" to add the workflow action.
9). Review the workflow and then turn it on. When an object record meets the criteria, the notification will be sent to your Microsoft Teams account so fast you won't even believe it.
#4 System Alignment
There are more digital tools and systems available now than ever before to help organizations boost their sales and marketing efforts. And the HubSpot Microsoft Teams Integration can solve any misalignment almost immediately. It keeps your two systems working in tandem and your company on the same page. How? All information from your HubSpot Workflows (think: email, name, job titles, whatever you need) will be tracked in Teams as soon as it comes in, eliminating the need to wait or toggle between systems. Your reps can find the information they need whether they're in HubSpot or Teams.
#5 Secure Data
Integrating two systems may have you worried your data will either be lost or corrupted. No one wants to log in to Teams only to see their most important conversation information or contact details are no longer there. Fortunately, the HubSpot Microsoft Teams Integration is built by integration experts and backed by two software companies known for their security. That means you'll never have to worry about any data related to your contacts, workflows, or messages. And what's even better? This secure data flow is pre-built into the integration, meaning there is no heavy lifting on your end to enjoy it. You just simply have to download the app.
Get Started
If you're ready to enjoy real-time communication, stronger collaboration, increased productivity from aligned systems and secure data, head over to the App Marketplace today.