Successful businesses support customers. It's fundamental — and affects your customers, your support reps, and your business as a whole.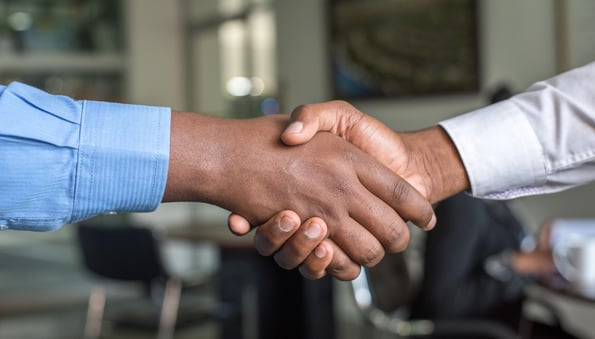 Streamlining this process lets your service team maintain an organized inbox and assist customers more effectively. As a HubSpot support rep, I know that queue management is difficult, so I'm thankful we have a concrete process for fielding customer inquiries.
Support ticket automation can make or break your team's productivity. There are many companies that offer traditional help desk tools and knowledge bases, while other companies offer live-chat environments. HubSpot has the best of both worlds and allows businesses to streamline communication between customer inquiries and support tickets — no matter the medium.
In this post, we'll cover five ways that you can keep your services team organized and solve for your customers' and your business's needs.
1. Determine Your Customer Service Path
When setting up your services flywheel, you first want to figure out how your customers will be reaching out. Are your products and services primarily found on your website? If so, support live chat may be for you. If your services are usually handled outside of your primary site, or on a different platform altogether, an email support funnel may work best. Here are two tools that will help your team set up a successful customer service path:
A chatflow will offer quick responses from a bot without your team actually needing to be online. It can easily segment customers into the correct categories, then create a support ticket and task to follow up.
Emailing will offer a more personal touch, even when using the snippets or templates tool. This method is probably the more practical and mainstream of the two and is a great way to connect with customers one-on-one. When someone emails your support address, you can automatically create a ticket with specific properties — then you're ready to respond.
2. Leverage Your Reports
As tickets come in, you'll want to continuously measure your success using reporting. Here are a few questions you should be asking to better understand your customer needs:
Where is the highest ticket volume coming from? This will help you cater to your customer base and allow them to reach out through the channel that's most convenient for them.
How fast are you closing tickets — and who's closing them? Metrics are helpful for any team environment and adding this report will help you keep track of success and productivity. You can find out who's doing what and why it's working.
How many tickets are coming in over time? A basic report will let businesses see what time of the year, month, or week is busiest for them and prepare accordingly.
Read more about our service reports in the HubSpot Knowledge Base.
3. Organize and Prioritize Customer Inquiries
Based on what your business does, and the number of products or services you have, you'll need to find the best way to prioritize customer inquiries. Most companies use a 'first in, first out' method, while others use urgency as the deciding factor. This process will be different for everyone, and you'll want to pay attention to your team's workflow as well as your customer base's needs for the right answer.
For example, if you have a known SLA that's been made apparent to your customers, you'll likely want to stick to the 'first in, first out' method to keep everyone pleased. If you regularly deal with issues that are time-sensitive, you might pay more attention to urgency. Both of these can be effective, and can even be used together, but once you decide on a prioritization method, stick to it. Having your team on the same page will save you hours of scraping through the inbox to find a lost inquiry.
4. Use Workflows to Streamline Processes
The most efficient and effective support teams use automation. And the word "automation" no longer means a robotic response that leaves customers feeling abandoned.
When I say automation, I'm referring to Workflows, which will help you stay on top of your tasks by automatically creating a ticket when an inquiry enters your inbox.
If you're a company that also has an active sales team, it may benefit you to use Ticket-based Workflows to automate the creation of deals in your database. This automation will allow you to compose and edit any record type in the CRM. You could create a custom contact property that's updated when a contact submits their first ticket or update a deal stage with no extra effort from your team. Companies with multiple departments overlapping with their support organization will get the most out of this feature — it saves time and encourages cross-communication.
5. Find What Works Best for You — And That May Take Time
No two businesses operate the same when responding to support inquiries. Depending on the product or service offered, some companies can close a support case in the blink of an eye, while other cases take longer to resolve. While some companies prefer chatting, others may prefer emailing, and yet some others do both.
There's no wrong answer, as long as it works for you, your team, and your customers. If you have a large team, you may choose to rotate between a set of trained support reps. Alternatively, if you have a small team and a more intimate client base, you can send tickets directly to the contact's owner for a personal touch.
Companies differ in more than one way, and it's up to you and your team to establish what works best for yours — but you won't get it on the first try. You'll be able to see these trends develop over time with the help of your ticket reports. Then, you'll streamline more effectively for future inquiries.
There's no wrong way to manage your support queue, but there are ways to determine what may work best for you and your team. At its core, customer support means solving for your customers — if you're doing that, you're on the right track.
Have questions? Join the conversation!