If you think you know Workflows inside and out, it may be time to take another look. With the new release of Date-Based Workflows (now available to HubSpot Professional & Enterprise customers), you can nurture contacts, trigger actions, and carry out tasks in all sorts of new ways. Let's take a look at five easy ways you can save yourself time, help increase close rates for your sales team, and make for a more enjoyable experience for your leads and customers using Workflows.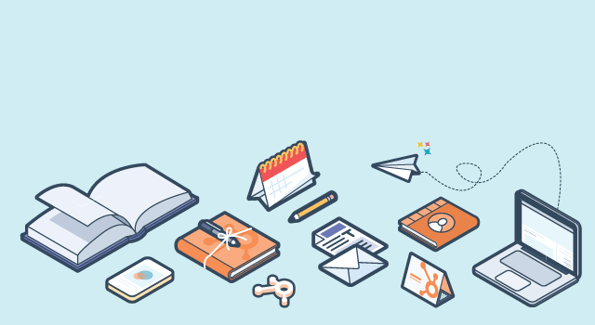 #1 - Show your customers a little love with a Valentine's Day workflow
Showing a bit of personality in your emails is never a bad idea - it's a great reminder to your customers that there are real people just like them on the other end of the line. Rather than send a standard one-off holiday email or promotion, why not take a bit of a different approach and send them three days of valentines, each with a bit of valuable content, in the lead up to Valentine's day? Here is what it would look like in HubSpot:
#2 - Congratulate your customers a 100th day anniversary email
Date-Based Workflows make it possible to trigger emails on dates that are unique to an individual contact. This is a powerful way to scalably add a "personal touch" to your campaigns. For example, with just one workflow, you could send every customer an email 100 days from when they first became a customer, based on a date property you are setting in HubSpot or in your CRM software.
#3 - Keep your sales folks informed with an alert email 30 days before a contract expires
The power of date-based workflows extends well beyond just sending your customers emails on specific dates. You can use date-based workflows to trigger internal notifications, change property data, add tasks to Salesforce, and more.
One great example - if you have an "Expiration" date field that indicates when a contract or subscription ends, you can use that date property to notify members of your team when important deadlines for renewal are coming up for their contacts.
#4 - Save your team the hassle of rescheduling with appointment reminder emails for your contacts
Does your sales or customer team work off of appointments they've set with their prospects or customers? If so, then you probably know how frustrating the game of constant rescheduling can be - but Workflows can help! Build a workflow based on a date property that contains the date of the appointment. (Your team can set the property manually in the HubSpot Contacts database, through an integrated CRM system, or even through a form.)
#5 - Nurture leads before and after a tradeshow or event
Do you run regular webinars, or frequently attend tradeshows? Workflows can take some of the weight off sending reminder and follow up emails. Build out a date-based nurturing campaign with steps before and after the event. You'll be able to see all of your steps in one place to get a full picture of your nurturing strategy.
These examples are really only a small sampling of the workflows you can build using date-based workflows, a new feature of the Workflows tool (available to HubSpot Professional & Enterprise customers.)
If you've come up with an interesting use, we'd love to hear - tell us in the comments! Haven't tried building a date-based workflow yet? Read more about building workflows, try it yourself right now, or check out our schedule of Academy classes for some hands-on help building workflows of your own.
Jeffrey Russo is a Product Marketing Manager at HubSpot, responsible for launching and acting as a product expert on HubSpot's middle and bottom-of-funnel tools, including Workflows. Find him on Twitter at @JeffreyRusso.