Recently, we launched a brand-new app in HubSpot that helps marketers organize, manage and report on the inbound marketing campaigns they're running. The Campaigns app is the perfect place to build your marketing campaigns and track the results of how that particular campaign is performing.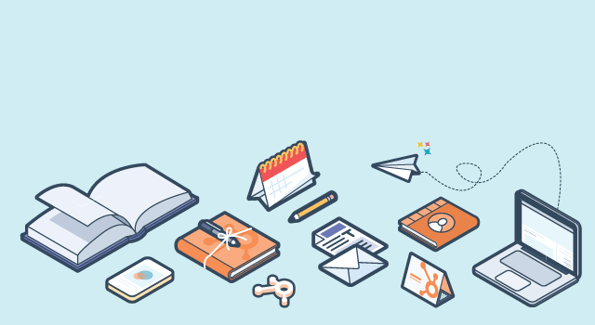 If you haven't seen it yet, you should check it out now in your own software.
As marketers, we know that running campaigns is the bread and butter of our jobs. Here at HubSpot, we run all kinds of inbound marketing campaigns to achieve one marketing goal or another, just like you do. So, we decided to share five kinds of marketing campaigns that would be great to kick off using the new Campaigns app. For each section, we will give you three tips on how to use the Campaigns app to help you be as successful as possible.
Whether you're in the middle of a campaign or just about to get started, the new Campaigns app is a handy tool in your marketing tool belt!
5 Key Marketing Campaigns You Can Run in the New Campaigns App
1. Product or Service Launch
There's never a more important time to run a concentrated marketing campaign than when you're announcing a new product you're adding to your portfolio, or a new feature or service that's now available to your customers. Because it's new, your audience will be very interested and thirsty for information, so promoting your content on all of your marketing channels is key.
3 Pro Tips for Running This a Product Launch Campaign
Tip #1: Sit down with the people responsible for this new product and service and make sure you're in agreement on the goal of the marketing campaign. You can input those goals when creating a new campaign, on this screen below. Do this now in your Campaigns app.
Tip #2: Any landing pages you create to support this campaign can either be made directly from the Campaigns app (which will automatically tag it with the campaign name) or the Landing Pages app. Don't forget to manually tag any landing pages that are made in the Landing Pages app. Tag your campaign in your Landing Pages app.
Tip #3: Set up a stream in Social Inbox to monitor mentions of your new product or service so you can see how customers and prospects alike are responding to your new offering. You can create streams off of any HubSpot list, keyword or URL, like the image below. Set up your Twitter stream in Social Inbox.
2. New Content Offer
There's no better feeling than finally finishing that shiny new ebook that you've been working on forever. Until, of course, you see that it's being downloaded like crazy and now leads are pouring in! (At least, that's our favorite part!) A new content offer is the perfect start to an inbound marketing campaign, because the content itself should valuable to both your customers and prospects. Next step is to promote it!
3 Pro Tips for Running a Content Offer Campaign
Tip #1: Wouldn't it be nice to jot down some of your plans for this campaign in the Campaigns app itself? For that very reason, there is a notes section in the "Information" link in the Campaigns app. Here, you can put past benchmarks of other similiar campaigns to really make sure you're hitting the mark, using this screen. Go ahead, add some notes now in your Campaigns app.
Tip #2: Your CTA to drive people to your landing page should be clear, concise and compelling to get the most downloads possible. To measure the performance of your CTA on your marketing materials for this campaign, you can tag it with the campaign name. Tag your CTA name in the CTA app.
Tip #3: After building your landing page to hold your offer, make sure your thank you page has clear instructions for what you want customers and prospects to do after they've downloaded your content and given you their information. Don't forget to tag both the landing page and thank you page with your campaign. Feel free to tag your landing page in your Landing Pages app.
3. Company Announcement
Every once in a while, a company has news that will affect all of it's customers. When these scenarios come up, it's a perfect time to use the Campaigns app to organize your communications around whatever you're announcing. For example, let's say you're a private company about to go public (Remember Twitter, anyone?). That's huge news for users and investors alike. And since people have created habits of interacting with you on certain channels, it's of the utmost importance that your messaging is clear and the same on every communication channel you use.
3 Pro Tips for Running a Company Announcement Campaign
Tip #1: Company announcements are usually accompanied by some lofty company-wide goals. Make sure you input these goals when creating your campaign so you'll get the best at-a-glance view of how your campaign is doing. Add goals now in your Campaigns app.
Tip #2: Optimize your blog post about the company announcement with the keywords that matter most to your company to drive the best exposure possible. To help, HubSpot's Blogging tool will tell you how many keywords that you rank for are included in the post in both the title and body while you're writing! Monitor your keywords in your Blog tool.

4. A Special Event
We prep for our INBOUND conference all year round, but in certain times of the year we'll do an inbound marketing campaign to achieve a particular goal, like early-bird pricing for ticket sales. But we really ramp up our marketing when we're approaching the event. No matter if your company is running the event, sponsoring an event, or showcasing at an event, you want your customers and prospects to know so they can come check you out or, better yet, you can drive some sales.
3 Pro Tips for Running A Special Event Campaign
Tip #1: Don't forget to set a time frame when setting goals for this campaign in the "Information" link. You want to make sure it's to your team how your event impacte visits, contacts and customers during this time frame. Set your Campaign timeframe.
Tip #2: Start emailing your segments early about the event so people can mark their calendars and be prepared. You may even want to create three emails per segment to make sure the right information is getting to them at the right times: pre-event, during the event and post-event. You can tag emails the same way you tag landing pages or social messages. Tag your campaign in your Email app.
Tip #3: Set up streams in Social Inbox that will help you stay focused on the social media that you can't miss during the event. You can set up streams for the event name, the hashtag, or a Twitter list of attendees, like the image below. Set up your event streams now in Social Inbox.
5. Thought Leadership
No matter what industry you're in, there's preconceived conceptions and ideas about how "the way things should be." When HubSpot's founders Brian Halligan and Dharmesh Shah came up with the concept of inbound marketing, it wasn't something marketers were practicing at the time. But through thought leadership (and a whole lot more), HubSpot's been able to influence the marketing industry and change the way people think about marketing. If you're also trying to become a thought leader in your industry or change public opinion on a certain topic, it's a must that your messaging be in sync on all of your marketing channels.
3 Pro Tips for Running A Thought Leadership Campaign
Tip #1:
You'll want to know how your messaging around changing public opinion is affecting your visits, contacts, and customers, so don't forget to set these goals on the outset of creating your campaign.
Set your goals now in your Campaigns app
.
Tip #2: Don't forget to tag all of your social messages and blog posts with the campaign name so you can easily keep track of the engagement you're getting on these promotional channels. You can tag social messages like this. Tag your posts in Social Inbox.
Tip #3: Create follow-up workflow emails for people that viewed or downloaded content associated with this campaign. (Changing public opinion is something that has to be really drilled home!) You can tag a workflow as part of a campaign in the Workflow Settings. Important to note, this is a Enterprise-only feature. Do this now in your Workflows app.
Running any of these five campaigns should helpful in achieving your marketing goals! Try these and more, and feel free to keep experimenting with the Campaigns app.
What kind of inbound marketing campaigns are you running using the Campaigns app? Let us know in the comments!
Like what you just read? Subscribe to the brand new customer blog for more posts like this!