Wouldn't it be great if your sales reps could magically know when their leads become more qualified, or when a lead takes an important action so they know it's time to follow up?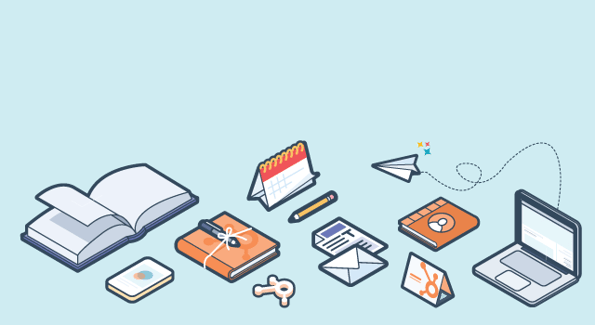 Well, you can! (And it's easy!) All you need to know is what your sales reps are looking for in a qualified lead. From there, make your life a little easier by setting up the following automated notifications.
Professional and Enterprise HubSpot customers can automate sales notifications with the Lists and Workflows Tools. If you have the Basic edition of HubSpot, take a look at the first example to see how to include your sales reps via form notifications. If you are interested in the full functionality covered below, send a note to your Account Manager.
Note: in each of the below notifications, include personalization tokens to share the information you have gathered about your new qualified lead thus far. This will help make these emails as actionable for your sales reps as possible.
Here are a few example notifications and how to set them up. Now you can automatically notify your sales reps team right away.
1. Alert Sales When Someone Submits a Decision Stage Form
As people move through the buyer's journey and interact with your content, their actions indicate where they are in their decision making process. For your sales team, the most important stage is the Decision stage, or the final stage of the buyer's journey when a lead is deciding to buy your product or not. Contacts at this stage are researching supporting documentation, data, or resources to help them make a final, educated decision.
Typically someone at this stage might submit a form on your website to request a demo, consultation, free trial, or to talk with sales. When a form like this is filled out, the faster someone can reach out to them -- the better! And who better to reach out to a hot lead than a sales rep.
The first step to streamlining this process is to remove yourself as the middleman between your sales team and your most qualified leads. From the form itself, an automated notification can go directly to your sales reps whenever someone completes the form.
To set up this notification, edit your form and click on the "Options" tab. Then enter the email address(es) of the people who you want to notify when this form is filled out. Remember to save your form!
Looking to send different notifications to different reps based on information entered in the form? You can do so by creating a Smart list for each sales rep that includes the criteria of the leads that sales want sent to them. Next, create the internal email you want to send to the rep.
Then, using a Workflow, tie the sales rep's Smart list to the respective internal email.
Now your sales rep will only receive email notifications for the leads they are responsible for.
2. Alert Sales When There Are New Qualified Leads
When marketing and sales are working together in true "smarketing" harmony, sales will share the characteristics that illustrate a qualified lead with marketing, and marketing will factor that information into their forms and segmentation criteria for nurturing. But, what is the best process for letting sales know when there are new contacts who meet the criteria of the almighty qualified lead?
By sending an automated internal email to your sales reps to let them know when someone has become a qualified lead, they can focus on the most interested and qualified contacts right away. Check with your sales team to learn what makes a lead qualified. Consider including lifecycle stage, lead score, and persona among the criteria for your most qualified leads.
For example, the list below identifies either:
1. Contacts in a leadership role (owner, CEO, president or principal) at a company of 101-200+ employees who are Marketing Qualified Leads
OR
2. Contacts in a leadership role (owner, CEO, president or principal) at a company of 101-200+ employees who have a lead score of 65 or greater as Qualified Leads.
First, create an email to send to your sales rep notifying them that they have a new qualified lead that fits the above criteria.
Once you have your list and email ready, you set up your Workflow to alert the corresponding sales rep when a lead meets that criteria.
Pro tip: If you have multiple sales reps, consider tracking lead owner's name and owner's email address on the HubSpot contact record. This will allow you to more easily send specific reps emails about their contacts using the "Use an email property" feature below. As a Salesforce user, this property is often automatically synced with HubSpot. Not a Salesforce user? See how to setup custom owner name and owner email properties!
3. Alert Sales When Opportunities Register and Attend a Webinar
As a marketer, your mission is to provide content for contacts at every stage of the buyer's journey. Your sales team, however, likely does not have insight into which content, like a webinar, their opportunities viewed during the sales process. Knowing which content offers--and consequently which topics--their leads are most interested in can help your sales team better qualify and sell to those leads.
Also, knowing when a lead attended a live event like a webinar could be a helpful to understand when to re-engage a sales opportunity who previously was not ready to buy. All a sales rep needs is an alert!
One great way to set this up would be to send an automated internal email to the sales rep when a contact of theirs has registered for a webinar. (Don't produce webinars? You could also do this when someone downloads a piece of content.)
Your Workflow would look like this:
You could also set it up so that an internal email is sent to your sales rep after the webinar so they know the contact attended the session. This will give them a great reason to reach out and inquire about what they took away from the webinar and see if they have any questions.
Then you can create a Workflow like this one:
4. Alert Sales When Previously Qualified Contacts Become Disengaged
Similar to letting your sales team know when a qualified lead has registered for or attended a webinar, you can also let your sales team know when a contact is falling off course.
For example, say you have a workflow to send your leads to fill out a form on your pricing page. First, create a goal list to track the leads who fill out the form. If a qualified lead is enrolled in a Workflow and never goes to the pricing page to fill out the form, they will never meet the criteria of the goal list. That means they will remain in the Workflow until the very end.
Don't let this be a lost opportunity! To help, make the last step of the workflow to trigger a notification to your sales rep to let them know that this person never took the action and perhaps needs to be re-engaged.
In the above example, if the lead does not request a free trial, the sales rep will receive the below email a week after the "Get Started - Discount" email:
Pro tip: If you are nurturing your contacts through a free trial, send your sales reps internal notifications to let them know when their contacts are coming up on the middle and the end of the trial so they can check in with them to see how it is going. This will give them a jump start instead of waiting until the trial is over.
Plus, if your trial nurturing is driven by important usage metrics (number of logins, profile setup, testing features, interacting with functions), set up internal email reminders to let your reps know when certain steps have not been done so they can have a more targeted outreach to customers struggling with the trial.
5. Alert Sales When Contacts Are Especially Engaged
One of the best tools you have as a marketer using HubSpot is the behind-the-scenes tracking to identify which of your contacts are most engaged. The criteria to determine if someone is especially engaged could include the number of unique forms filled out, number of site visits, time since last social click, and number of email clicks.
You can use these behavior details, alongside other pieces of information you have gathered, to bring the creme de la creme of your contacts to the surface. From there, an automated email can be sent to your sales team to let them know who exactly these people are.
In this example, the list is capturing a segment of people who are engaged based on the number of email clicks, visits to the website, and unique forms submitted. It may take some trial and error to find the right criteria for your business, but eventually you will find the best metrics that indicate which of your contacts are engaged.
Next, you can create an email that includes any of the information you want your sale reps to see about this super engaged contact:
Once your email is written and saved for automation, you can then create a standard workflow like this one:
One final step I would recommend is to specify in the settings that you want this internal email to be sent any time the starting criteria is met. That way, if a contact meets the criteria of the starting list more than one time, the internal message will be resent.
If you could save the time by never needing to forward lead notifications or update sales on where their most qualified leads are in the decision-making process, just think what you could do with those extra, precious moments!
Do yourself a favor -- take a little extra time this week to setup one (or more!) of these automated internal emails to free up some much needed bandwidth in your schedule and give your sales team even more reasons to love you. :-)
Are you already keeping your sales reps informed with some of these strategies? Are there other ways you are tracking who is most engaged?