As a Customer Training Specialist at HubSpot, I've had the pleasure of meeting hundreds of our customers in person. One thing that makes my job so interesting is that I'm always learning about new and exciting tools HubSpot customers are using when it comes to inbound marketing.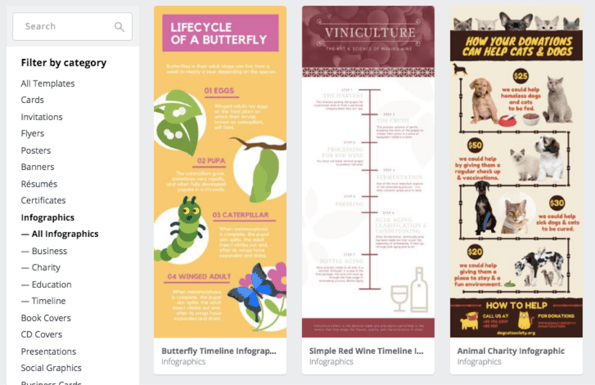 Most recently, we've launched a class about creating great content. Although we share some great tools, our customers have shown us a thing or two as well. Here are some of my favorite tools that we share during our classes, many of which came from customers originally.
1. Canva
Canva provides editing tools and design templates to make great-looking content. This tool is perfect for a marketer who needs to get something out quickly and either doesn't have an in-house designer or the time to wait for the work to be completed by someone else. Canva provides customizable templates for everything, from business cards to infographics to presentations. Check it out if you're in a design rut!
2. Unsplash
Unsplash is one of my favorite free image libraries. Finding the perfect image, whether it's for a blog post, landing page, or email can be challenging. With Unsplash, you can search for thousands of free, high-quality images to compliment any piece of content. Free images for everyone.
3. The Noun Project
Sometimes when you are creating a piece of content, you don't need a fancy image but an impactful icon to drive your point home. The Noun Project has thousands of icons that can complete any design project. The best part is that they have a free version, as long as you credit the creator. Even the paid version is affordable at only $9.99/month.


4. Trello
Creating content takes a lot of planning. You have to decide what piece of content will appeal to a specific persona at a specific stage in the buyer's journey. To ensure you are creating the right content at the right time, it's important to be organized. Trello is one of many project management tools out there that can help you do this. With Trello, it's easy to create a project board, assign due dates, and move tasks around as needed. Trello provides a free version as well as paid versions for those looking for more advanced features.
5. HubSpot Marketing Library
HubSpot's Marketing Library has grown into an expansive hub of inbound marketing resources, housing a wide range of templates, tools, and guides. As a customer, HubSpot gives you full access to all downloadable content right from your portal. You'll find this database under the graduation cap in the upper right-hand corner. From resources about lead generation to building editorial calendars, there's something for every inbound marketer.
Creating content also takes time and dedication. These tools can help that process feel less like a chore and more like your favorite part of the week. I encourage all HubSpot customers who attend training to find a few tools that work for them and make them a part of their regular content creation process to ensure they are always creating unique and remarkable content.