Successful marketing automation takes both an understanding of the tools you're working with, but also the leads you are working with, too. Marketers need data, context and the right to-do list in order to achieve powerful, effective marketing automation campaigns.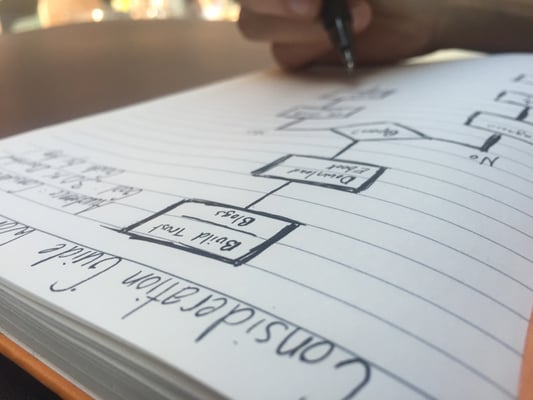 As a facilitator for the Customer Training Team here at HubSpot, I spend a lot of time talking about lead nurturing and HubSpot's Workflows Tool. Workflows (available in HubSpot Professional and Enterprise) helps marketers create lead-nurturing campaigns right inside the HubSpot software, connecting all your analytics across the board. In our Lead Management and Automation course, we dedicate a full day to learning best practices and actually implementing campaigns.
In this post, I'll share the five most effective tips I give the attendees during our training and why it's important to address these points when creating marketing automation campaigns.
Tip #1: Identify where your audience is in the buyer's journey.
The buyer's journey is known as the active research process a potential buyer goes through leading up to a purchase. It has three stages, and each stage can be associated with a contact's lifecycle stage, too. Here's what it looks like:
When creating your lead-nurturing campaign, you should always begin by identifying where in the buyer's journey your audience is. What kind of content have they read? What types of keywords are they using to search? Where are they looking for information? You can use the guide in the figure below to help you determine what stage of the Buyer's Journey your content is in.

Knowing the section(s) of the Buyer's Journey you are focusing on will help you better decide who you are communicating with and what your actionable goal for them will be. For example, if you're audience is mainly reading your ebooks and whitepapers focused on diagnosing their problem, you'll be looking to move them from the awareness to the consideration stage via your nurturing campaign.
Use this buyer's journey worksheet every time you begin a lead nurturing campaign to circle your starting segment to really familiarize yourself with the behaviors and needs of your group.


Tip #2: Always include a specific goal in your campaigns.
You began this nurturing campaign by deciding where in the buyer's journey your audience is and what you want them to do next in order to get closer to the point of sale. But you've only tackled the first part of the goal - the "what". Now, it's time to consider the "how". How will you know if your campaign is successful or not in achieving the goals you've set?
One easy way to tell how effective your campaign is at converting your contacts through the buyer's journey is to set a goal your workflows. The Workflows Tool allows you to un-enroll contacts from your campaign if they achieve a certain goal, like becoming a member of a smart list, viewing a URL or opening an email they were sent. Using the goal feature will also help you stay up to date with your workflow's success rate throughout the duration of your campaign. In the Workflows App, you can choose this option by clicking "Set a goal" in the upper right-hand corner of the screen, and then by choosing a contact property and it's requirements for contacts to meet the goal. Here's what it looks like when you choose becoming a member of a list as the goal:


Tip #3: Get in Touch with your Inner Whiteboarder.
Are you a professional whiteboarder?
If you are anything like me, you work best when the problem or project you are working on is laid out on a whiteboard. There are many opportunities and problems that you just can't quite see until you have a clear aerial view of your workflow. No matter how simple or complex the workflow, I always break out a fresh set of expo markers and get cracking!
One thing to keep in mind is that as you create more and more workflows and campaigns, it's important to remember how they all relate to each other. The key to creating a robust workflow is having a clear visual understanding of how your contacts will flow through a campaign and onto the next.
If you are looking for a more legible and clean option for creating workflow maps, give Gliffy a try! The Gliffy chrome extension makes mapping your workflow a much faster process.
Navigate in a chrome browser to the Gliffy Chrome Extension page to install the app and get started. Once you have the app installed, you can swiftly create workflow maps with color coding and branches to send to your team.
Tip #4: Understand your options for the actions (and delays).
Once you've identified your audience, created your content and set goals for your workflow, it's time to actually create your workflow inside of HubSpot. Head on over to the Workflows Tool and click "Create new workflow," where you'll choose a workflow type (more on those here) and a starting condition. Then, it's time to start adding actions into your workflow. Here's what it looks like:
Actions are individual functions that execute as part of a workflow, such as sending an email, adding a delay between actions, or setting a contact property value. For example, you might have workflow that delays one day after a contact is enrolled before sending that contact an email and updating a contact property with a specific value.
When it comes to actions, you can set delays, use branching logic, or set lead nurturing or administrative actions. You can see the full list here, and knowing these beforehand will make creating your campaign (like content) and setting up your workflow quick and easy.


Tip #5: Keep it Simple.
"Nothing is more simple than greatness; indeed, to be simple is to be great." -Ralph Waldo Emerson
While Ralph Waldo Emerson was not an inbound marketer, it seems like he knew a lot about Marketing Automation best practices. One of the most common mistakes I see people make is creating a workflow that attempts to accomplish several goals at once. Not only is this difficult to manage, but it makes success rate reporting much more complex.
Within HubSpot, you have the option to add if/then branching logic into your workflows, however you you can still create effective workflows without using them. For first-time workflow users I generally suggest creating a more linear workflow to hone your basic tool skills. Once you feel confident with your understanding of the tool's functionality your next step is to start exploring how you can provide more personal messaging using branching logic.
Tip #6: Test, test, test your workflow.
Let's remember, we are not all perfect here.
Testing is a necessary part of making sure your communication with your audience is a positive one and that your workflows are working as planned. Within your HubSpot tools there are many ways to audit your work before you take your workflow live.
As marketers we know it is important to use personalization in our email marketing and it is equally important to test that personalization by sending test emails. If you navigate to the email testing icon to the right of your email editor you can opt to send your test email as a specific contact.
The second concern that your testing should address is the order and pace of your emails. If you have time, try cloning your workflow and just enroll yourself or a colleague. This test could help you identify an issue with your delays or possibly an email that you are sending. If you are hoping to get through this test a little faster, click the 'Test' link to the top-right of your workflow to enroll yourself as a test contact in the workflow without any delays.
Lastly, do not be afraid to experiment with different subject lines, delays, design or content. You might find that a small change can make all the difference with your workflow performance.