"Do you know what this would cost in a restaurant?"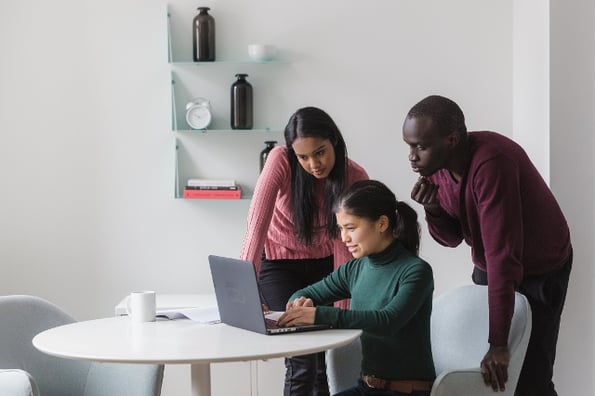 As a kid, that's a question my mom would always ask me after cooking me dinner. I feel the same way when talking about the tools in HubSpot.
The cost of standalone apps would be a lot more than having everything you need right at your fingertips, all in one platform.
But are you really getting the most out of your HubSpot tools?

The HubSpot software is a collection of digital tools for marketing, sales, and service, with a CRM as the foundation. With so many tools, chances are you're taking advantage of just a percentage of what HubSpot has to offer. So here are some of my favorite tools and features that you may not be using but definitely should.
1. Test in Different Email Clients
There's a ton of value in this email testing feature that's tucked away in the email tool. You can access this tool by clicking on the check mark in your email.
Once you click on Test your email, choose the most relevant email apps and devices for you. HubSpot will then load images of how your email will render on those clients and devices.
You just might be surprised at how different your email can look on different devices and email apps. If your email renders wonky on the images that HubSpot generated, you saved yourself the trouble of a poor-performing email.
Ready to try this tool in your HubSpot emails?
Pro tip: Take a look at your email performance to see what devices and clients are most common for your email list.
2. Email Performance
Speaking of the email performance features, they're not just for reporting. There are little nuggets of wisdom here that can help you step up your email marketing game. To access this data, click on an email in your HubSpot account and then click the Performance tab.
The click map is a powerful tool. It uncovers what CTAs, and other clickable elements, are working and which ones aren't. Check out the HTML click map for other emails you've sent with the same template to see if the pattern holds, and make adjustments to your template accordingly.
To the right of the click map are two key sections for understanding your emails' impact: Top clicked links and Top engaged contacts. Make it a habit to look at these every time you send a marketing email, adjust their lifecycle stage manually if appropriate, and assign a task to the contact owner if it looks like they're ready for sales outreach ASAP.
Get certified in email marketing from HubSpot Academy—for free:
I recently sent an email for a client that one contact opened 30+ times and then clicked on the same CTA 7 times. This is a hot lead! Don't just wait for them to receive your next drip email — take action based upon this information in HubSpot right now.
You can also make super-targeted segments in the lists from people who have engaged with your email. Check out the kind of engagement that you're getting from contacts with these features in the email performance tool as your first stop.
3. Blog Optimization
Search engine optimization helps your content gain visibility in search engines, which translates into more qualified traffic to your website. Even today, many marketers think that SEO is magic or at least too complicated to do well. On-page SEO is one of the pieces of the puzzle that you shouldn't be afraid of because your blog optimization tool in HubSpot lets you know what's working for SEO and what's not.
If you use on-page SEO best practices, search engines will be clear about what your content is about, some clues about how authoritative the content is, and the content's relative importance on your website. Search engines use this information along with off-page ranking factors to determine when and where your content shows up on a search engine results page.
To access your blog optimization information, click the bar chart icon while you're editing a blog post. You'll see TO-DO items (the items you need to action to strengthen your blog post's SEO) and DONE items (the items that your blog post already includes for good SEO).
Want to see this in action?
Be sure to associate your content with a topic to get the most value from this tool. While the vast majority of these factors should be in the green every time, remember that you're writing content for people first and search engines second. If there's a good reason that all these aren't marked done, so be it.
4. Contacts Dashboard
It's easy to fly past the contacts dashboard and go straight into an individual contact or search for one.
But step back a second and take a look at the filtering tool and the ability to edit columns on the contact dashboard. Here are my favorite properties to add:
Last contacted
Last activity date
Lead score
Lifecycle stage
On the sales side, you can get a quick understanding of what qualified leads need to be contacted, how engaged specific individuals are across lifecycle stages, and more. With these properties, you'll end up seeing a contact that you know you should follow up with. Or you'll see a new, promising lead that may otherwise have flown under the radar. Depending upon your role and goals, you'll have other properties that work best for you.
Check this out in your own HubSpot account:
If you've integrated other services with HubSpot, you may have other properties you can add. Say you have a big event coming up and you've integrated with Eventbrite — you can add Last registered event to keep track of attendees.
Saved filters is a time-saver when accessing people in certain lists. If you have a couple of lists that you go to over and over again, and they're buried in lists, you can save yourself the trouble of searching for it in the lists tool by saving the filter.
5. Campaigns Tool
The campaigns tool is my secret reporting weapon in HubSpot. In terms of weekly or monthly reports, it's great to be able to report on each channel inside of HubSpot, but the campaigns tool is how you figure out how well your integrated digital marketing strategy performed — in other words, you see the big picture.
Below are the event types where the campaigns tools can help you understand the performance of your campaign efforts:
Organizing an event
Running a sale
Focusing on a specific product or service (especially over a period of time)
Creating content over time of similar form, function, or topic
Essentially, if you're making an effort to market something specific and time-bound, use the campaigns tool.
The last use case for the campaigns tool is to test types of content. This is a little more complicated, so let's look at an example.
I recently used the campaigns tool to identify whether before and after pictures get better engagement than the average social media post. I simply scheduled social media posts and associated them with a campaign I named Before and After.
After 20 images or so, I compared the performance of those social media posts to the overall social media report over the same time frame. Lo and behold, the before and after do get more engagement than the average social media post.
You can use this same process for any form of content that you can associate with the campaigns tool.

6. Pop-Up Forms
We're marketers in an era of "form blindness." So we need to use a variety of tools to turn visitors into leads. HubSpot's pop-up forms tool is a great option because it's easy to set up, effective, and is customizable enough to keep your visitors' user experience super high.
You choose a pop-up, dropdown banner, or slide-in box as well as when it shows up on the page based upon page scroll, time, or exit intent.
With great power comes great responsibility, so be sure to think about your visitor's hopes and dreams just as much as yours when you're building the perfect pop-up form for a page. When done right, you'll surely increase your conversion rate.

7. Bots
HubSpot, how do I love thee? Let me count the ways. Let me count the ways I can convert a visitor into a lead using HubSpot's marketing tools! When we think about how to get the flywheel spinning from marketing to sales, we instinctively head to the forms tool, but we need to go to the foundation of inbound marketing first. Consider these questions:
Who is your buyer persona?
What value am I providing?
The answer to those questions on any particular web page tells you whether you should be using a form, pop-up form, bot, a click-to-call telephone link, or some combination of your options to convert a visitor into a lead.
The beauty of the bots tool is that not only are you capturing a lead, but you can qualify the lead and get valuable information at the outset.
Not everyone will go into deep and meaningful conversations with a bot, so having live chat at the ready and keeping the tool simple are often good ideas.
Time to Get Started
Like most other users, when we first started using HubSpot, we were just scratching the surface of what's there. Years later, we've discovered so many features in the nooks and crannies of the platform that increase marketing and sales performance.
A great next step to get more value from HubSpot is to dive into one of the features mentioned in this article that you haven't used to its full extent.