You've put in the time and research and decided that the HubSpot CRM and Sales Hub are the right choice for your sales team. But now that you've made the investment, how do you get your team on board? We know getting an entire sales team to do anything together can be tough. Here are seven great ways you can get your team excited, engaged, and using your new HubSpot tools every day.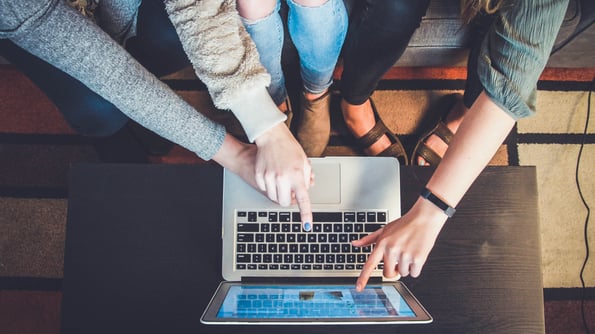 #1 Start With A Full-Team Onboarding Session
Switching to a new CRM is a big deal. An onboarding session shows your team why they should get excited about HubSpot and how they can use it. You've invested in this new software — now it's time to make sure your team makes the most of it.
Access the Inbound Certification Course in Your HubSpot Account
Here are a few considerations to keep in mind when planning your onboarding session to get the most out of your investment:
Consider pulling in a HubSpot Certified Trainer to facilitate your onboarding session
If this is your team's first encounter with HubSpot, it's worth it to bring in an expert to introduce them. A HubSpot Certified Trainer can show your team how to get started, demonstrate a few key tools, and answer any technical questions.
Allow team members to ask questions and provide feedback
An effective HubSpot onboarding session is a two-way street. Make sure there's plenty of space for team members to ask questions and provide feedback. Addressing concerns now will help put aside any fear your team might have in moving to this new platform.
Offer specific, actionable ways team members can get started
Often, the greatest barrier to a new tool like HubSpot is that your team members just don't know where to start.
In your onboarding session, provide a few steps your team members can follow to get going. Having an outlined plan, even if it's as simple as logging in and entering contacts, helps give everyone an easy way to start using HubSpot.
Set major milestones
Make sure to set major milestones that keep your entire team progressing with the HubSpot platform.
For example, you might say that you want everyone to be comfortable logging in and navigating around the platform two weeks after your onboarding session. That's milestone one. Milestone two might be to have your team sending all emails through HubSpot two weeks following milestone one.
Giving a specific time frame to learn and implement each aspect of the HubSpot platform helps ensure that everyone can keep moving forward as a team to the next steps.
#2 Get Team Buy-In by Emphasizing the Benefits that HubSpot Tools Provide
Most sales pros are likely to try out a tool if they can see how it will directly benefit them. HubSpot is designed to make their lives easier by streamlining and automating your sales process, so your sales team can spend more time doing what's best for them — selling. Here are a few benefits to highlight:
HubSpot makes it easy for your sales team to identify the most qualified leads. They spend less time sorting through leads and more time closing deals with motivated prospects.
The HubSpot platform makes for seamless communication between sales and marketing teams. If a lead doesn't seem quite ready for your sales team yet, they can pass the lead back to marketing for more nurturing without missing a beat.
Automate repetitive tasks. HubSpot is designed to automate the parts of your sales process that take up your team's time. Integrating automatic follow ups and workflows ensure your team can put more of their time to what matters — closing deals.
Easily see which tools and strategies are providing the best results. Sales pros will appreciate the data and analytics HubSpot offers on their sales techniques.
When your sales team sees that the move to the HubSpot platform is more than a corporate mandate, they'll be more invested in what it has to offer.
#3 Assign a Single Point of Contact
It's a good idea to assign a single point of contact to handle all things HubSpot-related. This makes it easy for team members to know where to direct questions, and it keeps the work of onboarding on track.
Whether it's someone on your team or your HubSpot Trainer, this single point of contact helps ensure there's no confusion throughout your training. They can schedule regular meetings, set the agenda for each meeting, decide what new tools your team might learn, and provide steady management of your HubSpot platform, so your whole team keeps moving forward.
#4 Encourage Team Members to Dedicate Just 5 Minutes Each Day to HubSpot
Getting your team to use a new tool consistently is often a matter of habit. Once they're familiar with the HubSpot platform and can see for themselves how it's helping them close more deals, they're going to want to keep using it. The hard part is just getting everyone started.
One way to facilitate the habit of HubSpot is to encourage your team to dedicate just 5 minutes of their day to the software.
We call this a walk/run approach. Your team starts with something simple, like entering in contacts or tracking new SQL activity for five minutes a day (walking). Even though the actions are simple, they're still logging in and using the platform every day. Once team members are familiar with HubSpot, it'll be easier to incorporate new tools that help them become even more effective (running).
This walk/run mentality makes it easy to gradually ramp your team onto the HubSpot platform, without feeling overwhelmed. When each team member has a full grasp of the software, it's much easier to stick with it in the long-term.
#5 Hold Regular HubSpot-Focused Team Meetings
HubSpot check-in meetings create an open, collaborative space where your sales team can learn from each other how to better use the HubSpot platform and Sales Hub to improve their daily operations.
Schedule a weekly recurring HubSpot meeting to make sure your team has the time reserved. You can always scale back to every other week or once-a-month meetings when your team feels more comfortable with HubSpot.
A few key items to include on your check-in meeting agenda include:
Questions your team members have about the platform.
Challenges team members have run into.
Open discussion time to troubleshoot team member challenges.
HubSpot tips or new tools other team members have found useful.
If you have a HubSpot Partner Agency, these meetings are a great place to incorporate training sessions, too. Your partner can run an audit of your account, then show your team new ways to use your HubSpot platform and sales tools for better results.
#6 Encourage a Little Friendly Competition
Encouraging a little friendly competition is a great way to keep the team engaged, without making HubSpot feel like a chore. Consider holding competitions geared to your team's HubSpot experience level.
For example, if your sales team is brand new to HubSpot, set a challenge to see who can log into and use their HubSpot account the most consistently. After that, you can up the stakes to see who can log the most deals in the HubSpot sales pipeline, and finally, graduate to who can close the most deals. For some of the bigger challenges, consider awarding fun prizes like free lunch or a gift card to your local coffee shop.
One way to keep track of your competition is through HubSpot Sales and Productivity Reports. Your HubSpot Partner Agency can work with you to create custom reports that show a top leader board for who is the most productive in HubSpot or who is closing the most projects in a month, quarter, or year.
Remember that these competitions should be friendly and educational. Ask competition winners to share some of their top tips for using the platform, so your entire team can benefit from their success.
#7 Consider Hiring A HubSpot Partner Agency
If you're getting started with HubSpot, you don't have to go it alone. A HubSpot Partner Agency can help you get the most out of your investment. A HubSpot Partner Agency might be right for your team if:
No one on your team has time to function as your HubSpot point of contact.
Your company is entirely new to the HubSpot CRM or Sales Hub.
A third-party coach with a complete understanding of the platform seems like a helpful way to bring your team together.
You're committed to getting the most out of your HubSpot investment, but you're not sure where to start.
When you work with a HubSpot Partner Agency, you can get exactly the help you need. From one-time onboarding session guidance to hands-on help for all your HubSpot team check-ins and training sessions, partner agencies work to offer the support that best suits your needs.
Getting your sales team to use HubSpot every day is a necessary goal when you're working to improve your sales process. Remember that like any new tool or sales initiative, it will take time. Be patient, and give your team plenty of opportunities to learn, ask questions, and find the tools that work best for them. The more comfortable they become with the software — and the more benefits they start to see — the more often they'll use HubSpot.
Want to connect with others on HubSpot tips, tricks, and updates? Head over to the HubSpot Community to join a conversation or start one of your own.