By February, many personal New Year's resolutions have already been abandoned. Don't let your email marketing goals suffer the same fate! Here are eight resolutions that will help your email marketing strategy stay on track when it comes to email deliverability.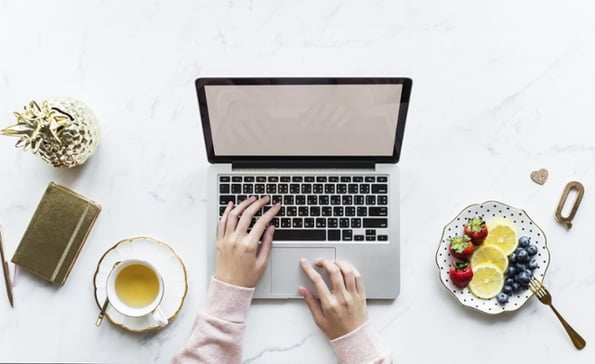 1. Focus on Engagement Metrics, not the Number of Sends
You might be tempted to include a large portion (or *gasp* all!) of your database in an important email. While your intent is to get your message to as many recipients' eyeballs as possible, sending blast emails to large groups of contacts is likely to result in less opens.
That seems a little counterintuitive, doesn't it? Well, allow me to explain.
Inbox providers use engagement data from past sends to determine how to accept and filter the next incoming mail from a sender. So if a massive send cast to a wide net of recipients results in lower than average opens and clicks or results in higher than expected unsubscribes or spam complaints, your next send could be filtered straight to the spam folder or rejected altogether.
Focusing on the engagement metrics (opens and clicks) of your sends instead of the number of recipients included can increase the total number of opens and clicks for a campaign, as contacts who have recently opened are more likely to get your next email delivered to their primary inbox — increasing the chances they'll see it.
You can protect your inbox placement and sending reputation by sending mail only to contacts who have recently engaged with recent sends. Using the sends since last engagement contact property can help you build a list of contacts who have recently opened an email from you.
Try to avoid sending any mail to a contact who has received 15 or more emails from your brand since their last open, as continued sending to these contacts will negatively impact your deliverability. Enabling HubSpot's graymail suppression feature (Marketing Hub Professional and Enterprise and Legacy Marketing Hub Basic) will automatically suppress contacts who have become disengaged with your email marketing efforts. Contacts who are disengaged should only be emailed within a re-engagement campaign and should otherwise be suppressed from your email sends.
2. Stop Emailing Contacts Who Have Not Provided Explicit Opt-In
You might think that a contact who dropped their business card into a bowl for some free swag at a trade show booth or someone who used their email in hopes of winning a contest is a good candidate to be added to your marketing list.
Think again.
Sending email to contacts who have not explicitly provided permission to be included in your marketing list is likely to negatively impact your brand's overall deliverability. Contacts who aren't expecting to hear from you (including the ones who may have given you their email to get something or submitted on a generic "contact us" form) are more likely to ignore your communications or — even worse — mark them as spam. These negative engagement behaviors can cause your next campaigns to end up in the spam folder, bounce, or get blocked altogether.
By only sending mail to contacts who have provided clear and explicit permission to be included in your marketing efforts, you're more likely to improve your acceptance rate, inbox placement, and overall engagement. Contacts that are expecting to hear from you are more likely to open and click on your mail and less likely to mark it as spam.
You can gain explicit opt-in from an organic contact by including a check box on your forms (Marketing Hub Professional and Enterprise). Be sure the box is not pre-checked so that you allow contacts to make their own choice on how they would like to hear from your brand. Respecting your contacts' communication preferences is the right way to build a strong digital relationship.
3. Stop Sending Holiday Emails
(or at the very least, send less of them)
It's customary to wish your friends and family a Happy New Year and reach out to them during the holidays, but your brand's email strategy doesn't need to mimic your personal mailbox.
Every holiday results in recipients and inbox providers seeing a huge increase in "happy whatever holiday is approaching" mail not only from you, but also from your competitors and every other brand that an individual is subscribed to. Due to the increase in bulk mail sent, your communications are more likely to end up in the spam folder or negatively impact your next non- holiday campaign.
Unless you have a great reason to email—like a special promotion or discount around a holiday—you're more likely to see better engagement by waiting until the seasonal email flurry is over to send a targeted, thoughtful email that communicates more than just a generic message. If you want to share tidings of holiday goodwill, consider using another channel, like social media.
4. Don't Let Email Be Your Only Digital Communication Channel
Speaking of social media, email is not the only digital channel for engaging with your prospects and customers. Allow your contacts to participate in your brand's digital presence in a way that works for them. While communicating through email is a great way to share content, add value, and drive traffic to your website, it's not the only way to get your message across. If you find yourself composing an email that doesn't contain a clickable element and/or is not targeted specifically to a focused group of recipients, consider crafting that message in an alternate channel.
5. Regularly Purge Your Database of Inactive Subscribers
Just like spring cleaning, your database needs a regular dusting to stay fresh and protect your brand's sender reputation. The typical marketing database will decay at a rate of 20–25% every year. Contact decay can come from addresses that are no longer valid and from those that are no longer engaging with your email messaging.
Since including disengaged contacts in your regular marketing sends can result in your mail being delivered to the spam folder, you can create a sunset policy to executed on a regular basis so that inactive subscribers can be re-engaged, suppressed, or removed.
6. Send Email Only Around Topics Your Contacts Have Demonstrated Interest In
Most recipients are overwhelmed by the volume of email they receive daily. Creating a strong relationship with your contacts means that you should be sending them content that they care about, and only content they care about.
You might be tempted to send a big blast about a new product enhancement or a general announcement, but including contacts who have not shown interest in the primary topic in your email can result in poor engagement results and negatively impact your next send. You can gather data on what your contacts have shown an interest in though their subscription types, through form submissions, or by segmenting by page view.
7. Use Double Opt-In
When double opt-in is enabled, new contacts need to confirm their subscription via confirmation email before they receive marketing email from your brand. This extra step prevents you from sending to mistyped or fraudulent addresses that can sometimes make their way into your forms.
The additional step the contact completes is also an indication of a qualified, engaged lead. Some countries (I'm looking at you, Germany) and companies even require double opt-in before they'll accept any mail from a sender.
8. Never Purchase Contacts
Sending email to contacts who have been purchased from any vendor is a sure way to have your next communications end up in spam or be blocked completely.
A contact should provide clear permission directly to your brand before being included in a marketing send. Contacts who are not expecting to hear from you are more likely to send negative engagement signals to their inbox providers, which results in increased spam filtering to all your contacts, including the ones that do want to hear from you.
Instead of investing your marketing budget in leads that are unlikely to pay off and could hurt your sending reputation, focus your efforts on creating inspiring and helpful content that will drive organic visitors to your site. This will create qualified new contacts who have verified that they want to receive email from you. As a reminder, contacts from purchased or rented sources are not allowed within HubSpot's Acceptable Use Policy.
Implementing some or all of these resolutions will help your brand's sender reputation stay happy and healthy in 2019 and beyond.