GoSite is a unique client of Remotish, formerly Chief Martech Officer. They have the operational vigor and vision of an enterprise, but the tireless energy of a startup (their motto is "Just GO!"). It's a dynamic that's led to a lot of joint success between them and Remotish's team of RevOps specialists, who focus on B2B technology companies looking to get more out of HubSpot.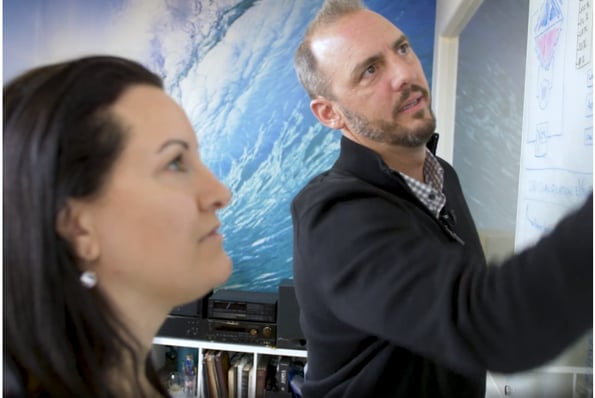 GoSite's mission is to be a mobile commerce SaaS management platform for local service providers; in other words, they help traditionally offline businesses establish a digital presence and connect with online buyers.
Their suite of tools is meant to help enterprises and small businesses thrive in an era where Amazon — with its easy-to-use customer support and Steve-McQueen-delivery-speeds — sets the standard in digital commerce.
Not an easy undertaking, but certainly one they've been successful in, seeing as they were dubbed the 16th fastest growing company in San Diego.
GoSite was and continues to be a well-oiled lead generation machine, but they had some problems when Remotish onboarded them:
They were scattered across multiple platforms.
They had zero lead nurturing in place.
They were only utilizing bits and pieces of Sales Hub.
What they needed was some tender loving RevOps to get them running optimally.
Step One: One Hub to Rule Them All
GoSite was using different providers for chat, CMS, ad management, A/B testing, and video hosting. Initially, they also thought a separate, central database would be necessary.
But if you've poked around HubSpot, you know that the platform is well equipped to do all of this. In fact, the HubSpot CRM is the beating heart of the platform, and is unique as far as CRMs go because it:
Integrates sales, marketing, and customer service tools, allowing users can manage the bulk of business in one place.
Powers the HubSpot CMS so users can get insights on how visitors are interacting with content.
As a RevOps team, Remotish looks for ways to enhance revenue while optimizing processes. And since we're also HubSpot geeks, the solution was obvious: GoSite didn't need a dozen platforms, they just needed to make the most of the one powerhouse they had.
So, we helped them pull all these elements into their HubSpot. We then took their remaining third-party services and hooked those into HubSpot's famously flexible API for advanced tracking and reporting capabilities.
We also Marie Kondo'd the heck out of their database during this time and stumbled on 20,000 untapped leads.
Remember when we said GoSite is a lead gen machine that didn't have a lead nurturing strategy?
We weren't kidding.
They had essentially attracted and never followed up with engage and delight.
Since they were only using HubSpot for sales up until we came on board, they weren't tracking the leads they were generating. As a result, they had unwittingly built up a segment of their database that was ripe for email blasts, content offers, and even demos.
After boldly going where no sales rep had, we constructed an automated multi-layer education funnel to enroll these 20,000 leads in.
The result was GoSite's highest-grossing month up until that point.
HubSpot's powerful CMS and automation tools made it possible.
Step Two: Get That Flywheel Spinning
Remotish used a signature lead nurturing strategy that incorporates HubSpot's workflows, emails, forms, page sequencing, smart content, CTAs, and personalization capabilities to blast the 20,000 leads with tailored content offers. The result was a ton of SQLs ready to be passed off.
Affectionately nicknamed the Difference Engine as a nod to Charles Babbage, forefather of computers, our signature strategy has played a key role in informing GoSite's long-term nurturing campaign.
We use:
Topic clusters as SEO magnets
Social promotions
Website popups
Hero panels
Email blasts to existing database
Automated email workflows triggered by conversion forms
Once the leads had made their way through that funnel, we built several more.
Essentially, we snaked together funnel after funnel to create an automated, long-term nurturing strategy.
Thanks to HubSpot's robust reporting tools, we know that these campaigns resulted in over $3 million in revenue in just the first year.
Step Three: A RevOps Rescue
A big part of RevOps is aligning marketing, sales, and service departments — all of which have traditionally been siloed. This helps companies be more efficient, and companies that are more efficient generate more revenue.
Hence, RevOps.
In order to create this efficiency, a RevOps team must master the technology (HubSpot, in this case), ensure all parts are running smoothly, create standards and processes around these parts, and then train all departments on the new standards.
We helped optimize almost every facet of GoSite's HubSpot system:
HubSpot API. Intimately tethered GoSite's own SaaS application into HubSpot (in addition to the third-party applications). We're using the data to see how users are navigating around the software and to tailor content accordingly.
CMS Hub. Transferred their website over to HubSpot.
Sales Hub. Trained sales team to effectively use sales tools that exist, and helped their sales managers achieve an extremely detailed view of what the team is doing on a minute-to-minute basis.
Service Hub. Set up the knowledge center, chat, and ticket system so GoSite can approach service with the same intensity as marketing and sales.
HubSpot Ads. Helped them achieve full visibility on ad spend — to the point where we can distinguish which leads came from which ad campaigns.
HubSpot Reporting. Implemented a reporting add-on for more advanced visibility reports.
In fact, we tend to think of HubSpot as naturally RevOps enabling: The unity of marketing, sales and service around the customer experience is at the heart of the platform.
Conclusion
When it comes to building out a tech stack, you have a lot of options available to you. One of our biggest takeaways (after having helped dozens of companies optimize their operations) is that simplicity is key; having everything pulled into one, central hub makes all the moving parts move a lot smoother.
That's why Remotish's hub of choice has always been HubSpot. There may have been many paths leading to that $3 million, but we don't believe any platform could have done it as seamlessly. With its robust tools, transparent reporting, and incredibly flexible API, HubSpot was the key to unlocking GoSite's true efficiency.