Here at HubSpot, our mission is to help millions grow better. And to fulfill our mission, in 2018, HubSpot made the decision to move from a product to a platform.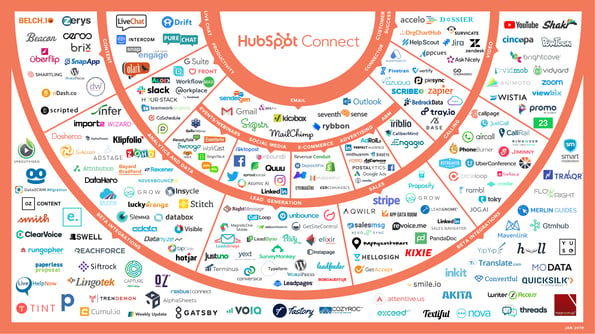 Our shift to an open platform empowers you to connect HubSpot to several powerful integrations. We understand that each business has unique needs and there are alternatives and additions to HubSpot's core products that can allow you to run your inbound business more efficiently. Ultimately, we want to help your businesses grow better, no matter which tools you use.
This is exciting stuff! But maybe you've never heard of an integration or you have, but you've never actually tried integrating a system with HubSpot. Don't worry, because you're not alone.
In this blog post, you'll learn about what an integration is and the purpose of integrations. By the end, you'll know how to find integrations in HubSpot and how to connect your first integration. You'll walk away feeling confident about how you can get started with integrations in HubSpot. Let's dive in!
What is an integration?
Simply put, an integration allows you to connect two systems. In this case, the connection allows you to create, update, view, and/or delete data between a specific app and HubSpot.
Why would you need an integration?
First, integrations save you and your team time. Consider the time it takes to navigate between and log in to multiple apps. Maybe you have one tool for email marketing, one for ads, and another for hosting webinars. With the help of integrations, you don't have to worry about moving from one app to another. Instead, marketing, sales, and service teams can work out of one system, maximizing productivity and giving employees more time to spend on urgent matters.
Next, you have a centralized hub for your data. Through the process of integrating other apps with your stack, you start to organize your data so that it stays consistent across all apps. This is your chance to clean up your databases and make HubSpot your source of truth, allowing your team to look at a single view of the customer.
How do you find the integration that's right for your business needs?
It can take hours to research, price, and connect all the apps you need to run your business. And as HubSpot's platform ecosystem expands, the amount of specialized capabilities you can add to your marketing, sales, and service stacks also grows. Luckily, HubSpot makes the process of finding integrations quick and easy. You can check out the App Marketplace to get an overview of all the integrations and can filter based on categories, like live chat, video, or productivity.
What is a HubSpot App Partner?
HubSpot's App Partners build an integration with our marketing, sales, service, or CRM software with the goal of helping our customers grow better. In exchange, they receive tiering benefits that aim to accelerate mutual growth. Additionally, we have a dedicated team the sources and certifies these integrators. Not only do we ensure that these apps work and connect seamlessly with HubSpot, but we also make sure our customers love them.
How to integrate HubSpot with Eventbrite
Let's go through the process of connecting one of the most popular HubSpot-built integrations, Eventbrite.
Eventbrite is the world's largest event management and ticketing platform. By integrating Eventbrite with HubSpot, you can see registrant and attendee data directly in your CRM. On top of that, you can understand how customers engaged with you before an event through HubSpot by viewing logged activities on the contact's timeline.
To get started, if you don't already have an Eventbrite account, you can sign up for a free account here. Keep in mind, once you start to charge for tickets through Eventbrite, there is an associated fee.
Next, connect Eventbrite with HubSpot.
If you already have an Eventbrite account, you can now sync your existing events with HubSpot in your Eventbrite settings. New events will show up here and you have the option to turn the sync on or off for each event.
Once you sync your first event to HubSpot, you can create lists and trigger workflows based on new contact properties, like Last registered event and
Last registered event date.
You'll also be able to filter on Eventbrite registration, attendance, and refund information. Check out this article to read more about how you can use the Eventbrite integration with HubSpot.
Want to connect with others on HubSpot tips, tricks, and updates? Head over to the HubSpot Community to join a conversation or start one of your own.